Breaking the ice to take pictures of people you don't know in a foreign land amplifies the challenge of capturing a great image. Photographer Pierre Lambert has some insights to share to help you overcome the barriers to doing just that.
His sage advice, which instructs us beyond gear and techniques, prompts us to focus on the human element in photography. Here are some tips that implore us to connect with our subject with thoughtfulness and respect as we venture across the globe.
Think of them as your friend before you even start speaking.
If you find a way past all of the barriers; language, culture, being photographed, and humanize who you shoot. Even strangers become easier to approach, relate to, and yes, snap a picture of them when the time is right.
Imagine yourself having a great time shooting and interacting with the people
The photographer's demeanor can have an outsized influence on their subject. If you're tense or nervous, whoever you shoot can probably pick up on that and may even feed off those vibes. A positive, fun, and friendly state of mind will make the experience better for everyone.
Show them the pictures you took
Many of us are drowning in technology and take for granted that some people have never seen an image of themselves before. If you find yourself taking a picture of one such individual, you'll have the opportunity to share a special first with your subject.
Go talk to people and buy things for example without shooting first and ask if you can after. 
Your vacation/adventure always takes place during someone else's business hours and your memories won't feed their family. Sometimes the best way to get a "yes" when you ask to take a photo is to do business first. It might also be the quickest way to start a conversation and build a report.
Here are his suggested Lenses:
Sony
Canon
Nikon
 What More Street/Travel Photography?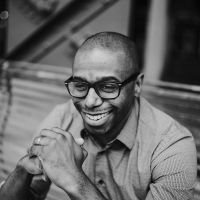 Wendell Weithers
Wendell is based in Atlanta where he shoots events, portraits, and food photography. He also supports his wife Andrea as she runs their cake design business, Sweet Details. Instagram:
Wendellwphoto