There is nothing like the Leica M Monochrom on the market today. It stands in a league of its own, perhaps one of the finest embodiments of unique, focused purpose cameras as we've ever known – apart even from its other more 'flexible' and newer M brethren. It is surely for the discerning…or discerningly well-off, coming in at $7,500, but now Leica has released a special version called the 'M Monochrom Stealth Edition,' and it's even more attractive.
Designed in conjunction with Marcus Wainwright, the Founder and Creative Director of the fashion house rag & bone, it's objectively gorgeous with its all matte black form, black cowhide trim, and unique glow-in-the-dark markings and accents. It's integrity is uncompromising in regards to its utter dedication to nought but the essentials, and black and white.
"For me the Leica M system personifies the pursuit of perfection in an object designed for a singular purpose. Inspired by that, I was aiming to try and further refine and perfect the M Monochrom – an almost impossible task – by distilling it to its purest form and highlighting the stealth nature of the camera and lens," – Wainwright
The unit internally remains unchanged, as do the dimensions (something one could argue would have been welcome in the M10 body size) and comes with a matching Summicron-M 35 mm f/2 ASPH. On this unit you'll find no red dot, nothing that screams for attention as much as something that simply lives in the shadows, like an Elizabethan manor house butler. It's not there to be seen, but to see, and see it will.
The M Monochrom records only true luminance values which allows, technically, for more contrast, sharpness, and according to Leica, a 'finer resolution than that of medium format.' One can also tout its ability for sharp photos with fine grain up to 10,000 ISO. Again I reiterate, there's nothing like this to be found elsewhere.
So if you are into this sort of thing (and we are), you'll want one. And if you've got $15k at hand and a quick draw you could have the set and be one of the 125 who will as that's all that will be made. And when you have it you'll be able, like the rest, to sit in a room where no one will notice your Leica, and you'll feel great about it because you'll know you've recognized something the others miss, and get to use something truly special.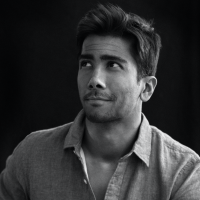 Kishore Sawh
A photographer and writer based in Miami, he can often be found at dog parks, and airports in London and Toronto. He is also a tremendous fan of flossing and the happiest guy around when the company's good.