Our full review of the Syrp Timelapse Genie Mini is finally here! The Genie Mini has proven to be one of the most exciting little devices in my bag lately, for a handful of reasons. First and foremost, (spoiler alert!) it's simply the most lightweight and easy to operate timelapse device I've ever used. For the amount of travel and hiking that I do, it is critical to have a device that is compact and quick to set up, and the Syrp Genie Mini fits this bill perfectly.

Performance:
The Syrp Genie Mini is an 'Apple product' in a world of PC (heck, even Linux) style timelapse gear. That's really the best way I can describe its ease of use and overall performance / experience. It's a delight to use, while most other gear is overly complex and user un-friendly. Well done, Syrp.
Any initial fears I had about the reliability, durability, or longevity of such a small device are long gone. The rubber surface is fantastic for gripping the device in general, and the cork surface holds up to abuse no problem.
Admittedly, however, it's not a jack-of-all-trades item like some of the alternatives out there. (As is the complaint that PC lovers have about Apple products, ironically.) I favor simplicity and user-friendliness over complex versatility, but be warned, this is a very specific tool designed for a simple, straightforward task.
How To Set Up The Syrp Genie Mini
Setup is effortless as long as you have the right tripod adapter screws and the right cable for your particular camera, and you get to pick one free cable when you purchase the Syrp Genie Mini.
I'm on a Nikon D750, so my cable is a 2.5mm audio jack on one end, and the standard Nikon (consumer / prosumer, not  pro 10-pin) remote control plug.
Once you've downloaded the app, use it to turn on and connect via bluetooth from within the app; no pairing is required from your phone settings- the Genie Mini prompts you and handles everything from within the app!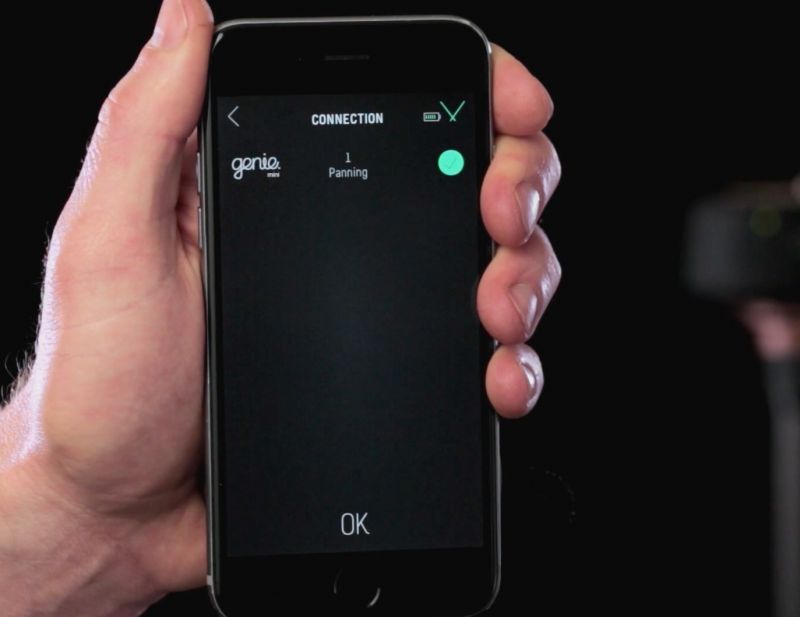 Once your phone is connected to the Genie Mini, it's a pretty intuitive visual interface to set up the rotation, and you can even move the camera back and forth easily to check the composition at both ends of your timelapse.
Then, choose two of the three options that follow and the Genie will automatically control your third: Total time shooting, (say, 40 minutes) interval between shots, (say, 4 seconds) and the amount of timelapse video that this will create. (Say, 20 seconds, but that varies if you create the timelapse video at 24, 30, or 60 FPS. You can designate FPS in the menu.)
Click REC, and off it goes! You can turn off your bluetooth while the timelapse runs, and your phone will still count down the overall progress and alert you when it is complete. This, for me, is essential because I almost always have my phone in Airplane Mode when in the wilderness. Besides, having a timelapse fail because of a lost connection with a phone would be completely unacceptable.

Features:
You could either call the Syrp Genie Mini an overly simplified one-trick pony, or a dedicated tool that still manages to offer a feature-rich experience. Personally I'm in the latter category of users, however I'll give the Syrp Genie four stars because there are definitely a few features I'd love to see added to the Genie Mini, such as the ability to set a timer delay on the start of a timelapse (so I can go to bed and let my timelapse start by itself at 2 AM), and easier control over the "bulb" shutter settings for timelapses that require exposures greater than 30 seconds.
It would also be freaking awesome if the bluetooth of the Genie Mini could be used to trigger new cameras like the Nikon D500, (both use low-energy bluetooth) …but obviously that's just a feature we'll have to wait for, since low-energy bluetooth isn't very common in high-end cameras yet. However, a world with zero cables is one I certainly dream of.
Design:
Hands-down, this is one of the most well-designed products I've used. I've already gushed enough about its overall look and feel, both physically and with regard to the interface, so I'll just leave it at that.
I'm glad they allowed for a 3/8″ thread on the bottom; this allows me to un-screw my tripod head and quickly add the Genie Mini in between the legs and the head, as long as I leave the provided 1/4″ thread adapter on the top screw. (I do wish they had provided two of these, since they're tiny little things that are prone to getting lost.)
There's only one button and three ports on the Genie Mini, all of which are easy to tell apart even in the dark.

Quality:
Like the design, the Syrp Genie Mini deserves props for being up to such a high standard of quality. The exterior finish is grippy, durable, and if you put a bit of electrical tape over the three ports when they're not in use it's decently 'weatherproof' too.
Also, the "jiggle" in the device when at rest seems to be negligible, so using the Genie Mini in strong winds should never be a problem.
I did try leaving it on my tripod 100% of the time, permanently attached between my tripod legs and head for a whole day, however I decided against doing this at the end of the 1st day and now I only install it when I need to. While the Genie Mini is probably durable enough to take the abuse, I figured, why risk it? Besides, I sometimes like to leave my camera itself attached to my tripod, and just sling the whole thing over my shoulder, (when wandering around while shooting) and doing this with the Genie in between would definitely be less safe.

Value:
I must admit that I'm torn between four and five stars here. Folks always want things for cheap, and camera gear has a tendency to be expensive "just because it's camera gear". Plus, there's the fact that this device only does panning or tilting. (And requires two devices to do both at once.)
So, $249.00 for a device that can ONLY perform panning or tilting might seem rather steep, if you're used to just slapping your Gopro on an egg timer. However the quality craftsmanship combined with the advanced features such as move-shoot-move, low-energy bluetooth, long exposure control, and speed ramping, add up and make this a solid product that is the best in its class for the purpose it serves.
There are a few alternatives out there, though. If you shoot exclusively during the day (not requiring slow shutter speeds) you could consider the $99 Vidpro MH-360 Motorized Time-Lapse Pan Head, which can only be set to spin at preset angles and preset speeds, without any move-shoot-move ability. As someone who mainly shoots timelapses at slower shutter speeds at sunset, sunrise, and at night, this is a non-option for me,
Alternately, if you're in the same budget range as the Syrp Genie Mini, and simply want the most features and versatility possible, the Alpinelabs Radian 2 offers almost every advanced function I can think of, including the ability to adapt the rotation device to perform sliding movements instead.
If you want even more functionality than the Syrp Genie Mini offers, such as panning and tilting in a single device, or slide, pan, and tilt functions all at once, get ready to pay over $500 for all the necessary gear, or well over $1K or $2K, and also get ready for a setup that weighs many, many pounds.
Simply put, even if I did need all those other advanced features here and there, I'd still want to own the Syrp Genie Mini just to have in my bag for quick-setup shoots. Thus, its value is proven.
Conclusion:
It's hard to beat the Syrp Genie Mini for performance, features, design, quality, or value. While there's a small chance it might not be the right option for you, I can see it finding a place in folks' camera bags from beginners to serious pros alike.
Price: $249.00 on B&H
Weight: 8.1 oz (230g)
Dimensions: 3.6 x 1.6″ (9.2 x 4.0 cm)
Battery Life – Time-Lapse: 48 hours
Battery Life – Video: 5 hours
Connectivity: Bluetooth input, 2.5mm camera port, Micro USB charging
Panning Load: 8.8 lb / 4 kg
Tilting Load: 6.6 lb / 3 kg centered
Minimum Increment: 0.005 degrees
Physical Mounting: 3/8″ bottom, 1/4″ top
Please comment below if you have any questions or comments!
Take care and good luck on your next adventure,
=Matt=