Note: We have an updated review of the Sigma 105 1.4 here.
Sigma's Art series lenses hold the allure of fantastic optics at prices that, while not classifiable as bargain-basement, still come in lower than first-party. The Sigma 105mm f/1.4 Art sparkles with this same promise, and in this particular case mimics a coveted Nikon classic, making a fast 105mm prime available to those who shoot Canon and Sony for the first time. If you've been considering adding this lens to your collection, you've likely got some questions, and we're here to help with answers. All test images were shot with a full-frame Canon, specifically a 6D Mark II.
Quick Specs
Aperture Range: f/1.4 to f/16
Three FLD Elements, Two SLD Elements
One Aspherical Element
Super Multi-Layer Coating
Hyper Sonic AF Motor, Manual Override
Weather-Sealed, Protective Front Coating
Rounded 9-Blade Diaphragm
Removable Rotating Arca-Type Tripod Foot
Compatible with Sigma USB Dock
Retails for $1599
Available for Nikon, Sony, and Canon
Is This Lens As Big As Everyone Is Saying?
100% yes. It's massive. The filter diameter matches the focal length – it's a whopping 105mm. It weighs in at 3.6 pounds. Nikon's 105mm f/1.4 tips the scales at 2.17 pounds and uses a somewhat more universal 82mm filter. The Nikon is not a light lens in its own right, but the Sigma has really dialed things up here.
Sigma's 105mm f/1.4 Art is really a spectacle to behold. As I took the lens out to test, it was invariably met with astonishment from subjects and passersby alike. This was amusing, so I started keeping track:
"Is that a joke?"
"Wow, that's kind of intimidating."
*bursts into giggles*
"Jesus!"
 A random passerby in a park: "Now that's a big lens!"
"Oh my God look at that thing!"
While you will get used to its girth, as you photograph new subjects who aren't yet acquainted with your beast, they will notice. Not to mention, you start to feel those those 3.6 pounds after a while. While tank-like construction reassures that you've got a high-quality piece of equipment, if you're holding this thing for any significant length, your wrist will be mad about it.
One questions if all this mass is truly necessary, or if Sigma just got a little overexcited in the design stage.
OK, So It's Huge, But Is It Sharp?
Heck yes it is. Wide open at f/1.4 you could cut yourself with the razor-thin bit of the frame that's in focus. As with any lens that can open this wide, the depth of field can be impractically shallow depending on how close you are to your subject and the size of the sensor you use it with, but it that wide aperture is definitely handy in low light. Since this is not a stabilized lens when conditions dim you'll be using all that f/1.4 goodness with it's accompanying super-shallow depth of field, so nailing focus is paramount.
[Recommended: Sigma 14mm F/1.8 Art Lens Review | The New Champion?]
Sigma's Dubbed It The 'Bokeh Master.' Does It Deserve This Illustrious Title?
Well, put it this way, if you are a bokeh-holic, you will like this lens. The nine-blade aperture lends itself to bokeh is creamy, smooth, and plentiful. The Sigma 105mm f/1.4 Art, wide open, can render messy, distracting backgrounds into a buttery blur. Your subject will be pleasantly isolated, though their eyes may not both be in focus if one of them diverges from the centimeter focal plane at f/1.4.
Can It Focus Close?
That's a negative. With a minimum focusing distance of a meter, there can be no confusing this lens for it's 105mm f/2.8 macro brethren. I shot with it inside of an apartment, and it worked, but I found myself backing into walls to frame the shot. The long minimum focusing distance also hindered shooting action where the photographer is close to the scene. If a fast-moving subject is coming toward you, they can swiftly end up closer than you can focus.
Does It Autofocus Well?
Some Sigma Art lenses have had a hard time bucking the impression that they don't autofocus reliably enough for professional use. While user experiences may point to that being true for some Sigma lenses, this one seemed to perform as well as Canon lenses. No scientific tests were performed, but in day-to-day use, autofocus was snappy and didn't fail more than any other reasonably well-focusing lens. However, if you do miss at f/1.4 it will be glaring.
How's The Build Quality?
As touched on above, it's quite solid. The lens feels premium, and it comes with dust-and-splash-resistant features. It has a tripod collar with an Arca-Swiss type foot that I found got in the way for handheld shooting, but thankfully that's removable. The lens comes with a silicone band that fits into the space left behind when you remove the collar.
The hood isn't the typical twist-on petal type, rather, it's a cylinder that screws into place. Since it's a bit bulky and a little annoying to put on compared to the twist-on ones, it spent most of its time in the box. The lens did seem susceptible to flare, but a makeshift lens shade or hand sufficed.
The Sigma 105mm f/1.4 Art comes with a sturdy box-like carrying case with a strap and zipper closure. Where other lenses come with a pouch, a lens this "extra" deserves its own storage cube, I suppose.
There was one stupid little thing here that bothered me. It's the lens cap. It's a dinky little frisbee of thin, matte plastic that feels cheap and falls off. It's a curious choice when everything else to do with build points to quality.
Should You Buy It?
For photographers who don't mind the size and weight or the likelihood that you will be gawked at repeatedly in public with this lens, it really is a stellar performer. You couldn't ask for a sharper lens wide open, and its resolving power is impressive. The bokeh is smooth and pleasing, and paired with a camera with solid high ISO performance and a steady hand, you can use the Sigma 105mm f/1.4 Art in very low-light conditions.
Portrait photography is the most obvious and practical use for a lens like this, and if you're a portrait photographer whose style is bokeh-heavy, this could be a welcome addition to your kit. It possesses more telephoto drama than the classic 85mm, and though awkwardly shaped, it is still shorter (and faster) than a 70-200mm. In fact, at the time of this writing, you'd be hard pressed to find anything quite this fast in the immediate focal length range, other than Nikon's 105mm f/1.4. 
Though this lens is certainly beneficial for outdoor photographers who stay out to shoot during blue hour and have plenty of room to maneuver with a telephoto lens, studio headshot photographers could still find the Sigma 105mm f/1.4 worthy of a look. Life on a tripod or camera stand suits a wrist-killer like this, and even if you have no use for the bokeh-factor or low light performance, you will appreciate the optics and the focal length.
Photographers who can't or don't want to hold a very heavy lens, who are self-conscious about drawing attention to their gear, who are Nikon shooters that would prefer to cough up $600 more dollars for the smaller OEM lens, who need their 105mm to focus close, or who need an image-stabilized lens can walk on by without turning their heads.
Samples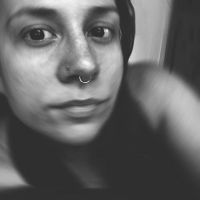 Holly Roa
Seattle based photographer with a side of videography, specializing in work involving animals, but basically a Jill of all trades. Instagram:
@HJRphotos