Rokinon 50mm f/1.4 IF UMC, ($399 @ B&H) vs Canon 50mm f/1.2 L ($1549 @ B&H)
…Can you guess which lens is sharper?
Alrighty then, since I didn't have very much time with this lens, I'll get right to the point:  Here's another killer lens from Rokinon!
Disclaimer / Spoiler Alert:
Of course, if you're an active photographer who needs autofocus, or who needs all-metal equipment that you can use for self-defense in a war zone, you can probably skip this review.  However, if you're into cinematography or any type of photography which allows for manual focusing, keep reading; this lens could be your best choice by far.
Sorry for the spoiler. By now it seems as if Rokinon / Bower / Samyang can do no wrong when it comes to delivering the sharpest images around, at an extremely affordable price.
[Related: Rokinon 12mm f/2.8 full-frame fisheye lens review]
In my opinion, this lens is ready for a 50 megapixel full-frame sensor!
[Rewind: Gear Talk Episode 4 – Our favorite portrait lenses]
We gauge a lens' performance mainly by its image quality and autofocus performance, but since this is a manual focus lens, we'll ignore the lack of AF until we get to the "features" section below. Anyways with respect to image quality, the Rokinon offers results that are equal or better than lenses costing twice as much, including the Sigma 50mm f/1.4 Art and the Canon 50mm f/1.2 L.
Sharpness is decently impressive at f/1.4, and downright stellar at f/2 even right up to the corners.  The extreme, extreme corners don't get truly great until f/2.8 or so, but if you're a cinematographer or street photojournalist who mostly cares about the general area around the rule-of-thirds points, you're good to go even wide open on this lens.
Only a faint amount of contrast is lost wide open, and to be honest, it's only noticeable because the Canon 50mm L and Sigma 50 Art are just so darn good at rendering impressive clarity and color.  More comparisons in just a minute!
Distortion and vignetting are noticeable, and chromatic aberration / fringing are present in certain harsh contrasty edges, but not in most conditions.  Flare and sunstars are great.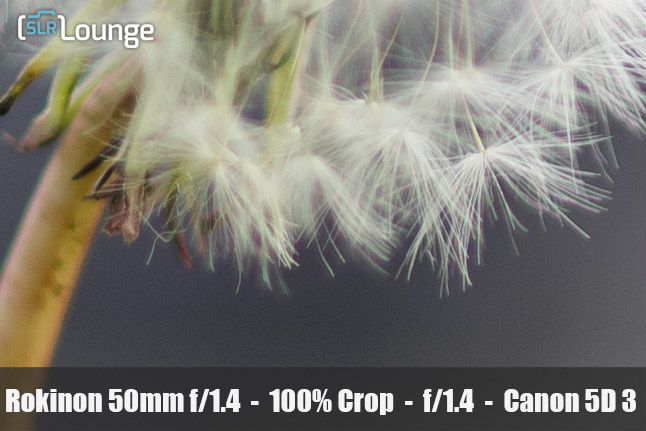 [RELATED: Sigma 50mm f/1.4 Art Review – Gear Talk Episode 2]
I must admit, I'm hard pressed to see serious differences between any of the three lenses I used to compare against.  So let's just get the pixel-peeping / hair-splitting over with:
As you can see, the Rokinon does, in fact, edge past the Canon 50 L in every sharpness test, and it gives the Sigma 50 Art a run for its money.  Especially in the extreme corners, at all apertures from f/1.4 to f/4, the Rokinon seems to be in the lead even!
There are a handful of other 50mm's at the $400-500 price point which we didn't test, but this lens would probably beat them all quite handsomely when it comes to image quality.  If you were previously using a Nikon 50mm f/1.4 G, a Canon 50mm f/1.4, or a Sigma 50mm f/1.4 EX, you should consider this lens.  Again, however, only as long as you're OK with manual focus.
And unless you're utterly obsessed with bokeh and color reproduction, (or need weather sealing and AF on top of those other things), I wouldn't hesitate to dump a Canon 50mm f/1.2 L in favor of this Rokinon, or even the Sigma 50mm f/1.4 Art if you're on even more of a budget.

I think many folks were hoping that this would be Rokinon's first AF lens.  That's really the only reason I feel obligated to give this lens four stars, even though I'd rather give it five stars as a MF lens (That stands for manual focus in this case, not medium format). But, since 50mm is by far the most common prime focal length, it would have been a smash-hit for Rokinon to make this their first AF lens, or even offer both an AF and MF lens.
I personally believe Rokinon ought to stick with MF lenses, so we'll leave it at that. However, I also wish Canon users could enjoy the benefit of a "chipped" lens that transmits info to the camera body, for more complete EXIF data like on Nikon-mount Rokinons.
On the plus side, Rokinon's other lens features are always right up the alley of anyone who is looking for manual focus glass: the focus ring is buttery smooth, with plenty of focus throw for easy follow-focus type needs.  It also does macro far better than any other non-dedicated 50mm prime I've ever seen, including the Sigma 50 Art which is very impressive!
As you can see, the Sigma 50 Art is barely OK for macro work, and exhibits a significant amount of focus shifting when stopped down. Overall, it just isn't as sharp as the Rokinon.  Color me impressed! (Note: At 1080p or 4K video even, I doubt this is an issue, of course.  I'm pixel-peeping a 22 megapixel file here and both lenses are much sharper than average.)
Bokeh on all of these top 50mm's are beautiful, with Canon's L glass (as usual) offering just a touch more creaminess.
In my experience however, that beautiful bokeh (in a controlled environment) is 90% about finding the right background in the first place, avoiding nasty things like chain link fences or branchy trees, and paying close attention to optimal subject/background distances. In other words, if you don't do these things, a Canon L prime won't be able to save your images.  ;-)
Rokinon 50mm f/1.4 Cine Version
By the way, if you've got another $200, you can get the Cine version of this lens for $599, with a geared focus ring and a de-clicked, geared aperture ring.  That's a feature that Rokinon basically owns the market on, for budget-minded folks at least.
Warranty and Service?
If you'd like to call it a "feature," I'd say that Rokinon's warranty and service isn't the greatest, to put it nicely. Some folks report good customer service (and their lenses actually getting fixed), while other folks report that, simply put, it seems unlikely that Rokinon's service center owns the same optical bench calibration equipment that Nikon and Canon have.  As someone who reviews lenses for a living, of course, I'd love to hear word directly from Rokinon, but haven't been able to make that happen yet.
All in all, I personally don't consider less warranty options to be a deal-breaker, but others might.
I suppose I already mentioned the important design aspects as part of the features section of my review, since these two often overlap on a lens. Generally speaking though, I have no complaints about this lens' design. Everything is smooth; the hood fits snugly, the focus ring is just the right size, and the filter threads are the standard 77mm that pros love to see.
Also, bonus points for adding (useful) hyperfocal markings and lots of distance increments as part of the long focus throw! It is a shame that modern AF lenses completely gave up on such design elements many, many years ago. Most modern lenses don't include hyperfocal markings at all, and the ones that do have such small focus throw that they're basically useless (See the comparison against the Canon 50L above).
I did notice one thing that raised my eyebrow, and that was the way they designed the moving front element. If you look closely at the above image you can see an inner "lip" that moves with the glass, and around this lip there is an open space that looks, well, a little too open for my taste. Hopefully, the spaces between the glass elements are sealed off from the rest of the focusing mechanics, because otherwise, this lens could get dusty inside.  If you start hearing reports of this, go buy a clear / UV filter and slap it on whenever you're shooting in extremely try / dusty areas.  Otherwise, don't worry about it!

On the one hand, I am definitely happy that Rokinon is sticking with their manual focus mantra and I actually think AF would be a mistake for them.  On the other hand, I would love to see a Rokinon lens that is built like a Sigma Art lens, or even a Canon L lens.  Heck, even Tamron might be a little better at using high-grade plastic and maintaining optical integrity under heavy abuse.  And then there's Tokina, still making some of the heaviest lenses around, with all kinds of metal parts inside.
To be fair, I'll admit that it does seem Rokinon has improved their build quality compared to earlier designs.  This lens should certainly hold its "edge" better than the likes of the Rokinon 14mm f/2.8 or 24mm f/1.4, which are much older and do have a distinctive "cheap plastic" feel to them, plus their glass elements seem to get out of alignment easily and cause serious edge softness / tilt-shift-y images…
Suffice it to say, as I mentioned in my Rokinon 12mm f/2.8 fisheye review, unless you have a taste for Canon L glass, or Zeiss lens construction, you'll find this 50mm f/1.4 lens to be plenty good in the quality department.
[Related: Roki-Bow-Yang Lenses, a long-term quality review]

At $399 for the regular version and $599 for the cine version, you can't go wrong considering this is one of the sharpest 50mm's we've ever seen.  Even if you're horribly abusive with your gear, it's not like dropping this Rokinon lens on concrete would cost you any more to replace entirely, compared to the cost of repairing a Canon 50L that hit the same patch of concrete.  So, just take care of your camera gear!
Conclusion
All in all, what we have here is yet another winner from Rokinon. At $399, the saying "you get what you pay for" is no longer 100% true. This lens competes well optically with lenses 2-3 times its price, and is built to operate beautifully smoothly as long as you take decent care of it.
Gorgeous bokeh, and fantastic wide-open sharpness- two must-haves for any 50mm!
Who Should Buy This Lens?
Rokinon clearly began with its target market being cinematographers, however it has grown to include many others.  Landscape photographers, both those who shoot wide open and stopped down (and who, like many cinematographers, don't care about AF), will be hard-pressed to find a sharper 50mm. Astro-landscape photographers, who shoot wide open or only 1-2 stops down, will also love this lens.  Pretty much anybody who shoots "slow and steady" on a tripod, basically.
However, with the advent of focus peaking on mirrorless cameras like the Sony A7 mk2, manual focus lenses like this are becoming more popular even among portrait photographers, and even wedding photojournalists in some cases. You'd be surprised how easy it is to manually focus a 50mm f/1.4 lens, with the right focusing aides.
What Are The Best Alternatives?
If you're OK with manual focus and you're on a budget, this is literally the only lens for you, by a very long shot! Bokeh addicts or big spenders might consider the Canon 50mm f/1.2 though, or the Voigtlander 50mm f/1.1 on a camera like the Sony A7 mk2. But that's it.
If you're not OK with manual focus, or if you're just not sure, here are a couple alternatives:
Nikon 50mm f/1.8 – Just about the only lens that is more affordable than the Rokinon 50mm f/1.4 (that I feel confident in recommending). This little bad boy is decently sharp wide open and amazingly sharp stopped down.  Plus, it weighs next to nothing and is built far more strongly than either the Canon 50mm f/1.8, or the older Nikon 50mm f/1.8 D. It even has a rear mount gasket!
Sigma 50mm f/1.4 EX – If you're on a sub-$500 budget, but want the best without losing AF, this is the best lens for you in my opinion, especially Canon shooters, until Canon updates their decades-old 50mm f/1.4
Nikon 50mm f/1.4 G – Compared to the Sigma EX, this lens is actually still a winner.  It's decently small and light, but not jaw-droppingly sharp nor does it have the greatest bokeh (for that, Nikon die-hards would want the Nikon 58mm f/1.4 G N).
Sigma 50mm f/1.4 Art – This is the only sub-$1,000 lens that is on par with or better than the Rokinon 50mm, pain and simple.  It's built like a rock, it's got AF, and the images are basically identical to the Rokinon (with the one major exception being macro, in which case the Rokinon is surprisingly sharper than any other 50mm I've tested).
That's it, I'm finished!  Please comment below if you have any questions about my experience with this lens, or any input of your own!
Take care and happy clicking,
=Matt=
Matthew Saville
Matthew Saville is a full-time wedding photographer at Lin & Jirsa Photography, and a senior editor & writer at SLR Lounge. Follow his personal wilderness adventures:
Astro-Landscapes.com
See some of his latest wedding photography featured on:
LinandJirsa.com