If, in the past 5 years, you've picked up a few fashion magazines or an editorial mag like GQ, or Details, Cosmopolitan, etc. you will have noticed a trend in photos that doesn't seem to be on its way out. Made famous by Terry Richardson, this trend is to have very punchy light, create hard shadows, and add really nice highlights in the eyes. Though Uncle Terry typically uses a single direct light held close to the camera, a similar effect is often achieved by using a ring flash.
Product Highlight: Natural Light Couples Photography Workshop
Ring Flashes are expensive and the price is inhibitive for many photographers who want this commercial look. A few years ago ExpoImaging released their hot shoe flash adapter called the Ray Flash. Attaching to the flash, the light was then channeled down a column and distributed in a manner akin to more expensive ring flash units. The up shot is that the Ray Flash was light, easier to travel with, had no external power source, and was around $180. It performed well and has become a commercial success, and one only needs to look at Flickr or 500px groups dedicated to it, to see what it can do. Now, they've released version 2.
[REWIND: Lastolite Introduces New Magnetic Backdrop Holder]
The immediate advantages of the new version are its price, and it's compatibility. It's cheaper than the original at $139.95 and while the first gen was quite limited with what flashes it would mount to, this new one has a universal flash adapter and comes in two size versions: Long and short. The shorter version is supposedly for smaller consumer DSLRs like entry level Nikons or Canon Rebels and the larger for more pro DSLRS. However, the company has a complete list of suitable cameras and the list is quite extensive, including offerings from Olympus, Fuji, Sony, and Pentax. It's worth noting the lack of mirrorless cameras on that list (found below).
Ray Flash has been out for a few years and have released version 2 which adds greater compatibility and drops price.
Tips For Ray Flash Shooting:
1. Zoom your flash a bit which will concentrate the output and give you punchier light from the Ray Flash adapter, and help bring out those nice circular catchlights in the eyes that make the ring flashes so attractive. It'll also likely reduce light leak.
2. Overexpose your shot by about half a stop, possibly up to a full stop, in camera. For this commercial effect, you possibly want to wash out the skin a bit to help the features pop and harden up those outlining shadows.
For more on the Ring Flash you can see their site.
Via: ThePhoblographer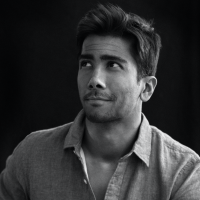 Kishore Sawh
A photographer and writer based in Miami, he can often be found at dog parks, and airports in London and Toronto. He is also a tremendous fan of flossing and the happiest guy around when the company's good.