I have a slight obsession with instant cameras. Maybe because I'm part of the instant gratification generation? Maybe because I adore prints. I really do just love the novelty of it. And my kids love it, too. I have a Fujifilm Instax Mini and it's a big hit at birthday parties. At WorkStory Corporate Photography, I use it as a conversation starter at business networking events. People love it. The one thing I wished my Instax had, though, is a way to keep a digital copy of the prints since I inevitably give them away.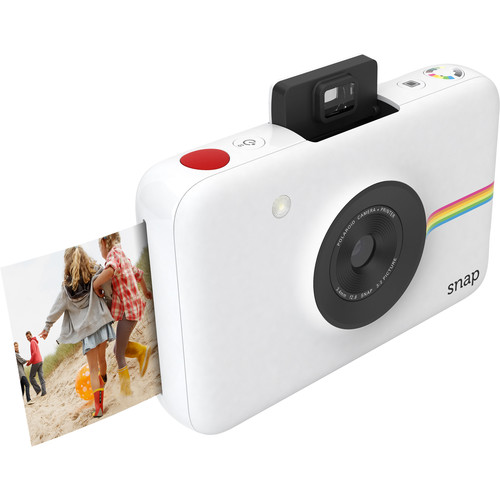 When I heard the Polaroid Snap camera produced an instant print and saved a digital copy, I had to check it out. Polaroid sent me a Snap and a packet of 20 sheets of 2×3″ ZINK photo paper to test out for a couple weeks, and my kids and I had a bunch of fun testing it out. We basically set up a quick photo booth with goofy hats and glasses and snapped away. Here's what I discovered about the Polaroid Snap. I hope it helps you when deciding which instant camera is right for you.
Performance

In general, the Snap performed as expected for an instant camera. Instant print cameras have their limitations for sure. Basically, you're getting a point and shoot with no control over your exposure, aperture or other things we expect with a more versatile camera. When comparing the performance of the Snap to other instant cameras, I found it to be lacking in a few areas, however.
Shutter lag
The first time I used the camera I pushed the shutter and then moved the camera and ended up with a not so great image (see above). There's quite a long shutter lag, which can make it difficult to photograph kids, especially. We worked it out and got used to it, but I did find it to be a challenge. With older Polaroid cameras and my Instax when you push the shutter it immediately takes the picture, so the lag was surprising to me.
Print Time
It takes a full minute from the time the shutter is pressed to when the print is fully printed and released from the camera. In the grand scheme of things waiting 60 seconds for an instant print really isn't that big of a deal, but when you're used to having a print pop right out, and then waiting for it to develop, the wait time was cumbersome. Especially with kids, since they were constantly running away from the photo booth area until the print finished and then I had to round them back up again.
Print Quality

Compared to the old-style Polaroid prints, I was disappointed in the print quality of the ZINK photo paper. The colors were dull and visible lines were showing in some of the prints.
My expectations for print quality for an instant camera were not super high to begin with, so I wasn't terribly disappointed, just observed that compared to the old style of instant print the quality was not as nice. I did like some of the features of the paper, which I'll talk about later.
Flash
There is no way to control the flash on the Snap, as you can on other instant cameras. It appears to be an auto flash, turning on when the camera perceives the lighting conditions are dark and not firing when the lighting is bright. I would prefer to have control over the flash. The flash also seemed to be too powerful and totally washed out my subjects in the images, at least on the prints. The highlights are not as hot on the digital versions.
Features

Where the Polaroid Snap lacks slightly in performance, it makes up for in super cool features. Check them out below.
Easy to Use
The Snap is so easy to use I didn't even need to read the users manual. In fact, I couldn't even find one in the packaging. I did find a user's guide for the Polaroid Snap online here. I literally pulled it out of the box, and based on the icons on the camera itself, figured out how to use it. It comes with a USB charging cable, which I used to charge up the battery before testing it out. I also discovered it takes a micro SD card (up to 32GB) for storing the digital files. I asked my tech-savvy husband if we happened to have one of those sitting around and he pulled one out of my Android phone. Tada! Using all the following features was self-explanatory.
Digital Images
As previously mentioned, the ability to store a digital copy of the images taken with the Snap is what makes it stand out from other instant print cameras. It was easy to load the images onto my computer via the included USB cable and I loved being able to share them online quickly without having to scan them. The digital images are 3680 pixels wide, which is plenty large for sharing online and making small prints. Great job Polaroid!
fun effects
There are three color filter modes on the Snap. Color, sepia, or black & white. To change it up you push the tints button until the light indicator lands on the filter you want. You can also add a border by simply pushing the border button. There's a photo booth effect, which I actually didn't discover until I read the user's guide (but I swear that's the only thing I couldn't figure out right out of the box). The photo booth mode allows you to take 4 prints and then it prints them all on the same sheet. You just hold the shutter button down for 3 seconds and then hold the camera still while it takes 4 shots. Or, place it on a tripod.
Timer
The Snap has a timer button so you can take a selfie or include yourself in group shots. Simply push the timer button and then push the shutter. It will count down with beeps so you'll know when to smile.
zink Paper
The 2×3″ ZINK "zero-ink" paper used with this camera is super cool. The thickness of the paper is similar to that of a mall photo booth print. The print quality is similar to photo booth prints as well. It's a borderless print, which surprised me. I was expecting the standard instant print with the thick stock and white border. The paper also has an adhesive backing, like a sticker, so it can easily be stuck onto a scrapbook page, album or craft project.
When the print pops out it's ready to use. No drying or develop time needed, which makes up for the 60 seconds it takes to print. One feature I wish was included is some way to tell how many sheets of paper are left in the camera. It holds 10 sheets, you'll just have to keep track.
Design

Modern & Trendy
The Snap has a sleek, modern, trendy look and is available in a variety of colors. It's pocket-sized, which is handy, and has a wrist strap for safety. The plastic body is slippery so I definitely recommend using the wrist strap. There are several cool cases available at B&H and I would probably get a case for this if I were to buy one.
I thought the magnetic lens cap was very innovative. It lays so flat and nice on the camera body. It is quite small, though, and I misplaced it several times during the two days I was testing this out. I do appreciate a retractable or tethered lens cap on tiny cameras like this because let's face it, I would lose my head if it wasn't attached.
Ergonomics
The Snap doesn't feel as snug in my hand as other cameras since there's no grip. While it looks super clean and modern, I really do prefer something to grip. As mentioned before, you'll want to use the wrist strap for sure.
Enclosed battery
The battery in the Snap is not removable. You charge the whole camera via the USB charging cable. While this isn't a deal breaker, I try to avoid enclosed batteries because if the battery dies the whole camera is useless, since you can't change it out. On the plus side, you don't have to buy new batteries all the time, which is a cost saving consideration.
Pop Up Power Button/Viewfinder
When you push the power button on the top of the Snap it pops up and becomes the viewfinder. At first, I thought this was very innovative and cool since the camera looks and stores very sleekly and compact. But I quickly realized this part of the design is not ideal. Every time I grabbed the camera I accidentally pushed the power button and the viewfinder would pop up, which was really annoying. When putting the camera away in my bag a few times it popped open and had I not noticed the battery may have drained, although there is a power saving "auto off" feature to save battery life.
Quality

The quality of the Snap is as expected for a low-priced instant print camera. It seems well-built and I didn't experience any malfunctions while testing it. I certainly wouldn't want to drop it, but that's the case with any camera. There is a silicone case available, which would be a must have if you're going to let kids play with this thing. All the buttons and even the pop-up viewfinder were sturdy and easy to push.
Value

At just $99, the Snap is a great value for an instant print camera. Keep in mind, you do have to buy the paper, and at about $0.50 each print, it could add up quickly. You also need a micro SD card if you want to store the digital images, which can run anywhere from $10-$150. For the novelty of the instant print + digital, I believe it's a fair price.
conclusion

While I won't be ditching my Fuji Instax Mini at the moment, if Polaroid updated a few of the design and functional features of the Snap I would totally make the switch. Overall, I highly recommend the Polaroid Snap if you're looking for a novelty instant print camera with the ability to store digital images. It's fun, instant gratification perfect for parties,  DIY photo booths, scrapbooking and craft projects. It looks cool and fits so nicely in a pocket or purse. Would you try it?
Get it here in your choice of 5 colors.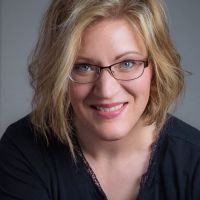 Tanya Goodall Smith
Tanya is the owner of WorkStory Branding Photography in Spokane, WA. Businesses hire her to create story-telling content that sells their high end products and services. She also teachings photographers her unique business model for making serious money as a corporate and personal branding photographer. Find her at
workstoryphotography.com
and
workstoryeducation.com