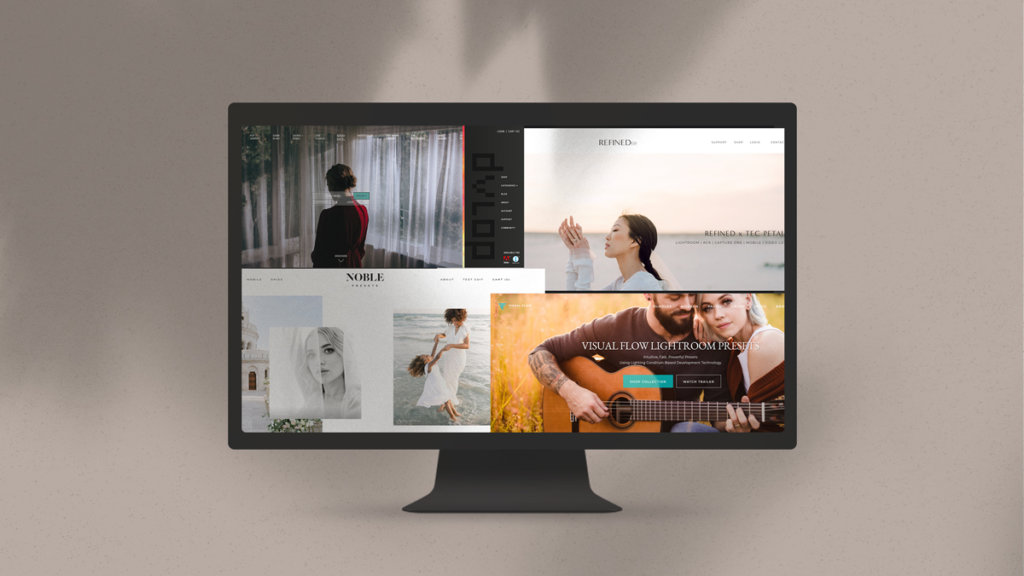 Who among us hasn't heard of Lightroom? Professional photographers and enthusiasts around the world use this popular (and powerful) photo editing software. Because of its popularity, several companies have designed Lightroom-compatible presets to further simplify the editing process. With presets, photographers can apply pre-made adjustments to photos and get to a final image more quickly, sometimes in just one click. Finding the best Lightroom presets for your shooting style can prove challenging, however, with so many options available. In this article, we'll showcase some of the best Lightroom presets available for all types of photographers. Whether you're a pro or a hobbyist, these presets can help you make your good photos great with minimal effort.
Visual Flow Lightroom Presets
Visual Flow has taken a novel approach to creating uniquely powerful presets for photographers. What makes them unique? They're based on a system called "Lighting Condition Based Development (LCBD)." In other words, each preset has been optimized to work with specific lighting conditions. Some of the lighting conditions include soft light, hard light, backlit, tungsten, green tint, and more. This allows photographers to achieve consistent looks for each photo, regardless of the ambient lighting conditions in which it was captured. Visual Flow presets also feature intuitive design, making them easy to use. For that reason, even photographers new to Lightroom can quickly achieve stunning results. Overall, Visual Flow Lightroom presets offer photographers a powerful tool to streamline their workflow and achieve consistent, professional-looking results.
DVLOP Presets
DVLOP also creates Lightroom presets and camera profiles for photographers. Even if you've never heard of them, you've likely heard of their contributors. For instance, some of the most prominent photographers in the industry, including Jose Villa, Caroline Tran, and Susan Stripling, have designed presets for DVLOP. Like the other "best" entries on this list, DVLOP presets have earned high regard for their quality and versatility. Each preset works well across different lighting and camera conditions. This allows photographers to achieve stunning results with ease.
In addition to presets, DVLOP also offers camera profiles that optimize the color and tonality of images based on the specific camera model used to capture them. Overall, DVLOP presets provide a powerful tool for photographers looking to streamline their workflow and create professional quality edits.
Refined Presets
Refined Presets offers a collection of Lightroom presets specifically designed for wedding photographers. You can use these highly regarded presets to produce timeless and classic images with a consistent, polished look. Wedding photographers often have to work with various lighting scenarios, including low light, harsh sunlight, and mixed lighting conditions. Refined Presets can handle these lighting scenarios with ease and produce beautiful results that look both natural and vibrant.
How to buy Refined Co Presets:
Noble Presets
Noble Presets can help photographers achieve a warm, timeless, and natural look across their images. Highly regarded in the industry for their quality and ease of use, Noble Presets remain popular among wedding, portrait, and lifestyle photographers. Like others on this list, each preset in the Noble Presets collection works well with a variety of lighting and camera conditions. Because of this, photographers can achieve stunning results quickly and easily.
In addition to presets, Noble Presets also offers editing tutorials and resources to help photographers improve their skills and achieve their creative vision. Overall, Noble Presets offer a powerful tool for photographers looking to enhance their images with a warm, natural, and timeless look.
Mastin Labs
Mastin Labs creates Lightroom and ACR presets for photographers. Their presets are designed to help photographers achieve a film-like look in their digital images, inspired by the classic and timeless aesthetics of film photography. Mastin Labs presets are known for their ability to produce natural and authentic colors, with soft highlights and rich shadows.
Better than their competitors, Mastin Labs presets  can emulate the look of specific film stocks, such as Kodak Portra and Fujifilm. Mastin Labs uses a proprietary color science process that matches the characteristics of these film stocks, resulting in a highly accurate film emulation.
Mastin Labs presets are suitable for various photography genres, including wedding, portrait, and editorial photography. They've proven especially popular among wedding photographers. Regardless of genre, however, Mastin Labs presets make a great option for those looking to achieve a classic and timeless film look in their digital images.
Other Preset Companies
If the presets above don't fit your style, consider the following Lightroom Preset companies for your wedding photography.
Archipelago presets – Archipelago presets are available in various collections, each with its own distinct style and tone. For example, the "LXC" collection features soft and muted tones, while the "Atlas" collection features rich and vibrant colors. The presets are designed to be easy to use and can be adjusted to fit any individual style or preference.
Cascade Presets –  Cascade Presets is a collection of Lightroom and ACR presets created by Benj Haisch, a professional photographer based in Seattle, USA. These presets help photographers achieve a modern and cinematic look in their images, with a focus on moody and desaturated tones.
Meridian Presets – Meridian Presets represents a collective of renowned industry professionals from the LOOKSLIKEFILM community, much like DVLOP. The group includes Benj Haisch, Lukas Piatek, Chenille Rojas, and Jennifer Moher, among others. They provide presets and effects for wedding and family photographers.
Conclusion
The best Lightroom presets can help photographers achieve consistent and professional-looking results in their images in very few steps. Seasoned professionals or amateur photographers alike can use presets to streamline their workflow and realize their creative vision. From warm and natural tones to a more filmic look, options abound to suit many styles and preferences. When you find and use the right presets for your style, you can more easily create timeless images that clients will cherish for years to come.
Alice Houstons
Photography has been a part of Alice Houston's life for over a decade now. Here at SLR Lounge, she prides herself on being a wealth of knowledge in the latest photography news and tech. Always searching and a self-described "Digital Nomad," she loves learning about those unique stories that inspire photographers around the world!