Assessing where and how you spend any of your resources whether it be time, money or whatever, gives you the opportunity to see inefficiencies and habits, and helps you see value. For the modern photographer the majority of our time is – beyond a shadow of a doubt or argument – spent in front of a computer screen. It is your place of work, play, discovery – it's your home base. And as such, the value of a good monitor cannot be overstated. The question is: In a sea of options, is the BenQ SW271 a good enough monitor for photographers to consider purchase?
To save the suspense, I'll say here that it is. It's not the pinnacle of performance and it has its quirks, but damn if it isn't ideal for the vast majority of working photographers. It's combination of attention to detail, individual inspection, overall performance and price point make it extremely difficult to beat.
27″ In-Plane Switching (IPS) Monitor
USB Type-C / HDMI / DP Inputs
USB-C does 4K at 60Hz, and does both data and calibration
3840 x 2160 Resolution
1000:1 Contrast Ratio
350 cd/m² Brightness
178°/178° Viewing Angles
5 ms Response Time (GtG)
1.07 Billion Colors
99% Adobe RGB Color Coverage 93% DCI-P3
Built-In USB Hub – 2 USB 3 ports
HotKey Puck for selection and mode toggle
Monitor Shade – suitable for Landscape & Portrait orientations
High speed SD Card reader
Unboxing & Connecting
The BenQ SW271 will arrive at your door and sit there like a bear – occupying the entire width. It's an enormous box, but you'll see the monitor and components are well placed. There's also a lot inside as BenQ has graciously decided to include essentially everything you'll need to get started no matter your current set-up. There's a bevy of cables to suit, the hood comes in its own box so you can keep that nicely together, and connection from that point on is easy – once you get the stand together which for some reason is a bit tricky at first. But the stand is great, and the flexibility of movement allows for the most comfortable viewing positions, helping neck strain and so on.
Connection is quite immediate too since they supply almost every cable you could want, and if you're using USB-C it's all the easier. The SW271 can do data transfer of images and video as well as handle hardware calibration through a USB-C cable, but if you're using any other option you'll have to use a third cable. USB-C also allows for the use of the SD card reader and USB 3 slots.
At this point you should also be aware of how powerful your computer hardware is because your graphics card could limit the refresh rate to 30Hz if it's old, instead of the 60Hz that you want. if you are running a Mac from the past 2 or 3 years you should probably be fine. You can check this though beforehand, and if you are set up you can go into Settings and see what you're actually getting.
Calibration
The first thing you see when unboxing the BenQ SW271 is a unit-specific calibration report and that should be the first indicator that you're getting a quality product. It's not so much about what it says, but that there is one in the first place.
While the factory calibration report will give you a snapshot of the basic performance of your unit relating to gama, color gamut and E measurement (nothing about uniformity), the important thing about including this report is that it means BenQ is individually testing each unit before they ship, which means the unit it much less likely to have a defect when it arrives in your hands, and usually that's a sign of a company willing to stand behind product performance.
Now, that all said, you should still calibrate your monitor once you're set up, and a beautiful thing about the SW271 is that it it is 10-bit and has hardware calibration, which means you'll be getting incredibly accurate, industry-standard level calibration profiles when you calibrate.
All that's required is downloading of the BenQ Palette Master Elements software (free), and then using a calibration device like a DataColor Spyder5 or the like. The process is fast and relatively painless, and my recommendation is to use the hood when you're calibrating if you're going to use it afterward. And there is a little sliding slot in the hood that is supposed to be for you slide your calibration device through, but it's not big enough for a Datacolor Spyder, so it requires threading the cable up through it first.
Performance
The BenQ SW271 is a top performer, period. From the ergonomics of the band and stand, the ease of use and flexibility offered by the hotkey puck which allows users to switch modes and color spaces and more, to the actual screen performance it's very very good – but not perfect. That, however, is being a stickler.
Uniformity typically relates to uniformity of brightness and of colour. Uniformity of an LCD screen is something many people are aware of but colour not so much. A non-uniform monitor will tend to show a little magenta on the left and more green on the right, and the levels vary. Clearly then, the more uniform the better.
Uniformity of a monitor is also one of those things that separates the men from the boys, so to speak, and the SW271 is not uniformity corrected. However, for a unit that is not corrected it is incredibly good. As far as uniformity of light goes my unit is pretty much flawless, with no obvious hot spots, an evenly lit center, and no bad light leaks on the edges. The blacks are also extremely good, showing truly deep and crisp in all but the darkest of rooms.
There is, however, a little bit of magenta / green split that is discernable. Now, I should preface that statement by saying I have exceptionally good eyesight a very keen eye, and even then the tonal bias isn't much. It's not something that would prevent me from doing my work on the monitor or recommending you do too.
And this is a 4K unit, and that's a joy in 2018 because pretty much all software play nicely with 4K scaling. So you can size your screen as you want and all text and icons and so on are razor sharp. You can also make your desktop extremely clean if you so desire.
And of course, for a photographer in 2018 having a 4K monitor is not just a joy, but getting to be a necessity if you're shooting really high-resolution cameras. Looking at files right now from an A7Riii, Hasselblad X1D, and Phase One Trichromatic it's just brilliant to be able to pull up and image and quickly zoom in to ensure my details are perfectly sharp and have confidence that the monitor is showing me enough detail.
Problems
To be fair, there isn't much wrong with this monitor, and certainly, I can't think of a better one for the price. But, there are things it could do better. As mentioned before, there is the slightest of uniformity issues, and those of you coming from truly high-end monitors may notice it, and for how I like to work that could theoretically be problematic, though thus far it hasn't really been. When editing in Photoshop, for instance, I'll usually Arrange-uP my image Vertically in two, meaning I have two windows with the same working file up so one if the whole image and one is zoomed into the area I'm working on. This allows me to see changes as they occur instead of zooming in and out all the time (see this post to see what I mean and how to do it). But a lack of uniformity may mean that the colors of one side of the screen vary from the other, and the implications of that are rather obvious.
Again, however, I stress this monitor does really really well here, but it's worth mentioning for those used to perfection.
Then there's the hotkey puck which I wish was bluetooth because cable management is the bain of my existence. Also, the hole in the back of the stand for sables to be threaded through means it doesn't provide the neatest of looks as you'll always have a minimum of 3 cables through it if the hotkey puck is plugged in.
Conclusion
It's hard to imagine that the BenQ SW271 is not going to change the offerings from other brands because it's just offering so much at such a competitive price point. To have this level of uniformity of light, of colour, 4K, 10-bit, 99% aRGB, USB 3 hub, SD reader, hood, and all the rest for $1,099 is remarkable.
What it does, beyond all else, is allow many more people to not have to choose between colour accuracy and pixel density. It used to be rule of thumb that photographers should choose colour accuracy over resolution any day of the week if a choice had to be made, but now you can have that accuracy and resolution for a great price, and in a year where your applications will play nicely with it all. I'm fairly confident BenQ will release a uniformity managed version of this, and then other manufacturers are going to release competitors to this because it's so compelling.
You can get it here.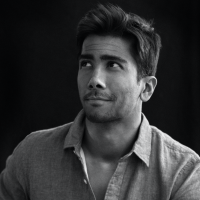 Kishore Sawh
A photographer and writer based in Miami, he can often be found at dog parks, and airports in London and Toronto. He is also a tremendous fan of flossing and the happiest guy around when the company's good.