I've been on a quest to move out of my comfort zone again, and recently, I decided I wanted to explore artistic portraiture. I've done some outdoor shoots for artistic concepts, but I've been itching to try a different formula. I wanted natural light + home studio + backdrop of some form.
I've got a few backdrop ideas to cycle through which I'll be sharing here as I try them out, but the first one in the experiment was the painted muslin backdrop. I was a little leery of trying this out at first. This style backdrop was popular in the 90's and I didn't want my images to feel dated. I'm so used to thinking about studio images with solid paper or cycle walls. Maybe it's just a product of all the magazine images I've stared at, but Craig Lamere, whose work I had been following on Facebook of late, really inspired me to give it a try. He uses Silverlake Backdrops and they have a million and one options to choose from. It was all rather overwhelming so I cheated a bit and went straight for the backdrops that were specifically designed for Craig. Why reinvent the wheel, right?
How It Arrived
First off, my 10×12 Ash Backdrop (that's the name of it), was hand painted! It took a couple of weeks for the order to be shipped since it was hand made. The canvas arrived folded up neatly in a box. The pattern is beautifully mottled! I love the colors and the soft textures of light. I was concerned about how to get the wrinkles off this huge sheet, but was quickly relieved when I viewed a video on their site explaining a very simple technique. All it took was a few squirts of water out of a spray bottle and I was shooting in no time!
What I Liked
It's convenient. The biggest problem with traveling with seamless paper is the transportation of long rolls. It's just not portable enough. With a fabric backdrop, I can fold it up in a bag and take it with me, store it easily, and now that I know how to get rid of the wrinkles

…

not even sweat the creases!
It's durable. Paper tears, punctures, and gets dirty so easily. Fabric just doesn't.
It's a one time investment.

Photoshopping

is easy. Of course, that's because I got a design that's easy to manipulate. By that I mean, a liquify or warp here and there won't be a painstaking reconstruction of the background because the design is so abstract and irregular unlike something that had a geometric design to it.
Instant texture. In the past, I would shoot

on

solid backgrounds and add texture in post production to get some of the coloration and highlights that this backdrop got for me naturally.
[PRODUCT HIGHLIGHT: Photoshop Paper Texture Collection + Video Tutorials]
What's Hard to Like
The smell. It's hand-painted so I'm assuming that with time that paint smell will fade. In a small

room, however

, it was somewhat difficult to get used to at first. I probably should have aired it out for a day before using it.
The price. It's handmade. It's a large seamless piece of fabric. It's going to be much more expensive than a roll of seamless

paper, especially if you

get the large one. But, it will last forever and you can sell it if you get tired of it.
If you end up liking it, you'll want more than one and that's another investment.
A Couple of Tips
Like all backgrounds, depending on the way you light it, you get different results. Buy a neutral color to give you a wider range of use. Changing color is as easy as gels on your lights or post production modifications. All the images in this article were done with the same backdrop.
[REWIND: Creative Gelled Portraits by Christophe Lambin]
Don't limit yourself to just using it indoors. It was great to use outdoors as well. You just need to mind how the light hits it.
Conclusion
I've shed my fear for textured backdrops. I really enjoyed working with this fabric and design. I wish now that I got the 10×20 instead to have more room to move my subject. I'm giving this one 5 out of 5, and I'm starting to save up for 2 more.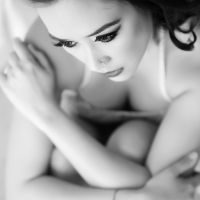 Michelle Ford
Michelle is a Southern California Portrait and Wedding Photographer. When she's not geeking out with a camera she's nerding out in her IT world. All other moments in the day are spent with her two wonderful children. See her work on
The COCO Gallery
check out her blog at
frexNgrin