If you're alive this century, that is to say you have a beating heart that pumps blood to a brain that can still evoke arousal, you do get a little excited with new technology. From cameras to lenses, to headphones, to Teslas, somehow these collections of metals and wires still are able to get our heart rates up. When a new camera comes on the market, like a Nikon D750, or a new 5D, that excitement is palpable, and the same goes for some new Sigma prime. What tends to get little love in comparison are monitors.
Strangely, we still 'ooh' and 'aah' at the new televisions, but then again, they are a centerpiece of a room (sadly) and still the entertainment hub for the time being. Computer monitors are still viewed as second class citizens of your living space, and that should change. If you're used to a small monitor size, like a laptop, upping to something like an iMac is a transcendental experience because the screen real estate is that much bigger and better, and thus what you can do with it is that much more. So that Samsung has released a series of a bit more affordable curved PC monitors is something to appreciate.
The unveiling of 3 new monitors joins the SE790C unveiled at last year's CES. But as the SE790C was a 34-inch behemoth with 3440 x 1440 resolution and an equally massive $1200 price tag, these new offerings 23.6, 27, and 31.5-inch sizes, and all have 1080p panels, with the priciest version costing half the SE790C at $599.
Computer monitors are generally associated with single person use, unlike a television, and that sort of makes the curved screens a bit more sensible, and suitable, as they work best when seated directly in the center.
The idea is that the curves go to the edges and curve towards the viewer which more naturally fits the natural curve of the eyes as the corners are now closer to the center's focal distance, requiring less focal adjustment. The curvature on the range varies from 3000R to 4000R, and they offer 5,000:1 static contrast ratio, offering better darks.
Furthermore, these new monitors apparently have an 'Eye Saver Mode' that reduces the sheer volume of blue-light output (which apparently strains the eye), and is flicker free. All of this means less strained and tired eyes, and in a time when we are spending fortnights in front of the screens, often laser-focused as we are within the bowels of a retouching session, this is a welcome set of changes. There are also other changes for those who use their monitor for Netflix marathons and gaming, such as a 4-millisecond response time, which means movement is shown naturally without jitter nor blur.
Thoughts
There is one thing to consider, in my opinion and experience, however. If you've ever been in front of a curved television or monitor, it is actually quite a nice place to be. The sense of panorama and engulfment in your media is noticeable and enjoyable, but it really works better past a certain size, and larger is better in this case. I would recommend bypassing the 23-inch SE510C in favor of either the 27 inch variant of it, or the 27 inch SE591C, and preferably the 31.5 inch SE590C. If you're going to get a curved monitor, you may as well make it worthwhile.
Find out more here.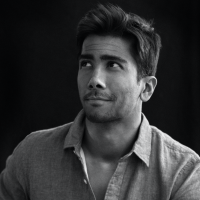 Kishore Sawh
A photographer and writer based in Miami, he can often be found at dog parks, and airports in London and Toronto. He is also a tremendous fan of flossing and the happiest guy around when the company's good.