Elinchrom, your friendly neighborhood Swiss lighting specialists, not long ago released the Skyport Transmitter Plus HS system, a system that allowed for 1/8000 sync, had a backlit display the size of a sports stadium jumbotron, and lots of control for all lights being used. As if that weren't enough, they've made it available for Canon and Nikon, and Sony will soon join that list. Thank you, Elinchrom.
But most people thought that this system was the next step, the evolution and replacement of the Skyport, but it wasn't; this is: the Skyport Plus.
The Skyport Plus is the true successor and is an improvement (on paper anyway), than what has come before it in every possible way. It is slim, but with enough buttons and indicator lights to be intuitive, can swivel for optimal signal position, and has a range north of 650 feet. Furthermore, it allows for use with leaf shutter systems in a dedicated 'Speed Mode' that works with both the transmitter and receiver, and much to the delight of just about everyone, it will now take double A batteries.
What's possibly most remarkable about them, however, is that they are as close to a universal system as you're going to find as it can trigger any system given the included sync cords, and since it has a shoe on the back/top, it makes for easy mounting and use of just about any hot-shoe flash in existence.
And if you've got Skyport-enabled flash units? You can control those with it. In fact, the whole system is backwards compatible with older Elinchrom Skyport pieces and the Plus HS. It'll also be compatible with Elinchrom ELB and ELC units. And how much for all of this? Less than you likely expect, and right around the price that'll give the competition a run for their money. The Skyport Plus Transmitter reportedly  comes in at $90 and $100 for the receiver, or $140 as a bundle.
The market for triggers has become entirely fierce in the past two years, and this makes it no easier to choose.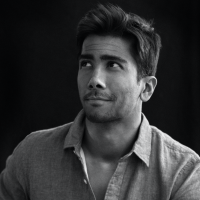 Kishore Sawh
A photographer and writer based in Miami, he can often be found at dog parks, and airports in London and Toronto. He is also a tremendous fan of flossing and the happiest guy around when the company's good.