It's easy to get into a photography rut, especially as a working professional. You know what works, you have your routine and your go-to gear, and you want to make sure you get the job done in a timely manner.
Even as an enthusiast one can tend to shoot with the same techniques time and time again, and every once in awhile I take a look at my work and think I need to mix it up a bit. It's nice to have a bag of tricks to pull from when you find yourself in a photographic rut. Here are 6 creative techniques for thinking outside the photography box.
1. Creative Effects
Getting creative with inexpensive accessories and gobos (a.k.a go betweens) is one of the quickest, easiest ways to add interest to your images and have a little fun along the way. Prisms, squirt bottles, mirrors, lace, flashlights, metal tubes, LED chain lights, craft store items and more can help you achieve flare, bokeh, blur and all kinds of other creative effects. You can read about specific techniques and items used in the articles listed below or subscribe to SLR Lounge Premium for Pye's upcoming series on creative special effects.
2. Panoramic stitch
Also known as The Brenizer Method, wide aperture panoramic stitching allows you to create a narrow depth of field and focus on your subject while still showing every detail of the environment. Perfect for scenic shots, this is a great way to mix it up when you've got an incredible scenic background to show off. Usually created by stitching 9 to 24 (or more) images together, this technique takes some practice and specific settings to pull off. Watch a full behind-the-scenes tutorial here or read about this method in this article:
3. double exposure
I've always been fascinated with double exposures. Whether you create them in-camera (which is challenging but a lot of fun) or later in post production software like Photoshop, you can create some cool effects and communicate surreal and conceptual ideas. The possibilities are endless with this one. Read more about how to create double exposures in-camera and in Photoshop in these two articles:
4. Whip pan
The whip pan technique is something I've admired for awhile now but just haven't had the opportunity to try out. I recently watched Pye's Premium Webinar on whip pans and was so inspired! This technique requires the use of a tripod and off-camera flash and sometimes a little composite work in Photoshop, but doesn't it look cool? Learn more about how to create this effect in Lighting 201.
5. Tilt shift or macro lens
Switching to a macro, tilt-shift or even just a different focal length can create a different feel and creative effect to your images. I tend to you stick with my Canon 24-70mm f/2.8 L most of the time because I know I'll get sharp images 99% of the time with that lens, but switching it out to an 85mm, Lensbaby or other lens for a different effect is always a good idea.
6. Composites & overlays
It's fun to get creative in Photoshop with overlays and composite elements. Whether you add a simple cloud overlay to add interest to the sky, a texture overlay to bring some life and feeling into your images or elements that are difficult or impossible to capture live (like smoke, lighting, fire, water splashes, etc.) overlays and composite elements can help take your images from regular to extraordinary photo illustrations.  Read my tutorial for creating the above composite here:
What are your go-to tricks for getting out of a creative rut? I'd love to hear about them and see an image or two if you'd like to share in the comments.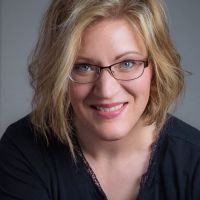 Tanya Goodall Smith
Tanya is the owner of WorkStory Branding Photography in Spokane, WA. Businesses hire her to create story-telling content that sells their high end products and services. She also teachings photographers her unique business model for making serious money as a corporate and personal branding photographer. Find her at
workstoryphotography.com
and
workstoryeducation.com