Luminosity Masks Made Easy
If you've spent any amount of time in Photoshop you will inevitably run into a situation where you are looking for a bit more control over your color or tone adjustments. However, making isolated changes, such as removing unwanted shadows can be tedious and complex. Fortunately, Greg Benz has simplified this process with his luminosity masking panel for Photoshop, Lumenzia. One of the benefits of this panel is that it gives you a full screen preview of the mask before you apply it to your image. This serves to eliminate any confusion or guessing about what a mask will do to your image. In his video, Greg is very detailed in his explanation but this tutorial only has three steps.
Step 1 – Use the preview that closest to the desire mask. (7:28)
He begins with selecting the custom zone picker which allows him to single out the specific tone he wants to adjust. As he explains this first step, you'll glean that it is necessary to recognize if you need to change the luminosity of your selection or the color. In this instance, it's the color.
Step 2 – Adjust the B&W color sliders to improve the mask. (8:02)
Once he determines that it's the color, he refines his the targeted selection. By testing the different color channels, he is able to discover the relevant adjustments he needs to make.
Step 3 – Adjust the curve to improve the mask. (9:24)
The last step is another level of refinement. This time he uses the Curves layer to isolate the image even more. At this point, you should be mindful of the amount of time you invest in trying to make your selection perfect. It doesn't need to be because the effects of the layer on your final image will be much more subtle.
Before
After
If you Lumenzia is a tool that would fit nicely into your workflow, you can purchase it for $39 it at his website. For such a powerful tool, it is well worth the cost. If you'd like to see more of Greg's helpful Photoshop tutorials, you can find them on his YouTube page.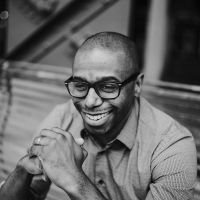 Wendell Weithers
Wendell is based in Atlanta where he shoots events, portraits, and food photography. He also supports his wife Andrea as she runs their cake design business, Sweet Details. Instagram:
Wendellwphoto