Arguably, the Met Gala is the quintessence of popular culture fame-dom these days, and frankly, it's easy to see why. The metropolitan pomp is palpable, and it's an event where the glitz of the gowns and camera flashes, and fame of the event, overshadow the event itself. But we've seen this elsewhere, and repeatedly, where 'red carpets' are the most exciting and alluring part of an event – the Oscars included. It may not be the main course, but it's what people talk about most and remember.
One could even argue that wedding photo booths are kind of the same thing, and that their meteoric rise at weddings should come as absolutely no surprise to those who attend them or photograph them. Sure the bride and groom are the stars of the occasion, but as anyone who ever had a bit part in a TV spot or school play knows, when the video is released all you really want to do is fast forward to the bit you're in. This is what photo booths do: they make stars out of the extras.
The 2016 Met Gala just took place, and as is always the case, it was as star-studded as the night sky. But what stole the show this year wasn't the red carpet, or Emma Watson's recycled dress, or a Kardashian, but a photo booth. Photographer and filmmaker Gordon von Steiner was tasked to take portraits and video portraits of Vogue's iconic guests, and blend it with the event's theme, Manus x Machina: Fashion in an Age of Technology. The results were brilliant.
Gordon has said the goal was to take the idea of a traditional photo booth, and flip it on its head to create something different, futuristic, and unexpected.
It's my goal to evoke an emotional reaction in the viewer and not question why the woman is dancing alone in the mansion or having an out of body experience as she touches a handbag.
The results of Gordon's efforts are exquisite. What's particularly brilliant, or at least interesting to photographers, is that it doesn't seem excessively extravagant. It's a relatively small space with metal paneling or paneling sprayed with reflective silver paint, and about 20 long fluorescent tubes – not exactly the Guggenheim. The trick seems to be the seemingly random and sporadic nature of the light sequences, which makes movement inside the booth seem unnatural, but cool. Incredibly, the photo booth managed to over shine the stars inside, and that's impressive.
Thoughts
I think it's an extremely enticing idea to emulate, and create spin off photo booths. One of the things that plague photo booths now, is that the idea is no longer novel, and there seems to be little innovation when it comes to them, but Gordon has shown what's possible, and it could probably be constructed for less than you think.
I really hope someone creates similar photo booths for wedding rentals, or even to see some larger studios build one, because it's this kind of thinking that will help you stand out and get noticed. And you don't need Anna Wintour or Alicia Vikander to twirl inside. I mean, just imagine the shots and reactions with the bridesmaids and the bride? It would be a hit, and I bet someone does it. You read it here first.
You can see more from Gordon here on his site and Instagram, and catch more of these videos on Vogue and Gordon's Instagram.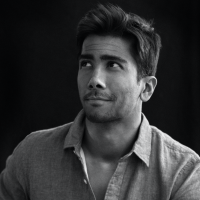 Kishore Sawh
A photographer and writer based in Miami, he can often be found at dog parks, and airports in London and Toronto. He is also a tremendous fan of flossing and the happiest guy around when the company's good.