Lightroom 5 Organization and Workflow
Introduction to the Organization and Workflow Workshop
The Organization and Workflow Workshop is the first part in the Lightroom Workshop Collection and it is the sequel to the popular SLR Lounge Lightroom Workflow System.
For Lightroom users, this first workshop in the collection is designed to give photographers a ground up foundation in the Lightroom catalog system, image management and organization, Lightroom customization and much more.
In addition, this 7.5 Hour workshop provides photographers with a complete post production workflow system that is customizable to a photographer's workflow given their specific needs and preferences.
Chapter 1 & 2 – The Basics of Lightroom, Importing and Exporting

For those that are completely new to Lightroom, we start out in Chapter 1 and 2 with the basics of the Lightroom image management system, how to import images into Lightroom, edit in external editors such as Photoshop, and then export the files into finished formats.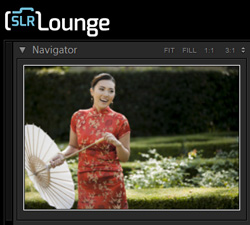 Chapter 3 – Customizing the Lightroom Interface, Preferences, and Functionality
Once we have gotten you familiar with the Lightroom interface, in Chapter 3 we move into showing you how to customize Lightroom to make it your own. From customizing interface components like the Identity plate and Panel End Marks, to creating image watermarks and customizing interface functionality.
Chapter 4 – Key Library Features for Image Management and Organization
In Chapter 4, we dive deeper into Lightroom's core organizational and management features. From utilizing Folders, Collections and Keywords to organize your images, to different methods of rating and culling your images.
We also show you just how powerful Lightroom can be in image organization when you pair keywords, attributes, and/or image metadata with Lightroom's powerful filtering menu.
Chapter 5 – The Importance of Mastering an Efficient Workflow


After completing Chapter 4, users will have a strong foundation in Lightroom Library Module functionality. In Chapter 5, we will build upon this knowledge by showing you our entire Lightroom workflow.
Chapter 6 – Advanced Image Management Functionality
Beyond everything covered to this point, Lightroom also has additional advanced image management functionality. From tethered capture and automated import folders, to synchronizing different versions of the same catalog, Chapter 6 is designated for these advanced Lightroom catalog functions.
To see an entire listing of each video, please see the Table of Contents below.
The Inspiration and Background
To give you a bit of background, the Lightroom 5 Organization and Workflow Workshop (Digital Download) was developed by Post Production Pye (professional photographer, Lightroom and Photoshop expert) after he spent several years setting up the workflow system for Lin and Jirsa Photography, a wedding photography studio that now processes over 1,500,000 images per year.
While it is a part of photography that is often overlooked, Pye quickly realized the need for an efficient workflow as mere seconds saved per image equated to hours saved per week. From the moment of import, all the way through production, export and archival, it became crucial to optimize and document every step of the workflow.
Using this system, Pye can cull and post produce at the rate of nearly 1,500 images with just a mouse and keyboard, and up to 1,800 images per hour with simply a mouse, programmable keyboard, and the SLR Lounge Preset System.
The goal of Chapter 5 is not only to show you an efficient workflow system, but to also give you the tools and ability to customize that system to your own needs and preferences. For this reason, we have also included a customizable workflow checklist for your reference and customization.
PRICING OPTIONS
Access this workshop and community in two ways
Streaming & Video Downloads
Speed Up Your Workflow
$49
One Time Payment
 Access this workshop only
 Lifetime Access
$49 One time payment – LIFETIME ACCESS
Full Access
Access all 30+ SLR Lounge Workshops
$348
/year (USD)
Just $29/Month Billed Annually
 Access this workshop + All other workshops
 Access expires with inactive subscription
$348 / yr – Unlimited Streaming
FREQUENTLY ASKED QUESTIONS
---
If you purchased this course, please log in and go to your "my library" section.  You should see all of your purchased courses in this section.  If you do not see your course here, please contact us at help@slrlounge.com and we can assist you further.
If you are a subscriber, please log in and go to your "my library" section.  You should see all the courses in this section.  If you do not see your course here, please contact us at help@slrlounge.com and we can assist you further.
If you purchased this course, you can download each video by clicking the download button below each video for offline access.  If you are a subscriber, then you have streaming access only for the duration of your membership.