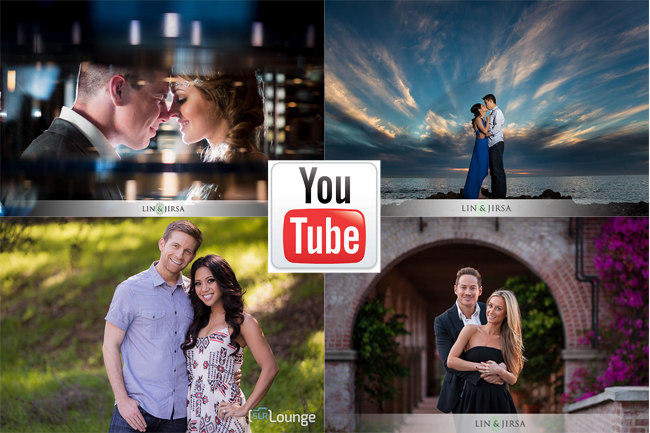 This week, we are highlighting our 3 top posing videos on  SLR Lounge's YouTube page. If you don't subscribe, head over to YouTube so you don't miss any awesome content! These three videos are from our Natural Light Couples Photography Workshop DVD which offers hours of instruction by the team of photographers from Lin and Jirsa Photography, and covers:
Posing and Lighting for Couples Photography
Post Processing For Couples Photography
Client Interaction and Planning
Also, if you're a wedding or portrait photographer, be sure to join the SLR Lounge Facebook community, where we share techniques based on the popular tutorials from SLR Lounge DVD's and articles.
Here are the top 3 posing videos on YouTube.
One of our four basic poses is called the V Up. The V Up is our cornerstone of Foundation posing because many poses use it as a starting point. The V Up can be used for both Traditional and Lifestyle portraits, and this is also the primary pose we use when we shoot friends and family around a bride and groom for weddings
Our Close Up pose demonstrates more emotion and intimacy in photographs because the couple is facing each other completely. This pose is the perfect way to get interactive photos of the couple, and a great way to get more candid and natural looking images. 
From our experience, our female subjects tend to be a bit more self-aware and self-conscious than our male subjects when it comes to how they look. Because of this, posing female subjects can sometimes be a bit complicated, but we have 5 tips to help make it easier.  In this video, we're going to show you how to direct and pose females in flattering ways without bringing attention to things that might make them self-conscious.
Also check out the other foundation poses: POSING BASICS | THE OPEN UP , POSING BASICS | THE STACK UP and breaking out of the foundation poses to tell the couples story in the rest of the series here.
Hanssie
Hanssie is a Southern California-based writer and sometimes portrait and wedding photographer. In her free time, she homeschools, works out, rescues dogs and works in marketing for SLR Lounge. She also blogs about her adventures and about fitness when she's not sick of writing so much. Check out her work and her blog at
www.hanssie.com
. Follow her on
Instagram