It has been a busy day of new announcements from Chinese manufacturer Yongnuo. We earlier posted about the announcement of the new YN-622 LCD control units, and now this. Today Yongnuo announced the first ever third party trigger and speedlight compatible with Canon's new(ish) 2.4ghz TTL radio triggering "RT" technology.
I am excited to share our new flagship trigger product," said Guanchao Liang of Yongnuo. "It's the YN-E3-RT, which is fully compatible with Canon's RT technology.
In addition to the YN-E3-RT trigger mentioned above, Liang goes on to mention that the company will be releasing a YN600EX-RT speedlight in the near future as well. It may not seem like a huge deal, but this is great news for people who wanted to take advantage of Canon's new radio trigger technology but did not like the high price tag that it commands.
The trigger, the YN-E3-RT, is an on camera unit (attaches via hotshoe like most transmitters) and is highlighted by a large and easy to read LCD screen. The device allows photographers to manage and control all of the compatible attached speedlights (currently only the 600EX-RTs or YN600EX-RTs) without ever having to leave the camera.
I don't know about you, but I like to mess with my lighting and being able to manage the lights without having to leave the camera and go to each individual speedlight is really great. Other systems like Yongnuo's YN-622 system also have the ability to do this, but this is the actual Canon developed system so it is likely to work much better with canon components.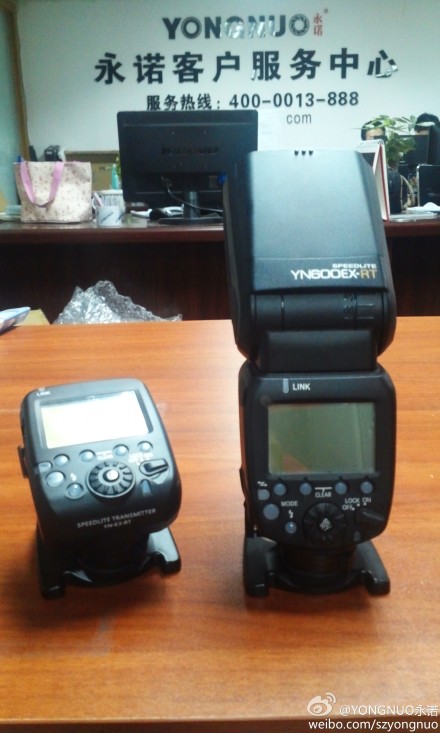 Another neat feature of these new YN-E3-RT  triggers are that they will be coming with USB ports so that users can download future firmware updates that will enable more features. This is a great feature that can give you the piece of mind about not having to upgrade to a newer trigger just for new feature. These triggers are also expected to have an AF assist beam as well as support E-TTL, Manual Control, and High Speed Sync.
Yongnuo has not yet announced an availability date or a price point, but it wouldn't be a stretch to assume that they will be much cheaper than the Canon produced triggers and speedlights.
What are your thoughts on these? Do they make the Canon RT system more appealing to you or do other systems like the YN-622, or Phottix Odin have a greater appeal? Let us know in a comment below.
[via Lighting Rumors]