Now that Thanksgiving is over, we're starting to see Christmas lights popping up everywhere, and the seasonal aisles in the stores have changed over as well. As a photographer, I must admit I am extremely difficult to shop for, and many spouses of my colleagues have complained about how difficult they are to shop for as well. The reason for this isn't because we don't love to receive presents. It's just that most of the things on our dream wish list come at a very high price tag that we'd be out of our minds to ask for.
I've been scouring listings for a couple of days now to put together this holiday shopping list of gifts for $200 or less, and I feel my spouse's pain. I am indeed almost impossible to shop for on a budget. Here are a few fun items that I was able to find that I feel both men and women alike will love, all under the $200 mark.
Manfrotto BeFree Compact Travel Aluminum Alloy Tripod – $199.98
Tripods are incredible for landscape photography, nighttime images where you have to drag the shutter, and composite photography. Coming in just under $200, this tripod was made for traveling and stability. When folded up, it is only 15.75″, making it perfect to throw in a suitcase or small space. For those who like some personality in their gear, you can opt for red, green or gray in addition to the standard black model without a cost differential. Get it here.
Olloclip 4-in-1 Photo Lens For iPhone 6|6s|6 Plus | 6s Plus  – $79.99
If the photographer in your life is anything like me, they find smartphone cameras downright frustrating because of the lack of features. Obviously, we cannot expect a smartphone to do everything that a DSLR camera does but some extra bells and whistles are always appreciated especially if it allows you to control the way the image looks.
The Olloclip 4-in-1 slips and clips right over your iPhone camera, instantly allowing you to turn it into a macro, wide angle, or fisheye lens. You can attach it to either the front facing or rear facing camera allowing you to also use it for selfies. I love that you can fit more people into a selfie by attaching the fisheye or wide angle lens. And for front facing, the macro allows you to get beautiful close-up shots that you wouldn't have been able to take before. This fun gadget is reasonably priced and is a perfect gift for the photographer that already has everything. Get it here.
Tenba DNA 15 Messenger Bag – $169.95
I feel that most photographers are always on the hunt for the perfect bag to put their gear in. Just like lens selection, no one bag is right for every situation. I personally like to have a rolling case bag that fits just about everything I own, a great backpack for those long treks, and a sling style messenger bag for more casual shoots when I just need one body and a couple of lenses.
The Tenba DNA 15 Messenger Bag actually can fit quite a bit inside of its small design. It can fit a DSLR with a 70-200 lens attached, 2-3 lenses, a Speedlite, cords and accessories, and up to a 15″ laptop. It has a weather-repellent coating on the exterior and a reversible WeatherWrap rain cover. Its design is also pretty sleek and has 4 color options, making it a sexy bag whether you're casual in jeans or dressed up to photograph a wedding or gala event.  Get it here.

Hoodman Glasses Model Hoodeye Eyecup – $19.99
This one comes in well under $200 but is worth more than $19.99, in my opinion. There are many different models that Hoodman and Vello make for those who wear glasses and those who do not. Hoodman Eyecups and Vello Eyeshades both work very similarly, but make sure to check the listings to find the one that is right for your camera model since they're not all the same.
For those who wear glasses, it will allow you to get closer to the viewfinder, prevent you from scratching your glasses, and cuts out glare. For everyone, it cuts out the ambient light allowing you to fully focus on what is happening inside of the viewfinder and is much more comfortable to press your face against.


Once again, make sure to read the listing carefully and use the search box on B&H to look at the different options offered by both Hoodman and Vello to find the perfect one for your camera body. Get it here.
X-Rite ColorChecker Passport – $99.00
Achieving accurate color on images has to be one of the most discussed hot topics in the photography groups and forums. We calibrate our monitors but what about the color profiles of our cameras? In just a few easy steps, the X-Rite ColorChecker Passport allows you to set up color profiles based on the lighting conditions of your shoot. Every camera and lens reads color differently, so managing color output is critical to getting true color results in your images. While I find this an incredible tool for any photographer, it is especially helpful for those shooting with multiple camera bodies as it provides consistent results across the board. Get it here.
Gift Cards – $$$
I absolutely love the special feeling when someone puts thought into a gift for me. However, I wouldn't be disappointed if I got a gift card to one of my favorite shops and could pick out something I know I will LOVE! If you don't know the person very well, it can be hard to know what they already have in their kit. And if you do know them very well and they're just extremely picky, a gift card helps to eliminate any awkward gift exchanging. I definitely prefer to get a gift card to B&H Photo over a generic Visa card. Reason being, a generic Visa card would allow me to spend it on things like groceries, but a gift card to B&H is going to force me to actually get something fun for myself. Get one here.
Notice that I did not include any cameras or lenses in my holiday buying guide for $200 or less. I believe that we get what we pay for. Some may argue that there are fantastic options for less than $200, but I wouldn't have felt comfortable advising anyone to purchase a camera or lens at that price point unless I had tried it out for myself.
Wishing everyone a very Happy Holidays!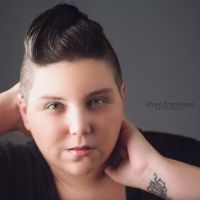 Alicia D'Amico
Alicia D'Amico is a Portrait, Fashion, Underwater and Wedding photographer based out of Tampa, Florida. She and her partner attract clients from far and wide that want a unique photographic experience. Her work has been featured on numerous magazine covers and featured editorial spreads. Alicia loves to travel the world, teach others, cuddle on the couch with her puppy and enjoys fun game nights with her closest friends. To see more of her work or find out about her mentoring, visit her
website
,
workshops
,
Facebook
and
Instagram
.