National Geographic used to bring the pictorial forefront of exploration to my mailbox as a child, and for many generations, my senior. In the 90s and 2000s, people became more sedentary than ever before, bewitched by technology, and life moved at a pace dictated by information at the speed of thought. It seemed nature and art had been covered, and exploration and wonder were only to be found in a lab or pixelated screen, rather than a mountain or a photograph.
Yet, no longer in its infancy, the unremitting quest of "moving forward," is now highlighting just how important our natural world is, and how much we need it. As photographers, we sit poised to show that natural wonders are possibly more wondrous than ever. Photographer Ryan DeBoodt is part of the breed doing just that.

Ryan, an adventure photographer, is based in Ho Chi Minh City, Vietnam. Though he has traveled extensively and his work been featured globally by Fox News, The Telegraph etc, it is Vietnam which seems to be his muse. Well noted for its natural beauty, a relatively new discovery in the Bo Trach District, has been photographed beautifully by DeBoodt. Hang Son Doong, just discovered in 1991 by locals and in 2009 by British Cavers, now holds the title of largest cave in the world.
[REWIND: 'Canon Master' Adventure Photographer Shoots Without Bounds]

It is 200 meters wide, a 150 high, and approximately 9 km long. It is actually twice as large as the next largest cave, Deer Cave, which sits not too far away in Malaysia. Created by a river eroding limestone, it is a testimony to the power of water, and somewhat like the Grand Canyon of Vietnam. The Colorado River has literally changed the shape of America; it deposits so much silt that where was once water is now land, and it's journey now is over 150 miles longer because the Gulf Of California is simply that much further. However, its most notable achievement is the Grand Canyon. And like the Grand Canyon, it is the scale of Son Doong which is of biblical proportions.

DeBoodt does a marvelous job of using an individual or group of humans to bring a sense of scale and perspective to the venue. It's astonishing and requires close inspection. Like the Grand Canyon from above can make a massive pine into a blade of grass, Son Doong makes a man into an ant.
Thoughts
I spend many an hour in front of a screen each day and by no means, more than many. As days hustle on, I find myself less impressed, or at least less interested, with technology and urban news, and more appreciative of nature's value. I need to be outside more. I want to see the more natural wonders. In Japan, there is an art called 'Shinrin-Yoku' or 'Forest Bathing.' It is the simple practice of peacefully walking through a forest or natural area; taking in the sounds and sights, being one with the moment.
[REWIND: Natural HDR Environmental Shot – Weekly Ordinary to Extraordinary Lightroom Edit – E08 and be sure to check out our HDR Photography Workshop DVD Collection.
It's said that unlike the brash and harsh sounds and visuals of a 'civilized' area, the movements and noises of nature are subtle, soft, and soothing. I don't think exploring a cave is very relaxing, but the images really make me consider discovering nature around me, and how restorative it can be. Until I get the chance to do so, I'll be looking forward to more photographers reminding us just how amazing, and uncharted the planet still is.
Learn and see more from Ryan here on his site and Facebook.
CREDITS: All photographs shared by Ryan DeBoodt are copyrighted and have been used with permission for SLR Lounge. Do not copy, modify or re-post this article or images without express permission from SLR Lounge and the artist.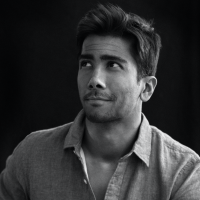 Kishore Sawh
A photographer and writer based in Miami, he can often be found at dog parks, and airports in London and Toronto. He is also a tremendous fan of flossing and the happiest guy around when the company's good.