Introduction
Before we continue on with tutorials discussing how to capture and produce HDR photographs, it is important to understand when to shoot an HDR bracketed sequence. In this HDR tutorial, we will discuss what types of scenes should be bracketed for HDR photograph production and other types of scenes that do not need to be bracketed.
ASSESS THE DYNAMIC RANGE OF YOUR SCENE
As the term "HDR" denotes, this technique is meant for scenes that encompass a high dynamic range. These are scenes with a broader range between the maximum and minimum light intensities. However, in general, most scenes do not require a bracketed sequence because the dynamic range of the scene is narrow enough to capture within a single shot. With just that one single image you still have the option to process a single-shot HDR or process a standard image. Often times, there is no need to capture a bracketed sequence. To assess whether a particular scene needs to be bracketed, pay attention to the range of light and light intensities: variation in reflectivity, the direction of the sun within your image, and harsh shadows and highlights within your scene.
Let's go through a few examples to explain this concept visually.
SINGLE-SHOT IMAGES: SCENES WITH A LIMITED DYNAMIC RANGE
Here we have a shot of Bryce Canyon:
This is shot in the same direction of the sun around sunset. Because of this, virtually everything in our scene is roughly close to the same level of brightness. The highlights and the shadows don't differ by many stops of light. Therefore, the entire dynamic range is encompassed in a single photograph. This scene has a limited dynamic range so creating a bracketed sequence wouldn't make a difference in the image detail quality when processing the finished photograph.
The Histogram in Lightroom is also a great tool to use to show dynamic range in a photograph.
Let's move on to another scene. Below we have the histogram from a particular image with a narrow dynamic range:
When looking at the histogram of this image, everything fits into well in to its relatively narrow dynamic range. Here is the image itself below:
As you can see, there is plenty of detail in the shadows and the highlights of this image. With a scene like this with a narrow dynamic range, the entire range can be picked up by capturing a single well-exposed image.
BRACKETING YOUR IMAGES: SCENES WITH A BROAD DYNAMIC RANGE
Shooting against the sunlight is a good time to bracket. Take a look at the image below:
For this particular scene, you are absolutely going to need to shoot a bracketed sequence. Since this is captured facing the sun, all of the foreground is in the shadows and the sky is blown out. We need to bring out some detail in the shadows by bringing up the exposure. At the same time, we need to bring down the exposure in the sky so the final photograph will show plenty of detail in that area as well.
We did a bracketed sequence of this scene and combined the images. See the image below of the finished product:
CONCLUSION
Just remember that you don't always need to shoot bracketed sequences for your photographs. There are plenty of scenes that have a limited dynamic range to begin with so they do not need multiple exposures to capture a scene with a narrow dynamic range. In cases like these with a narrow range of light intensities, just one well-exposed image will contain all the detail you need. In addition, when you get to the post-production stage in your workflow, you still have more options for HDR processing that don't require multiple shots. In the next article, we will discuss a technique that doesn't require bracketing because it can be processed with a single shot.
CHAPTER 1: INTRODUCTION TO HDR
CHAPTER 2: HDR CAMERA SETTINGS
CHAPTER 3: HDR CONSIDERATIONS
CHAPTER 4: SALTON SEA, CA
Chapter 5: PAGE, AZ
Chapter 6: MOAB, UT
Chapter 7: SALT LAKE CITY, UT
Chapter 8: SALT LAKE MOUNTAINS, UT
Chapter 9: BRYCE & ZION, UT
Chapter 10: LAS VEGAS, NV & LOS ANGELES, CA
Chapter 11: BONUS
Total Course Run Time: 13H 6M 50S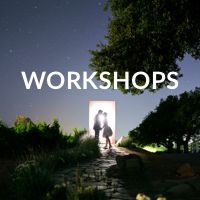 ACCESS TO INDUSTRY-LEADING EDUCATION
Let SLR Lounge guide you in your photography journey with the best photography education and resources. Browse our complete, comprehensive solutions and take the next step in your photography.
BROWSE WORKSHOPS