Timer | Transcription
The last camera setting that I want to talk about in regards to HDR photography is the timer. Now the timer can actually be a lifesaver when you're shooting HDR photographs. I can't remember how many times I've been in a scene where I have my camera, my tripod, and I've forgotten my shutter release. What I do is simply enable auto exposure bracketing. On most cameras you can enable auto exposure bracketing, turn on your 2-second timer, dialing on all of your exposure and focus and everything else, press the shutter release when you're ready to go and basically it's going to count down and it's going to automatically start the bracketing sequence for you, basically taking all the shots in the sequence without having to press the shutter more than once.
Now the one exception to this and depending on again how your camera, basically the make and the model, how it works, it might vary when you use certain features like mirror lockup. For example, on a 5D Mark 3 if we use the mirror lockup and the 2-second timer then the 2-second timer starts the process where the mirror is going to flip up, but then we still have to press the shutter every single time to take all the shots, which kind of defeats the purpose of using the 2-second timer anyway because now we're touching the camera again. That doesn't really work.
With a 5D Mark 3 for example if you did the same thing inside of HDR mode with a mirror lockup then you can use a 2-second timer and it will do all the shots for you. In standard auto exposure bracketing mode on the 5D Mark 3 it will not with the mirror lockup, even with the 2-second timer. But this is where it comes down to you really understanding your camera system, how it works, and basically what you can get away with. Because what this means was during our entire trip I essentially didn't need to even bust down my shutter release once, whereas before I always had to have it with me, if I forgot then it was kind of a pain in the butt because I'd have to do all the shots. I use mirror lockup and I'd have to use the 2-second release and then just keep pressing it over and over. It was just a nightmare. Whereas now it's much much easier.
But if you're in a pinch, you want to shoot a bracketed sequence without using mirror lockup on a Canon model. Maybe in a Nikon with mirror lockup it'll do it all automatically. You'll have to play with that and figure out for yourself. But if you're in a pinch, you want to shoot a bracketed sequence on your tripod and you don't have a shutter release, remember that you can use the timer in your camera to set up either a 2 or 10-second or however long it allows you to set up timer where you can press the shutter and let the camera do the rest afterwards so you're not introducing any additional camera shake by pressing the shutter down multiple times.
If you are in a bind, you have your camera, you have your tripod, but you happen to have forgotten your shutter release just remember that you can use the camera's internal timer to count down your auto exposure bracketing sequence where it will start and finish everything without you having to basically touch the camera after you start the timer.
CHAPTER 1: INTRODUCTION TO HDR
CHAPTER 2: HDR CAMERA SETTINGS
CHAPTER 3: HDR CONSIDERATIONS
CHAPTER 4: SALTON SEA, CA
Chapter 5: PAGE, AZ
Chapter 6: MOAB, UT
Chapter 7: SALT LAKE CITY, UT
Chapter 8: SALT LAKE MOUNTAINS, UT
Chapter 9: BRYCE & ZION, UT
Chapter 10: LAS VEGAS, NV & LOS ANGELES, CA
Chapter 11: BONUS
Total Course Run Time: 13H 6M 50S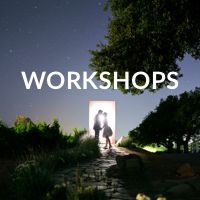 ACCESS TO INDUSTRY-LEADING EDUCATION
Let SLR Lounge guide you in your photography journey with the best photography education and resources. Browse our complete, comprehensive solutions and take the next step in your photography.
BROWSE WORKSHOPS