In this foundation pose series we started with our V-Up and our Open Up pose, now we're going to teach you our Close Up pose. Our Close Up pose demonstrates more emotion and intimacy in photographs because the couple is facing each other completely. This pose is the perfect way to get interactive photos of the couple, and a great way to get more candid and natural looking images. Watch the video or read the article below to learn how to use the Close Up pose.
SETTING UP THE CLOSE UP POSE
Setting up the Close Up pose is very simple, you have the couple face each other and "close" the gap in between them. From here you can have the couple looking at each other, looking at the camera, or any other combination you can think of.
VERSATILITY OF THE CLOSE UP
The Close Up is a great way to get nice intimate and candid shots of your couple. When you set up this pose you can have them hold hands in the front, and be sure the bride-to-be has her hand on top so you can see her gorgeous ring. Because the couple is facing each other directly, this is the perfect pose to get a natural looking kissing shot of the couple.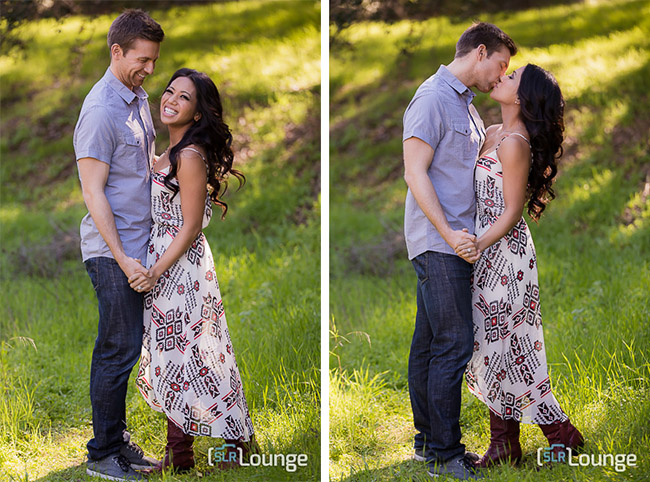 If you want to get more interaction from your couple and have them do a dip or a lift, this is the perfect foundation pose to start with. If you do a lift, be sure to have some play in the legs so that there's more action in the photo. Also be creative with your framing, the composition of the photo is just as important as the pose of the couple.
3 THINGS TO WATCH OUT FOR
When posing your subjects, there are several things to watch for, things that can create an unnatural or unflattering look to the image. Here are just a few tips to help you out:
1) Shrimp Cocktail Fingers – When you have your couple hold hands, I prefer that they do not interlock their fingers as it sort of creates this busy "shrimp cocktail of fingers" look to the hands. I know, it sounds weird, but it just looks much more natural when the hands overlap rather than interlock.
2) Take Breaks – When your subjects smile too long the smile can look fatigued, or "fake" after a little while. So take frequent breaks, have fun, chat, and just relax a bit during the shoot. You will find that the expressions will come out far more natural if everyone is having fun and relaxed as opposed to stressing about getting the perfect smile.
3) Watch the Chins! – When your couple is looking at each other be mindful of their chins. In this photo Jackie is too extended and Ryan is too crunched which is creating a sort of double chin effect that we want to avoid. Image number 4 shows a better example of how the chins should be so we aren't extending too far, or creating a double chin.
MORE EXAMPLES OF THE CLOSE UP POSE