Introduction
When you are shooting consecutive HDR images, it is frustrating when your focus changes from the correct focus of your subject to an incorrect focus in the scene because it can ruin your final HDR image. This happens because the Auto Focus on your lens changes every time you press the shutter on your camera. In this article, we will discuss 2 techniques that will nail and lock your focus when shooting HDR images. These tips will ensure that your camera will not readjust the focus in the middle of your shoot.
TECHNIQUE #1: SWITCH TO MANUAL FOCUS
To stop your camera from changing to the incorrect focus at your scene, switch to Manual Focus after using Auto Focus. First, find your subject at the scene. Then use Auto Focus to set the proper focus. Once you have dialed in your focus, verify that it is correct and sharp. Then, lock that focus on your camera lens by switching the lens to Manual Focus.
To switch from Auto Focus to Manual Focus on the Canon 5D Mark III, flip the switch on the camera lens from "AF" to "MF." As you can see below, our camera is still on Auto Focus.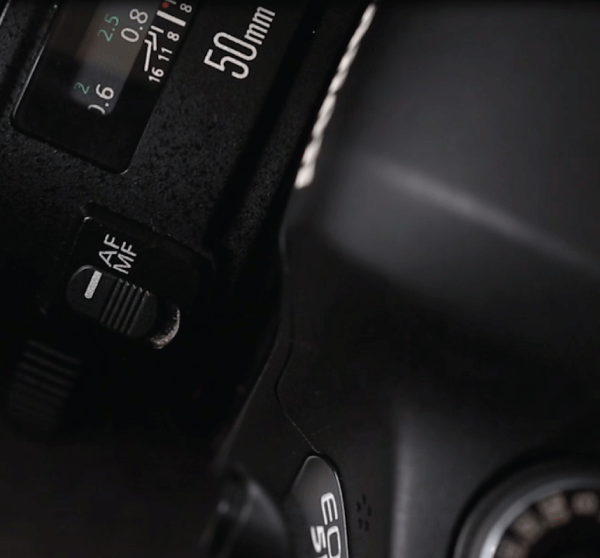 When you switch your lens to Manual Focus, you have essentially locked the focus. You can recompose the scene if necessary. Now, you can start shooting without worrying about your lens refocusing. The focus will only change if you adjust the actual focal ring itself, but the focus will not change when you press the shutter.
As a side note, every DSLR camera has an Auto Focus Lock feature, where you press a button and the feature will lock the focus until you press that button again. However, we would not recommend relying on this. If you use this Auto Focus Lock feature incorrectly, your focus might change. If you are constantly shooting on different DSLRs, each DSLR functions a little bit differently in regards to the Auto Focus Lock feature. You would not want to try and figure out how to use this feature for every single camera you shoot with, but if you use the feature incorrectly, the focus will shift in the middle of your shoot. Because of this, just use the Manual Focus technique. With this technique, you can easily switch the lens to Manual Focus, regardless of what camera you are using. Then, you never have to worry about your focus unlocking in the middle of the shoot.
TECHNIQUE #2: LIVE VIEW
The second technique is to use your camera's Live View. First, switch your lens to Manual Focus and turn on the Live View in your camera. With the Live View, you can magnify and zoom into whatever your subject is. Then, simply adjust the focal ring until the object is completely sharp. Once you have finished adjusting the focal ring on your camera, do not touch the focal ring anymore and recompose your image. Your focus will no longer change when you press the shutter again.
CONCLUSION
With either technique, be sure to check the exposures of your bracketed sequences to ensure that they are adequately sharp so that your final HDR image turns out sharp overall. Hopefully, these two techniques we shared with you will come in handy when you are shooting HDR images.
CHAPTER 1: INTRODUCTION TO HDR
CHAPTER 2: HDR CAMERA SETTINGS
CHAPTER 3: HDR CONSIDERATIONS
CHAPTER 4: SALTON SEA, CA
Chapter 5: PAGE, AZ
Chapter 6: MOAB, UT
Chapter 7: SALT LAKE CITY, UT
Chapter 8: SALT LAKE MOUNTAINS, UT
Chapter 9: BRYCE & ZION, UT
Chapter 10: LAS VEGAS, NV & LOS ANGELES, CA
Chapter 11: BONUS
Total Course Run Time: 13H 6M 50S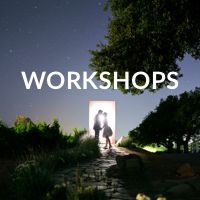 ACCESS TO INDUSTRY-LEADING EDUCATION
Let SLR Lounge guide you in your photography journey with the best photography education and resources. Browse our complete, comprehensive solutions and take the next step in your photography.
BROWSE WORKSHOPS