The Mission: Consistently Incredible Images | Transcription
The whole purpose of this entire course is to help you to create a framework, to create a structure for how you approach every single shoot. It doesn't matter what type of shoot it is. It could be an engagement portrait session. It could be a commercial shoot. It could be a wedding. It doesn't matter.
The whole start to creating this framework was 7 years ago when we started this studio, Lin and Jirsa Photography. We realized that it was important to create a consistent, high-quality professional product that people would be coming to the studio to purchase. Now, a couple years into the business, what we realized is that we have this great style. People would come into the studio, and they would say that they love our style. They would show us that they love these images and we'd go out and we'd create images with that style, that signature Lin and Jirsa look that they came into the studio to receive.
What we'd realize after some of these shoots was that the clients weren't necessarily telling us the entire picture. They were showing us images that we liked, but we weren't necessarily understanding their vision. Because when you see an image, or when someone shows you an image that they like, they could like it for many different reasons. It could have been the pose. It could have been the color. It could be the background. It could be the emotion. It could be all of the above. So every now and then we'd go out and we'd do these shoots, and we'd kind of miss the mark, and we'd have to do a reshoot. Now, granted, we made sure that every client that left the studio was completely satisfied with our service. But we realized that we weren't necessarily understanding the vision 100% of the time.
Understanding the Vision
The first thing that we want to do is understand the client's vision. That means that we need to do certain things, in communication, in understanding, in creating things like a mood board, and going through and doing talk throughs. These are all specific things that we're going to be discussing throughout this entire course.
Tailoring Expectations
Secondly, we were realizing that sometimes these expectations were a little bit off. Sometimes a client would come in and expect that we'd be able to pull off 2 hours of family formals in a 20-minute period of time. We realized that those expectations were actually setting us up for failure, whether it be just an unreasonable amount of photographs in a short period of time, or maybe it was that they wanted to do a beach and city engagement session, and they wanted to do it all within 1 day and get sunset in both places. Those are just not realistic expectations. Once again, it came down to properly communicating and understanding what their expectations were, using positive verbiage and solutions to help tailor those expectations.
Proper Planning
Step number 3 is proper planning. Once we get to this phase, we basically want to create timelines and itineraries. We want to do talk throughs with the clients. We want to have checklists to help to make sure that not only do we understand their vision, not only have we tailored those expectations but now we are prepared to go out and execute.
Shoot Execution
We go on to number 4, which is, of course, the actual shoot day execution. This comes down to having the right gear, having pre-shoot scouting information so that we know what the location looks like, and what we want to do in that scene. Having team meetings when necessary, and using our technique and artistry to pull off and create those images. We wanted to be able to address any problems and solve them on the day of, as well as address and resolve concerns. Now, when I talk about problem solving, I mean more on the photographic side of problem-solving. Addressing and resolving concerns are concerns that the client might have. For example, the might not like a certain side of their face. They might have certain preferences in how they stand, and so forth. That is resolving concerns.
Exceed Expectations
Lastly, we go to exceeding expectations. This is basically where we show that we are present throughout these shoots, that we understand their vision. We're communicating. We're showing them images. We're giving them teasers. Finally, we're delivering a product that's beyond those tailored expectations that we helped to set earlier.
When we developed this framework and we started approaching our shoots, well, approaching every shoot with this, we realized that we were delivering consistent results across the board, and our client complaints went from, well, it wasn't a lot of begin with, but we'd get a couple a year, to basically nothing. We don't receive these anymore because we do certain things to help protect ourselves, and to make sure that we communicate, and to make sure that we do these things so that every client walks away completely happy.
Delivering for Different Genres of Photography
Engagement Photography
Typically our studio focuses on wedding and engagement photography. When our clients come in the door, we tell them that every one of the images that you see on our blog, every image that you see in our portfolio, are not just examples of the best images from those shoots. These are examples of every single image in that when we deliver the product to you, this is what it's going to look like. What you can see here from everything from the wardrobe, the colors, the way that it's processed, to these dramatic shots of the location and the different types of lighting and effects that we're using, these are not coincidences. They're not accidents. These are planned out based on the client's mood board, based on their overall style and their vision for the photo shoot.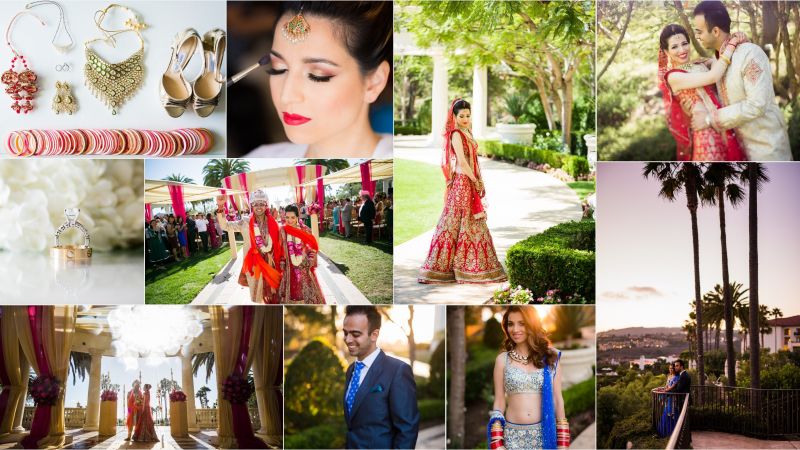 Wedding Photography
This is an example of an actual, recent wedding. This is probably one of the fastest, and just basically most quick-paced, and you could say at times stressful, weddings that I've photographed. Now, I loved every minute of it. I love the fast pace of weddings, that kind of pressure, because it really forces me to excel. But what you see here in the imagery, the way that these are placed over a white background, the fact that I have flowers right behind the rings, the way that I've put her in front of this vegetation, the way that I've shot her and her angles on her face, this coming down the aisle shot, the couple's portrait session underneath the mandap, the different portraits here during golden hour, the portraits featuring landscape imagery, every one of these things was planned out, and was chosen based on what I understood of the clients and their expectations.
We're actually going to do a full case study on this wedding at the very end to talk about the reasons why we selected these backgrounds, how we got this image right here, how we planned for the different angles and the different portraits that we were going to create, and why we shot the details in a certain fashion.
Boudoir Photography
This entire course is kind of geared towards wedding, engagement, and portraiture. We did that because obviously these are areas of our business that are incredibly complex. But we wanted you to understand also that you can take every single thing that we're teaching here, all the communication, the tips, the guidance, the checklist, the structure, simply modify and refine and apply it to your industry. The best part about it is that you can go into shoots without really any prior experience, and doing these things you'll be able to execute and create incredible images.
These 3 images here, this is from our Earthen Bathtub conceptual boudoir shoot. We did a premium tutorial on these images and how we created them. You might be surprised if I told you this was the very first conceptual boudoir shoot that I've ever done. I've never done anything like this before, but with proper planning, with proper execution, and making sure that we have prepared and thought through the vision and the process, we're able to go out and create amazing images, even though it's our very first time.
Automotive Photography
I want to show you guys my very first automotive shoot. Our clients were a local professional racing team with a service side called GMG where they modify and upgrade incredibly high-end super and hyper cars. On our first meeting, I walked into GMG and I didn't have a single automotive shoot to show them. Yet, I was able to convince them that I understood their vision and what they were going for. I was able to turn them into a client and show them that on our very first shoot we were able to go out and create these images.
Now this is the first time, again, that I've ever shot automotive photographs. Everything that you see here was planned. I looked and studied different types of photographs, thought of the lighting, thought of the approach. We did location planning, we did a mood board, we did all those different things to come out with an awesome product for our client, even though we'd never shot automotive photographs before.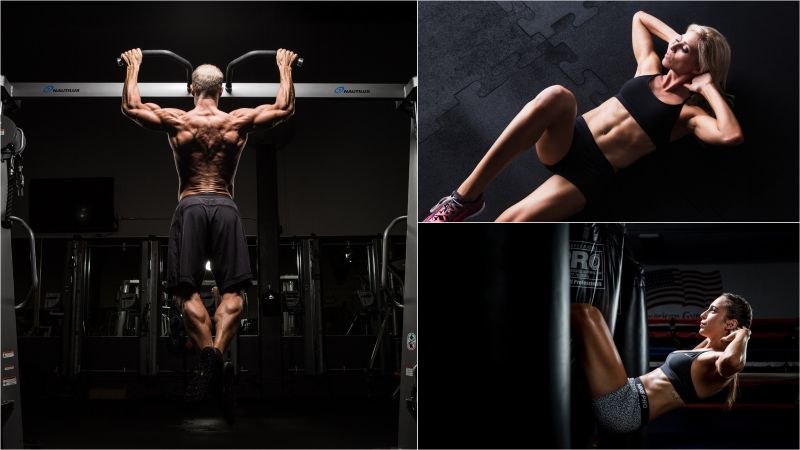 Fitness Photography
This next set of images was from our very first fitness shoot. Once again, I'd never done fitness photography before but I convinced a local gym to hire us to become their fitness photographers. We ended up creating a contract without ever having a single fitness image in my portfolio. Now, when we went into these shoots, once again, we're going to use the same tips, the same planning techniques throughout, to go in and create the images. Here's the interesting thing. We created these images from my very first fitness session. The whole purpose of this was we recorded this also for a behind-the-scenes tutorial on how to create images that have commercial value. Well, after we gave them to the gym, they were amazed by what we created. They sent them over to Nautilus, and Nautilus came and actually purchased the images as commercial stock.
Since that point, we have done tons of fitness shoots. This has become a part of our business and what we do, and it was literally created within 1 single photo shoot.
Communication for All Genres of Photography
My whole point here is that what we're teaching you is for all genres of photography. What I want you to do is complete the course and once you've completed the course, analyze your specific photographic industry/what it is that you photograph. Take your communication, study ours, and refine your communication. Incorporate the things that we do, the different touch points and so forth, into what you're doing and modify your planning and workflow so that you can basically go into shots prepared, with a mood board, with a vision, with pre-shoot location scouting, with day of checklists, and so forth. Finally, create the overall experience that you want your clients to walk away with every single time.
Using these same steps, using all of these techniques, and this overall mission and planning process, you're going to walk away from every single shoot with ecstatically happy clients, and you're going to have those clients which are going to become your best marketing tools, going out and telling other people just how incredible you are.