Introduction
Whenever you shoot photographs, regardless of whether or not it is an HDR, do not forget about the photographic composition itself! On the Internet, we often see people shoot something very average, or even below-average, and then process it as an HDR image. Although some people might think that particular photograph looks really good, the only thing that makes it worth looking at is just the HDR effect that has been applied. Even then, the HDR effect is usually way over the top and does not look too great anyways. In this article, we will discuss why HDR effects should be used only as a tool for enhancing your photographs. In addition, we will go over how to approach a scene and discuss what you should focus on when you first arrive at a scene.
Composition First, HDR Last
The whole point is when you approach a scene, the HDR effect comes last and the composition and subject matter come first. The HDR techniques that we teach in HDR Tutorial are simply a tool in improving your photographs. Your photographs should still have great compositions, strong subjects and should be strong enough to stand on its own. The HDR techniques should only be added to make your images even better by capturing more detail. When you apply an HDR effect to your photograph, this enhances an already great photograph and turns it into something amazing and publish-worthy. If the scene itself or the compositional matter is not really worth looking at, then that's a problem.
(Boring HDR alert!  Even with cool gritty tones, a park bench is still a park bench…)
HOW TO APPROACH THE SCENE
When you approach a scene, do not think anything about HDR. Do not think about what kind of bracketed sequence you need to use, whether or not you need the shutter release, if you should enable the Mirror Lock-Up feature, and so forth. Instead, approach every shot as if you are just trying to create a noteworthy image. Ask yourself, "What can I do to make this scene look better? Can I change my angles or my composition? Can I make my subjects stronger?" Again, make the image itself stand well on its own. Compose a great shot, choose an interesting subject, and then decide how you will incorporate HDR effects to improve a photograph that should already be a strong enough photograph.
When I approach a scene, I often only have my camera and some lenses with me. All of my tools are set aside and I just walk the scene and switch lenses out. During this time, I try to decide what I like best. Once I have decided on the look and composition I want to go for in my shot, I figure out if I need to use a bracketed sequence to get the image I want. Once again, HDR considerations are last and, frankly, are a very small part of the overall shoot. Instead, 90% of my time is spent figuring out what I want to shoot, where I want to shoot it, and how I want to shoot it. The overall HDR techniques are just very tiny pieces at the end to ensure that I have everything needed for post production.
CONCLUSION
Before you jump into shooting, remember that just because we are shooting HDR images does not mean that we should forget the rules of taking impressive and inspiring images. The HDR techniques are only tools meant to enhance already great photographs that you took.
CHAPTER 1: INTRODUCTION TO HDR
CHAPTER 2: HDR CAMERA SETTINGS
CHAPTER 3: HDR CONSIDERATIONS
CHAPTER 4: SALTON SEA, CA
Chapter 5: PAGE, AZ
Chapter 6: MOAB, UT
Chapter 7: SALT LAKE CITY, UT
Chapter 8: SALT LAKE MOUNTAINS, UT
Chapter 9: BRYCE & ZION, UT
Chapter 10: LAS VEGAS, NV & LOS ANGELES, CA
Chapter 11: BONUS
Total Course Run Time: 13H 6M 50S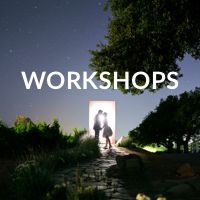 ACCESS TO INDUSTRY-LEADING EDUCATION
Let SLR Lounge guide you in your photography journey with the best photography education and resources. Browse our complete, comprehensive solutions and take the next step in your photography.
BROWSE WORKSHOPS