Lightroom allows you to customize the overall interface in order to suit the type of culling or editing you're doing. In this article we're covering 6 areas to customize Lightroom so you can utilize all of Lightroom's customizable functions.  We're also going over shortcuts and hotkeys we frequently use so you can learn how to be quick and efficient when culling and editing your photos inside of Lightroom.
TIP 1. RE-SIZING PANELS
The simplest way we can customize the Lightroom interface is by re-sizing the panels. We can re-size any of the panels by clicking right at the edge and dragging them to the desired size.
UTILIZING THE LEFT PANEL AND NAVIGATOR
For our left side panel I like to expand it so the Navigator is a good size. This way when I'm in the Develop Module I can use the Navigator to preview how my presets are going to look on my image by simply mousing over the preset. This way I don't have to click on the presets and wait for Lightroom to process all of the adjustments. This is a huge time saver in my workflow because I can quickly preview and decide what kind of look I want for my images.
EXPAND THE FILM STRIP
When I'm editing I also like to expand my film strip, so I can see things better overall. You can also press "T" to remove the toolbar so you have a bigger working space.
TIP 2. SHORTCUTS TO TOGGLING PANELS
In Lightroom we can use shortcuts on our keyboard to toggle the panels. Being able to toggle the panels on and off is a great way to increase work space and remove any distracting clutter from unused panels. Knowing the shortcuts to toggling the panels can maximize your Lightroom workflow efficiency because it allows you to focus on the task at hand.
F5: Identity Plate/Module Picker
F6: Film Strip
F7: Left Panel
F8: Right Panel
F11: Secondary Display
Tab: Left & Right Panels
Shift + Tab: All Panels
TIP 3. FULL SCREEN TOGGLING SHORTCUTS
Shift + F: Full-Screen Mode
F: Full Screen Preview
Lightroom gives us a couple full-screen options, and we can cycle through them by pressing "Shift + F" on the keyboard. When we press "Shift +F" once it toggles our first full-screen option and we can still see the start menu down on the bottom and our menu up on the top. When we hit "Shift + F" a second time we see that this full-screen option removes the menu from the top and the bottom, although you can still access the menus when you hover your mouse over where they should be.
TIP 4. LIGHTS OUT VIEW MODE
When we press "L" on our keyboard we toggle the lights out mode in Lightroom, and just like the full screen mode, there are 2 different options for the lights out mode. When you first press "L" on your keyboard you'll go to the first lights out option which will darken everything on your screen 80% except your images. When you press "L" a second time it will completely darken everything on your screen except your images. The complete lights out view mode is a great way to share with clients so they're not distracted or confused with Lightroom's interface.
Keep in mind that even when you're in lights out mode Lightroom is still fully functional, so you can toggle different views and screen sizes, and Lightroom will function normally.
TIP 5. VIEW MODES SHORTCUTS
G: Grid View
E: Loupe View
C: Compare View
N: Survey View
In Lightroom we have four different view modes: Loupe, Grid, Compare, and Survey. You can toggle these view modes by pressing the hot keys listed above, or by clicking on their icon on the left side of the toolbar. From left to right the icons in the photo below are Grid, Loupe, Compare and Survey.
GRID VIEW (KEYBOARD SHORTCUT: G)
The Grid View in Lightroom allows us to quickly scroll through our images. This is a great view mode for culling and scanning through large amounts of images quickly. In this view mode you can also adjust the size of the images by using the Thumbnails slider on the left side of the Toolbar.
LOUPE VIEW (KEYBOARD SHORTCUT: E)
In Loupe View we see a single image taking up the entire work space. This view mode is great for seeing details in an image, and you can also click to zoom and examine your image thoroughly.
COMPARE VIEW (KEYBOARD SHORTCUT: C)
When we want pull up two images side by side to examine the differences and details, we use the Compare View. This view mode allows you to select two images to view side by side.
In this view mode you can click to zoom and Lightroom will zoom into the same points on both images. When we zoom into these 2 images we can clearly see that in one image she's blinking, and in the other she's not.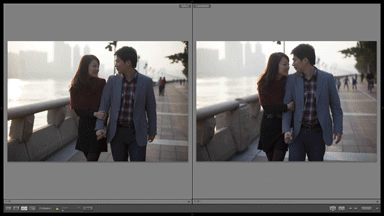 SURVEY VIEW (KEYBOARD SHORTCUT: N)
Starting from the Grid View you can select multiple images and then go to the Survey View where it will bring in only the images we selected.
This view allows us to compare multiple images at once, and we can also remove images from this view by clicking on the bottom "x" on an image. This is a great tool for culling, especially when you want to focus on a specific scene from a shoot.
TIP 6. SECONDARY MONITOR AND SHORTCUTS
Lightroom has a tool called the Secondary Display which can be toggled by pressing "F11" or by hitting the Secondary Display icon which is located on the bottom left of Lightroom, just above the Film Strip.
The Secondary Display window will open up differently depending on if you're using a multiple monitor or single monitor set up, but it will function the same regardless. If you're using Lightroom with a single monitor then the Secondary Display will open up as a small window and you can drag and place it wherever you want.
VIEW MODES IN SECONDARY DISPLAY
Shift + G: Grid View in Secondary Display
Shift + E: Loupe View Secondary Display
Shift + C: Compare View Secondary Display
Shift + N: Survey View Secondary Display
The Seconday Display allows us to view other Lightroom View Modes, for example we can have Lightroom in Loupe View while the Secondary Display is in Grid View. This function makes it very easy to quickly navigate through images on a second monitor while you have a full screen image on your primary monitor. You can also toggle the different view modes in the Secondary Display by simply pressing "shift" + the view mode hotkey.
SECONDARY DISPLAY LOUPE VIEW OPTIONS
In the Secondary Display, when you're in the Loupe View Mode you have three additional options: Normal, Live, and Locked.
Normal: The Secondary Display will show the image that's selected.
Live: The Secondary Display will show you the image that your mouse is hovering over (similar to what the Navigator does). It's a great way to get a quick full screen view of any image you want to mouse over.
Locked: The Secondary Display will lock onto a specific image, and regardless of what image I select, the locked image won't change.
ONE LAST TIP: SHORTCUTS
If you forget any of these shortcuts, you can always find them in Lightroom. Simply press "Ctrl + /" and you'll get this wonderful cheat sheet of shortcuts.
To see the Secondary Display shortcuts, simply right click on the Secondary Display icon.