Engagement Photography Posing & Lighting
Join us as we take you behind the scenes to gain an in-depth understanding of lighting, posing, technique during Lawrence & Shannon's beautiful Orange County Engagement Session. Our first video focuses on directing our couple with a variety of standing poses, lifts, and walking poses. Using both natural and off camera flash, we were able to create a diverse range of images all in one location.
Using Light Reflectors to Bounce Light
Placing the couple in the shade with their backs to the sun allows us to preserve the shadows in the scene while retaining a rim of light around their bodies to separate them from the background. In this scenario, we chose to expose for the background, the foliage, and foreground grass, at a Shutter Speed of 1/1250, Aperture of f/1.4, and at an ISO of 100. As a result, the couple is left underexposed in the shade, but that's nothing a reflector can't fix! By adding in a bounce of light using the silver side of the reflector, we are able to capture an accurately exposed background and properly light our couple.
Engagement Photoshoot Posing
In this Chapter, we learn a great deal about how to naturally interact with your couple in order to produce candid moments. Directing your subjects on where to stand, where to place their hands, and which direction to face will lead to a more cohesive shoot and prompt your clients to have faith in your process.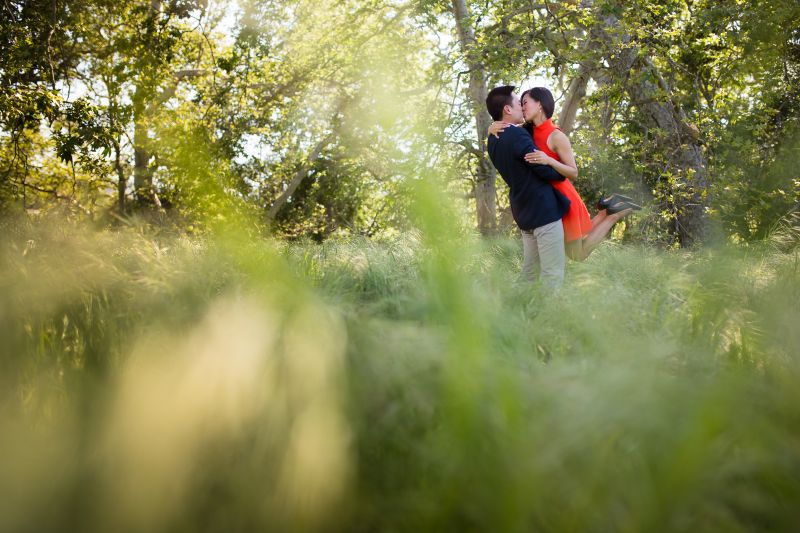 Attempt to capture more dramatic poses – like this lift for example – to provide varied poses in the same location. Make the most of the time you have with your clients by adjusting posing and composition based on your light and surroundings, getting in tight for portraits and zooming out to capture the environment.
Off-Camera Lighting Techniques in Broad Daylight
An alternative to using a light reflector to bounce sunlight is to incorporate off-camera flash. In this scene, to compensate for light loss, we exposed to the background and added in fill light by placing three Phottix Mitros+ Flashes at a very low power-setting to fill in the shadows. Contemplate using methods of light diffusion, like a scrim used here, to decrease the harshness of the flash.
This has been an excerpt from the Unscripted | Photo Shoot BTS Premium Workshop, where we take you behind the scenes on engagement, wedding, and portrait photography giving you access to hands-on client experience and photography technique. Gain access to this workshop and so much more by purchasing a Premium Subscription to SLR Lounge!