Before we start going in depth with the Develop Module we have to make sure everything is in order so we can properly and accurately process our images. We have 5 tips for you so you can start on the right foot when it comes to professional image processing.
5 TIPS FOR QUALITY IMAGE PROCESSING
TIP 1. USE A HIGH-QUALITY, WIDE-GAMUT IPS DISPLAY
The first and most important recommendation we have is to use a high-quality, wide-gamut display IPS monitor. If you're a creative professional then you need to see colors accurately on your display in order to post process and create a professional product. A typical consumer model computer display is simply not going to cut it for professional work. More recent Apple computers have IPS display technology which is adequate for professional image processing. However for the professionals working on PC you're going to want to purchase a good quality IPS monitor, and we have 2 recommendations for you.
We have monitor recommendations for all price ranges.
TIP 2. CALIBRATE YOUR MONITOR FREQUENTLY
The second tip we have is to calibrate your monitor and do it frequently. If you're using a pre-calibrated professional display that's guaranteeing color calibration right out of the box, then it won't be necessary to calibrate your display when it arrives. But every monitor will eventually have to be calibrated to insure that the colors are maintaining their accuracy over time.
Because display brightness and color will change overtime, a typical display will need to be calibrated every month or so. That's why we recommend purchasing a colorimeter and calibrating your monitors often. In our studio we use the Spyder 4 Elite and we calibrate our monitors about once a month.
TIP 3. WORK IN SEMI-DARK ENVIRONMENT WITH NO DIRECT LIGHT ON YOUR SCREEN
In order to see the accurate colors on your screen you want to be in a semi dark room with no direct light hitting your screen. If there is direct light hitting your screen then you might see differences in color and brightness on the screen that are not actually on your image. Also if you're working in a room that's too bright then you might perceive that the exposure on your image is brighter than it really is and compensate by underexposing.
Some of the editors in our studio like to use Monitor Hoods which prevents any direct light from hitting the screen, ensuring that colors are being perceived accurately.
TIP 4. WORK FROM THE LARGEST ADJUSTMENTS TO THE SMALLEST
When you're developing your images you want to work from the largest adjustments down to the smallest adjustments. For example, if you have an image that's very overexposed you want to adjust the Exposure before you adjust something else, like the White Balance.
Reason being, if you adjust White Balance first and then fix the Exposure, then you're going to have to go back and adjust the White Balance again as it will look different with a different image exposure. Making this a habit will end up saving you time and avoid unnecessary rework.
TIP 5. COLOR CORRECTION & GRADING IS SUBJECTIVE
The way you process and color your images is ultimately up to you. You are the artist, and post processing and color grading are subjective. Some people like their images slightly overexposed, some like a lot of saturation and color, and others like a lot of crushed blacks and none of those decisions are wrong! However you choose to process your photos is up to you and your style of photography.
For example, in the image above we show you how to produce two different looks for the same image, and they both work! There are many "right" ways to edit an image, and that's important to remember. Processing an image is as creative and artistic as the act of capturing and creating the photo.
CHAPTER 1: INTRODUCTION & BASICS
CHAPTER 2: POST PRODUCTION BASICS
CHAPTER 3: LOCAL ADJUSTMENTS TOOL BASICS
CHAPTER 4: WORKFLOW & DEVELOPING TIPS
CHAPTER 5: DEVELOPING FROM START TO FINISH
CHAPTER 6: OTHER MODULES
Total Course Run Time: 9H 55M 15S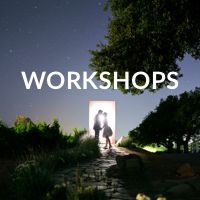 ACCESS TO INDUSTRY-LEADING EDUCATION
Let SLR Lounge guide you in your photography journey with the best photography education and resources. Browse our complete, comprehensive solutions and take the next step in your photography.
BROWSE WORKSHOPS