5 Must-Have Pieces of Gear For Weddings With Megan Allen
Wondering what gear you should take on your next wedding to create extraordinary imagery? Join Amii & Andy Kauth as they interview SLR Lounge award-winner Megan Allen and find out what she can't shoot without on her weddings!
Join the  SLRL Facebook Community to watch these sessions live!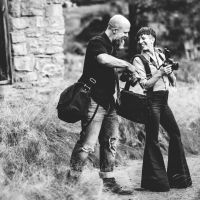 Amii & Andy Kauth
Amii & Andy are a wife and husband team of rad portrait and wedding photographers (Sunshine & Reign Photography) who absolutely love life and are generally just stoked! Yeah! When they aren't photographing or writing and teaching about photography, you'll find them off on a seriously legit adventure with their little ones, lifting weights in their garage, training jiu-jitsu, refining their archery skills, or surfing every chance they get. And on the rare chance they escape off on a "date night"? Yep! They'll find a wedding to crash (true fact). Website:
Sunshine & Reign Photography
Instagram:
@sunshineandreign