Firstly, for those who are still unaware of what a shot list is. It's essentially a to-do list. Instead of tasks, there are photos you have to take on a certain event. Before copy-pasting or even just printing out this article, let's dive into the why of it all.
With a shot list, it is easier to pre-visualize the entire event. Thinking about the shots you will want to take and their timings. Next, a shot list helps you to keep tabs on what you have already shot on the event and what opportunities will still happen.
Sometimes, especially when starting out, it can help you to build confidence to make certain shots. Like getting close to the stage during a keynote might seem daunting. Though as the photographer of that corporate event, you will have to make that photo! Or if it feels to invading taking photos of people networking during the breaks. With a shot list, you know you have to do it because there is no other way to get the shot. Just remember that you are there to take these photos, and no one thinks it is weird or annoying you do so.
How To Create A Shotlist
Now that all that is out of the way. Let's get into making your corporate event shot list! It all starts with the question of what the client wants to do with the photos. To get to that answer there is one simple exercise.
Just ask them. "What are you planning on doing with these photos?"
The client might use these photos for a wide range of things. Maybe it's just one goal, maybe there are a couple. The most common goals for your photos are marketing future events, showing them to the attendees on social media, and reporting to the sponsors of the event. Some other goals can be for internal use, such as reporting or internal communication, and to share in the media to get publicity. Of course for the different goals, there are different shot lists you might compose. Just as your pricing might vary for these different uses.
The Shotlist for Corporate Events
For your ease of use, I am segmenting this shotlist and I mention some details about shots you might want to make.
The Details of the Event
This might seem obvious, but make sure to get each and every one of them. It might be hard to know which details to photograph before reaching the venue. So let's get over the main ones that are usually there.
Sponsored banners mentioning the financier of the event. Usually, these are roll-ups, but sometimes they are bigger too. Get them into frame with the empty and full venue.
Giftbags and other goodies. On professional events, it's usually notepads, pencils, and flyers. Make sure to get a photo of these before they are all gone.
The nametags at the entrance always make for a fun shot. Try to focus on the names of VIPs that will attend the event.
The buffet if there is one. Usually, there is some kind of buffet and bar present. Make photos of these while the food is still untouched. Also, take photos of it while people are filling their dishes to show how popular and good the food is.
Photos of the Event Venue
As with any event, it's on a specific location. It can be that it's just an office building of the sponsor. Maybe it's a castle the organization rented. I even had to photograph events hosted in a weird construction of containers. Whatever it is, make sure to have photos of it.
The exterior of the venue. How boring it might be. Make sure to go back on a later moment too when people are queuing up to get inside.
The interior where the event will take place. Again an empty shot and a shot with the room full of people.
If there is the possibility to get a higher vantage point, make sure to make use of it!
The Attendees of the Corporate Event
No event without people attending it. So make sure to get plenty of photos of them. One shot of two people talking might seem plenty, but make as much as possible. Make the same photo with different people until you have different combinations in your shot. This will make the event look bigger.
*Another tip: try to walk around the crowd and photograph to the center of the public. This way you always have more people in the background. This will make the event look more busy.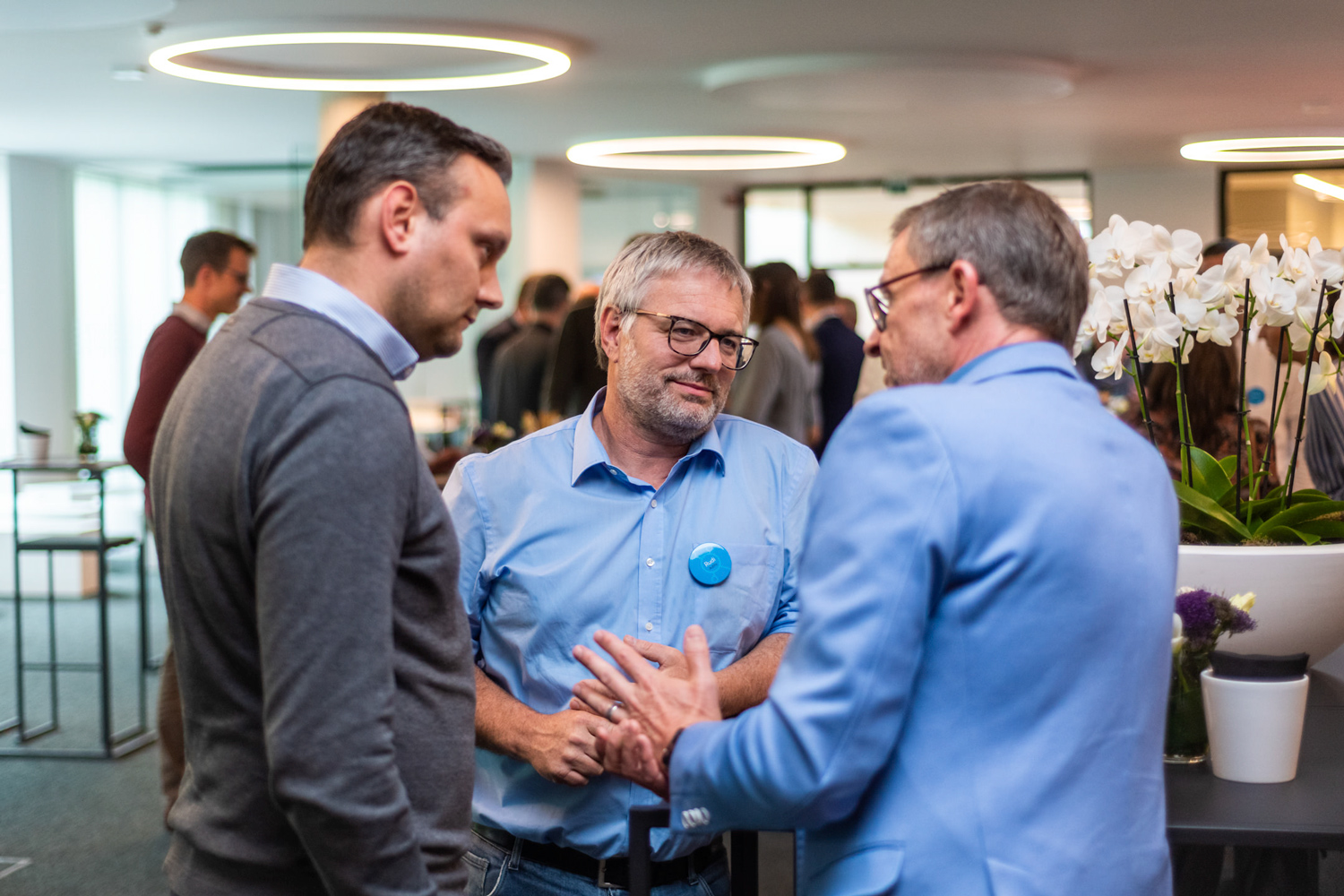 Make photos of the attendees interacting with each other. Conversations, laughing, or just handing each other a drink are all nice pictures to take.
People checking in at the frontdesk. This shows how well people are being received at the event.
People interacting with sponsored materials. This could be as simple as people standing around the banners or collecting their goodie bags.
People exchanging business cards with each other. Future attendees will love to know there are potential network moments at the event.
Possible side events happening. Maybe one of the sponsors is doing a small presentation about their product or service. I even had dancers walking through the crowd one time. Make sure to capture this in the photo.
Things to avoid: people's back. Make sure to photograph people's faces. With the occasional over the should of course. Also, people stuffing food in their mouths is not a pretty sight! No one can eat gracefully.

The Shotlist For The Important People Present
You might not know them, but every event has VIPs. Ask the organization who they are. Maybe even if they can point them out for you. It could be a sponsor, a CEO, or just an attendee the organization wants to be related too.
Speakers interacting before or after their keynote. This could be with each other or just with a couple of attendees asking questions.
Sponsors walking around and networking.
CEO of the organization who is mingling with the attendees.
The signing of a contract: this is not on all events of course, but sometimes there is a special announcement where two people sign a new collaboration.
A handshake between important people: similar to the contract, and almost always right after signing the contract, is two people shaking hands.
The Keynote Speakers in Action
Usually, corporate events have a keynote speaker. Most often even more than one. It could also be a panel on stage. Either way, these are the shots you have to take:
Speaker in action on stage: Make sure to include the heads of people watching, though make it a fairly tight crop.
Speaker In action close-up: Really just the speaker with as little other elements as possible.
Speaker in action with the context of the room. You can stand on the side of the stage and have the speaker and front of the audience in the shot. Same with standing the back. Looking over the audience to the speaker.
People applauding/giving attention: Stand in front of the room and take photos of people watching the speaker. Applauding at the end of their keynote or maybe raising their hand to ask a question.
Crowd interaction: These are sometimes hard to predict, so be ready. It can happen a speaker asks people to stand up and do a certain action. Maybe just sitting down when a statement does not apply to them. These are fun shots for the organization to share with the attendees afterward.
In general, it is your job to make the event look as great as possible. This, of course, relates to the goal of the people organizing it all. One time I had to make a 10 people event look like there were more than 30 people present.
How you go about this is up to you and your creativity. But I am sure with this shotlist you will get a whole lot further. Have a shotlist to get through the event more easily, so you can put extra focus on making those awesome and creative images for your clients!
Have fun shooting!
*Images and story shared with permission
Frederic Paulussen
Frederic Paulussen is the person behind Fredography. A photography business that focusses on helping other businesses communicating their services and products. Whether that is by photographing the launch event or making behind the scenes photos. Frederic is ready to help!