What exactly, is, a luxury? If you thumb through that ancient dusty Oxford you haven't touched since the world went online, you'll come about defining terms such as, 'excess,' 'refinement,' 'delicacy,' 'indulgence.' Essentially, inferring that it's anything that's not necessary to live. I would further suggest it's the excess of all that's enjoyable – money, praise, shrimps on the barby – etc. I would add to that, 'Burning Man.'
Yearly, nearing the end of summer, 50,000+ people and counting, congregate for an 'art festival' in the Black Rock Desert lakebed in Nevada. It's like no other art festival you've imagined though it seems like something straight out of imagination. The attendees arrive, build a 3 mile wide city, populate, copulate, and destroy it a week later leaving naught but unsettled dust.
Whatever your personal reason for attending, or avoiding, its photographic opportunities are undeniable. You've got this terrific barren desert for miles around, and fantastical objects and ephemeral artworks pulled from imagination dotting the alien landscape, and people far removed from the structured conformities of normal clothing. Nevermind the sunrises and sunsets that are said to be knee tremblingly beautiful. Knowing it will all vanish in a week, never to be the same, makes it all the more momentous. Photographer Dina Litovsky captured her unusual take on Burning Man over 3 years of the festival. The series is called 'Whiteout'.
[REWIND: A Simple and Quick Tip For Shooting Better Black & White Images]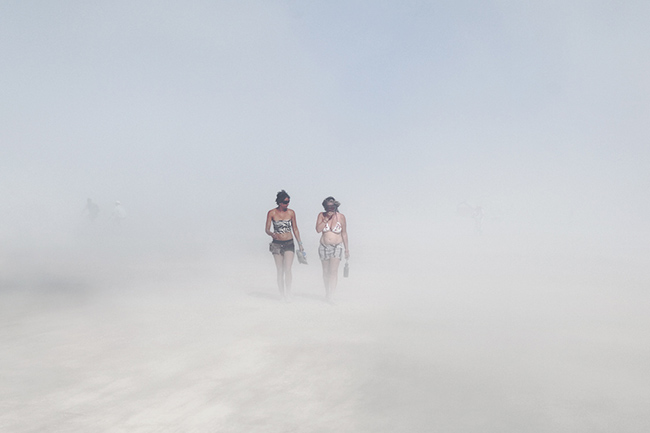 Images coming out of Burning Man usually tend to be all the same, and it's usually of the more intense persuasion focusing on primary pieces and events. Litovsky's images though, shine not simply due to her execution, but her unique choices. Using negative space works very well as a theme throughout the images, and she uses the elements to great effect. The dust allowing her subjects to be thinly or thickly veiled helping give gradient and leading lines to the focal point.
[PRODUCT HIGHLIGHT: Natural Light Couples Photography Workshop]
Originally from the Ukraine, she now hails from New York and has been featured in prominent publications such as The New Yorker, and GQ, and this series 'Whiteout' is a project she speaks romantically about:
The first anxious moment of helplessness metamorphoses into a feeling of unbounded freedom. In this vast, disorienting silence, one is left entirely to the immediacy of the experience.
Though clearly if she didn't say a word, the images speak for themselves. They illuminate a side of Burning Man less seen. The less glamorous side.
Thoughts
Burning Man is based on 10 key principles to guide activity during this 'expression' of art. Burning Man is said to be centered around self reliance and a gifting system. So attendees bring all they'll need to survive in the desert; food, water, shelter, vodka, condoms, and the list goes on. Far beyond actually, as people brings, bars, art installations, sound systems, and workshops.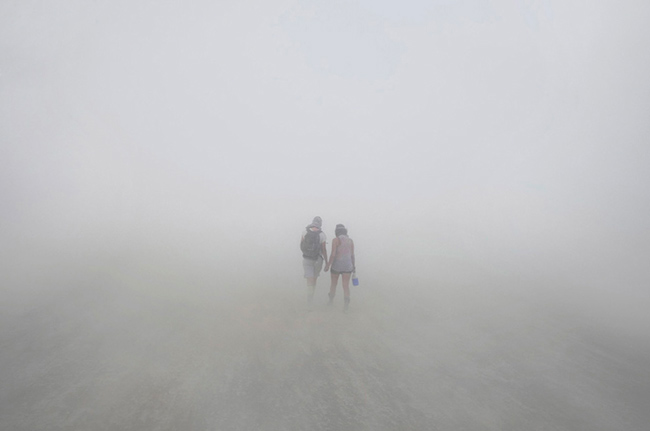 The idea is to manifest one idea of a self reliant utopia, however, the irony isn't lost of many that see it's far from self sustaining, subject to the same trials of any community such as cliques, jealousy, and exclusion, and the organizing company is one for-profit who makes it a point to avoid transparency of its books. However, it does succeed in providing a getaway unlike anything you'll find in a city. In a city people dress in socially acceptable attire and behave in an outing the way they feel they want to be perceived. Fancy. At Burning Man no one will feel glamorous. They'll feel something significantly better. Young.  And that's luxury.
You can find much more from Dina on her site.
CREDITS: All photographs shared by Dina Litovsky are copyrighted and have been used with permission for SLR Lounge. Do not copy, modify or re-post this article or images without express permission from SLR Lounge and the artist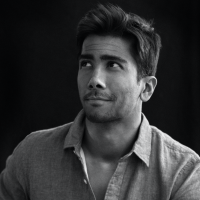 Kishore Sawh
A photographer and writer based in Miami, he can often be found at dog parks, and airports in London and Toronto. He is also a tremendous fan of flossing and the happiest guy around when the company's good.