As photographers we all have our muses. Someone that inspires us, someone that helps us see more creatively just by getting them in front of the camera. For many portrait photographers, our families are our first muses simply because they are the ones we tend to photograph in the beginning of our photographic journey and the ones that we tend to photograph most, not only for their accessibility but our love for them.
Polish economist (by day) Sebastian Luczywo is no different. According to him, his entire photographic world has revolved around his family and pets so far. He has always enjoyed photography and could be found on many a family trip with a camera in hand. It wasn't until 2011 though, when he found a real passion for photography. Photos of his wife Agnieszka, his three children: Kaja, Krzysztof and Jacek and his pets became his form of silent expression. As he listened to the music of Riverside, he illustrated the music in his head and felt compelled to channel those images through his photographs.
I transfer my emotions and visions of the world into my photographs. I do not have to say anything, I can show the feelings in silence. Besides, photographing calms me down, it gives meaning to existence and distracts me from reality. Each beautiful morning, every good picture is my great joy and great motivation to continue to create.
His images evoke a feeling of tenderness that gives the viewer a sense of the importance of the subjects in the photographs to the photographer. The whimsy and carefree moments of childhood are moments that us as adults tend to forget as we carry the world on our shoulders is an underlying theme of each of Luczywo's images. Luczywo is quick to point out that family portraits is not his only forte. He is also interested in many types of photography: nature, animals, people, adults, and children and moments – spontaneous and staged. This you can clearly see in this series as he frames his family portraits around all of the above mentioned categories.
Perhaps it's because Luczywo's main desire is to develop. He is passionate about learning and growing as a photographer. Through working with his children, who sometimes sets the themes and stages the image, and his animals, Luczywo is reminded of the charm and amazement of children…and the patience it takes to photograph them!  "Children are not robots, they do not always want to have a job to do and I understand it. With my pets it is similar, perhaps even more difficult, because I can not explain anything to them. I set them up (the dog, the chicken or the guinea pig), rely on their patience and hope they do not escape. I think I'm lucky that my model animals that I love are my friends and I like to work with them."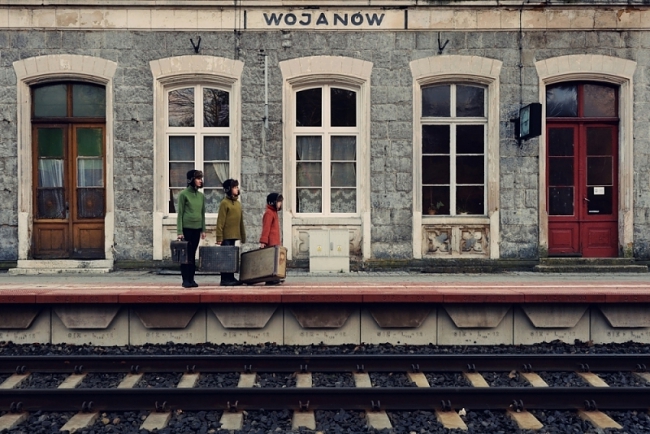 The message Luczywo wishes to portray through his work and his images would be that "even the greatest talent does not sustain itself if you do not work on it. Your talent is merely half your success, your work is another half. Nobody has taught me to photograph. I was not in any photo school and I had no teacher. I taught everything myself, I photographed almost every day, I learned about the camera, lights, often getting up at dawn. Things did not always work out. You have to believe and work."
Great advice from a man who has created such inspiring images. You can see more of Sebastian Luczywo's images on his 500px page.
[Via Bored Panda]
CREDITS: Photographs by Sebastian Luczywo have been used with permission for SLR Lounge. Do not copy, modify or re-post this article or images without express permission from SLR Lounge and the artist.
Hanssie
Hanssie is a Southern California-based writer and sometimes portrait and wedding photographer. In her free time, she homeschools, works out, rescues dogs and works in marketing for SLR Lounge. She also blogs about her adventures and about fitness when she's not sick of writing so much. Check out her work and her blog at
www.hanssie.com
. Follow her on
Instagram