Our Lighting Gear Set Up
In this article we're showing you exactly what's in our lighting bag for a typical portrait session. Some people might think the gear we bring is excessive, but we want to be prepared for any lighting situation or any shot we might want to capture. Watch the video or read the article below to see exactly what equipment we take with us, and why we would need them.
What's In Our Lighting Bag Video
The Gear In Our Lighting Bag
13 Inch Undfind One Bag
Westcott 5-1 Reflector
Pocket Wizard Plus III or Pocket Wizard Plus X
Nikon SB-80 Flash or Vivitar 285HV Flash
Manfrotto Lighting Bag
Manfrotto Lighting Stands
Color Temperature Orange (CTO) Gels and Neutral Density (ND) Gels
Shoot Through Umbrella
MagMod Lighting Modifier
Lowel GL-1
The Bag We Use: 13in One Bag
The bag we use to carry all of our photography and lighting equipment is the 13in Undfind One Bag. We created and designed these bags based on what we need as photographers. The One Bag is versatile, comfortable, safe, and most importantly all your gear is accessible quickly. Whether you're using the bag for camera bodies, lenses, or lighting equipment, the One Bag can fit it all.  These bags are designed by photographers for photographers.

Natural Light Modifiers: Westcott 5-1 Reflectors
For natural light modification we use 2 Westcott 5-1 reflectors. We keep one reflector on the silver side and the other on the scrim side so instead of having to change one reflector constantly, we have both available to us at all times. These reflectors are incredibly useful on portrait sessions utilizing natural light, and for about $40 it's a useful tool you can afford to have! We also have three great tutorials on utilizing the Westcott 5-1 reflectors on portrait sessions.
Pocket Wizards
To control off camera lighting and flashes we use the Pocket Wizard Plus III or the Pocket Wizard Plus X. We typically carry 3 or more of these on a shoot, one mounted on the camera and 2 on off camera flashes. These reliable remotes are extremely important to us because off camera lighting is an important aspect to our style of photography. These pocket wizards give us the range and reliability we need to capture consistent and professional images. To attach our pocketwizards to our light stands we use Hildozine Remote Transceiver Caddys.
Off Camera Manual Flash
For flashes our studio uses Nikon SB-80 and Vivitar 285HV flashes. We're not very impressed with the Vivitar 285HV and the Nikon SB-80 is a bit pricey (although they work incredibly well), and you can only buy them used. As I mentioned before, off camera lighting is a big part of our studio's style of photography and we're still looking for a great, new, sub $100 manual flash. If you have any recommendations please let us know in the comments.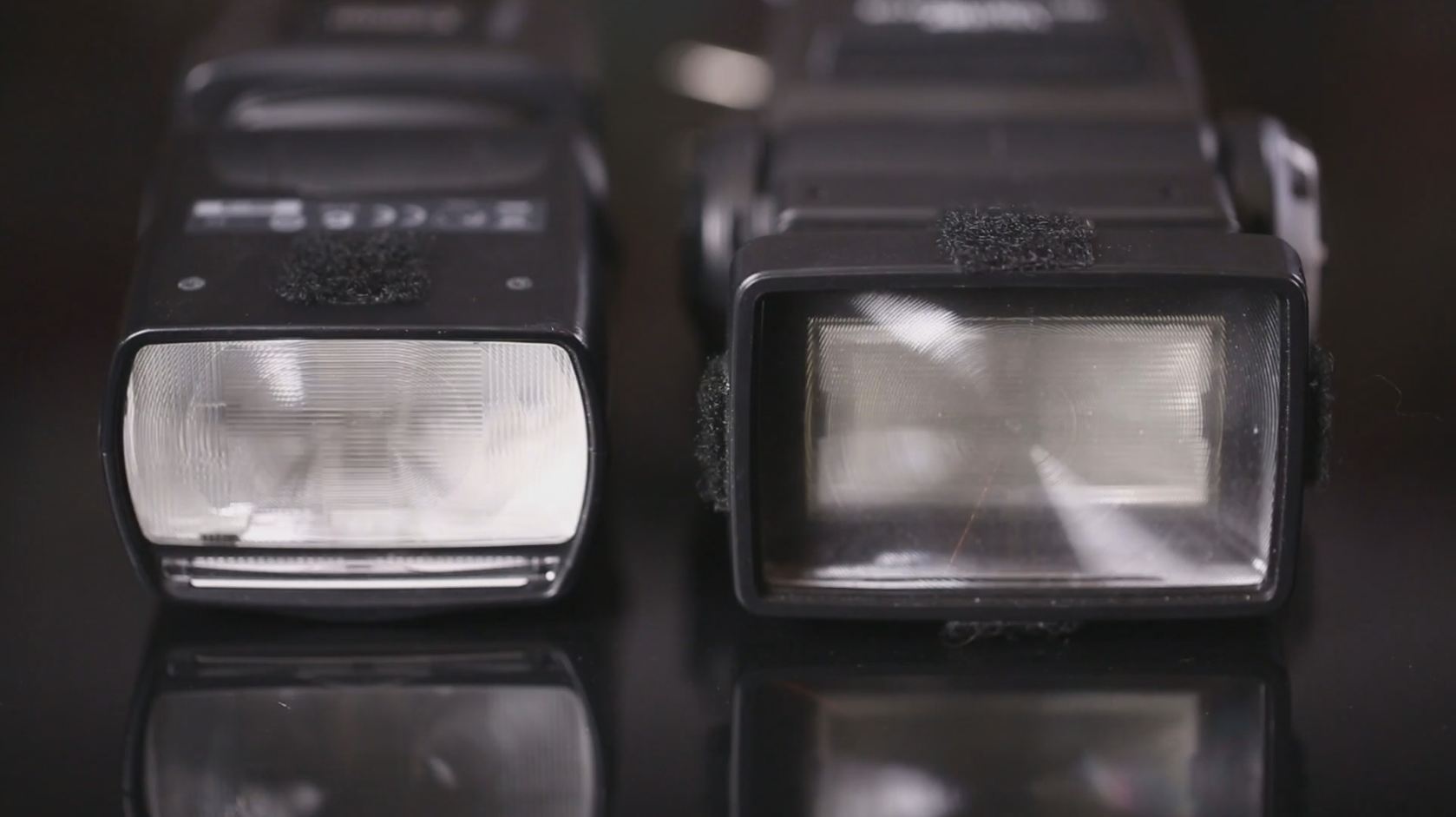 Lighting Bag and Lighting Stands
To carry out our lighting stands and umbrellas we use the Manfrotto lighting bag. This bag is the perfect size because it carries 2 of the Manfrotto lighting stands and a couple shoot-through umbrellas. Manfrotto does make larger bags, but this is the preferred size for us because if it was any bigger then our gear would get rattled inside the bag, potentially damaging it. Our lighting stands fit inside the bag with the flash mounts attached, which is great because we don't have to spend time removing and attaching them.
Flash Modification
For flash modification our most used item is a simple shoot through umbrella. It's a great compact modifier to use, and it's also incredibly easy to direct and soften light. When using a shoot-through umbrella we suggest putting a lot of distance between the umbrella and the flash (that way you use the whole umbrella) to get the best results, otherwise the light will be too harsh.
We also carry color temperature orange (CTO) and neutral density (ND) gels. These gels can be noisy and easily lost, and a great product that's coming out soon that will fix all that is the MagMod. The MagMod allows us to attach gels and grids quickly and quietly. It's really an innovative approach to flash modification and we really enjoy using it.
Continuous Lighting
For Continuous lighting we typically use the Brinkmann Duel Xenon Flashlight. These flashlights were incredibly affordable (only $30) before they were discontinued. Another light we use is the Lowel GL-1. This is probably the best compact continuous light on the market for photographers because of it's versatility, control, and power. With the Lowel GL-1 we're able to paint in light into our shots easily and accurately, and the results are stunning.
Although it's 20 times more expensive than the Brinkmann, we can confidently say you get what you pay for, and the Lowel GL-1 has definitely found a place in our lighting bag. Be sure to check out our review on the Lowel GL-1 to see if this is something you'd want to invest in.
Conclusion
We hope you enjoyed taking a look into what's in our lighting bag. At SLRLounge we really enjoy photography and sharing everything we've learned through our own photography endeavors.