Watch The Video Tutorial 
(Click here to check out the full wedding blog post!)
The Original Images
Nikon D5300, Tokina 11-16mm f/2.8
1/80 sec. @ f/5 & ISO 100
FotoPro C5C Tripod
15 sec. @ f/10 & ISO 100
Hoya HMC 9-stop ND Filter

2 sec. @ f/7.1 & ISO 100
Hoya HMC 9-stop ND Filter
The Final Images
Blended PSD layers, without additional editing
Final Editing Applied (Burning & Dodging, Crop, Vignette)
Warm "Wash" Version, Using SLR Lounge Preset "Neutral Wash – Apricot"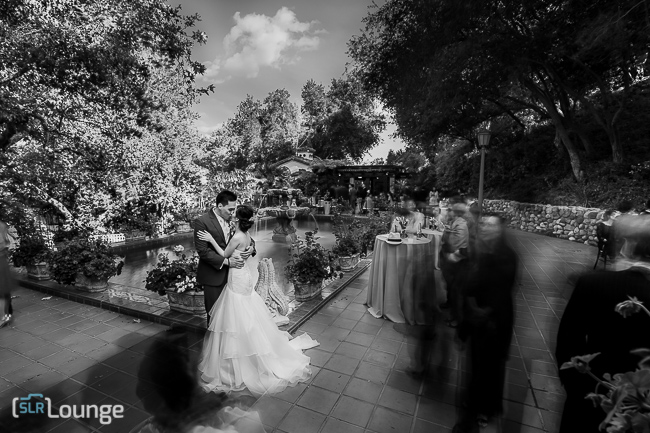 B&W Version, Using SLR Lounge Preset "Light Crush – B&W" &
"B&W Warm Boost – Heavy" Plus Additional Burning & Dodging
When editing images in Lightroom and merging them as layers in Photoshop, there are certain adjustments that you should do first, to the original RAW images, and other adjustments that you should not make until after you're done creating a layered PSD in Photoshop.
This might sound really obvious to anyone who has a lot of experience doing advanced photoshop work and going back and forth between Lightroom and Photoshop, however hopefully these tips can help save at least a few people from making a mistake that might force them to redo some advanced Photoshop work that was really time-consuming.
Mostly, you want to perform basic corrections and dynamic range adjustments before hand, and wait to do any stylized editing or potentially "over-the-top" processing until AFTER you have done all of the more complex layering in Photoshop.
Especially avoid cropping and excessive burning & dodging until after you have brought the blended PSD image back into Lightroom.
Of course, there are other techniques out there that can help you in this process, including even the ability to re-edit RAW images as layers of a PSD!
Layer Masking In Photoshop – Beverly Hills Montage Wedding Portrait
Using Layers to Preserve Highlights In a Saturated HDR
As always, please feel free to leave a comment if you have any questions or additional tips!
Take care, and happy clicking,
=Matthew Saville=
 Learn HDR Photography
For more HDR education, be sure to check out HDR Tutorial by SLR Lounge. This comprehensive "gold standard" guide will give you a mastery of HDR photography, from the scene considerations to the actual shooting to the post production. Click here for more info.
Natural Light Portraiture
If you are interested in becoming a master at natural light portraits, (photographing couples) …then you should check out our Natural Light Portraits for Couples DVD Workshop!  This comprehensive video workshop collection will help you master everything about photographing people in a simple, natural light setting…  Click here to visit the SLR Loune Store and get more info.
Adobe Photoshop Lightroom
Lightroom 5 is, in our opinion, by far the most powerful workflow tool for any photographer especially wedding and portrait photographers who need to achieve perfect color correction at a rapid-fire pace.  Become a Lightroom Master using our complete Lightroom Workshop Collection for Lightroom 5!  This DVD workshop includes extensive tutorials for everything from organization & workflow to image processing and our awesome preset system.
The SLR Lounge Preset System
The SLR Lounge Preset System is designed to enable Lightroom users to achieve virtually any look and effect in 3-5 clicks. Including basic color correction, vintage fades, black & white effects, tilt-shift effects, faux HDR, retouching, detail enhancing, and so much more, the sky is the limit with what has been dubbed the most powerful and intuitive preset system available! Click the link above to learn more/purchase. The SLR Lounge Preset System is now available for both Lightroom 5, Lightroom 4, and Adobe Camera Raw. (Bridge CS6 and CC only, click for more info.)