You might be thinking, "why is Jason back with another article about working with his wife?" To be fair, you're right, and that's because it's been the most gratifying thing I've ever done, aside from raising children together. The last time I shared my thoughts about working with your spouse without killing each other, but it is clear there's a need for discussion about the moving parts and methods that will make working together great for your clients, efficient for your business, and fun for you both.
Assess Each Other's Strengths & Tailor To Them
First, you need to put a plan together. Winging it, while fun, won't work out in your favor as you grow (trust us, we know from five years of winging it). After several months of just going with the flow, my wife, Jo and I had to sit down and figure out who should have what responsibilities throughout our business. We based this decision on our individual strengths and weaknesses which were decided upon through honest discussion (always a fun conversation).
Talking The Talk
Communication is a definite strength of mine, meaning I'm loquacious by nature. Client communication is easy for me; I love chatting it up with clients via email, text, video chat, or in person. Jo, on the other hand, is quiet and reserved and feels nervous when she has to communicate with people. That's okay, it's not for everyone, and so we exploit my natural ability to never shut up to communicate, and I tend to handle that part of the business. Decide if divvying things up will work best for your workflow as it's always best to exploit each other's strengths when you have a partner.
It's All in The Details
Jo is fantastic with things requiring detail, so she naturally took on the bookkeeping and business aspects of our studio. She keeps track of receipts, income, expenditures, travel logs, and everything else that requires precision and detail. Me? I would have a meltdown if I were made to do anything requiring this level of detail. I simply can't do it, but the benefit of the team environment is she can pick up right where I left off.
WATCH YOUR STEP
When we first started working together there was a lot of guesswork involved; we had to wave each other out of the other person's frame so we could get a shot we wanted, but as the years have gone on, that has all but stopped because of experience and the time we took to analyze our behavior.
It is of vital importance to take stock on how your partner operates in the field. For a wedding day, we took the time to learn how we each liked to shoot and with what type of lenses, etc. so we were able to cover an event from every angle without stepping on each other's toes (quite literally).
Now, we know what the other is going to do, and we know how to avoid each other when need be. Taking the time to work this out up front is hugely helpful, and much more effective than learning on the fly over a period of years.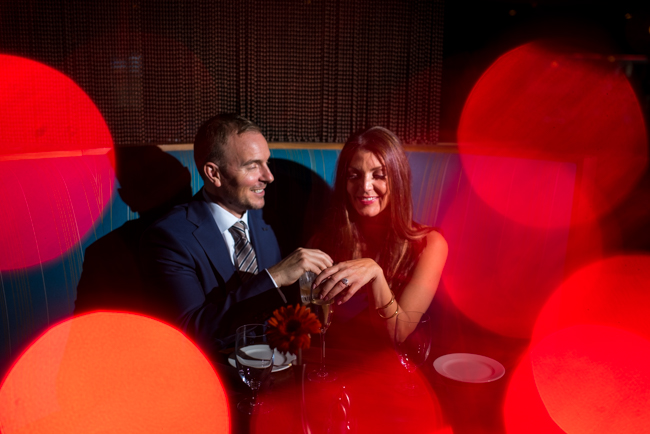 Assign Dedicated Roles During The Shoot
Over the years, we have also come up with a game plan for the wedding day itself; We know where each will naturally end up when we start working. Usually, Jo heads off with the ladies, and I'm off with the guys, and we utilize modern technology (phones, in-ear-radios, smoke signals) to keep in touch with one another to stay on schedule. We have our timelines set as the lock screens on our phones, and we send each other text messages to stay in communication throughout the day. If the bride is on the move, Jo will shoot me a quick text or radio me to let me know to avoid a certain area with the groom.
Help Each Other Create The Best Images
While a large portion of the wedding day is documentary photography, we have to team up on portraits. Jo always shoots the family formals because she has an eye for posing, even noticing the most innocuous little detail if out of place. We both take the time to come up with cool bride and groom portrait ideas, and so we assist each other in making sure we can each get those "wow" shots.
It's important to be encouraging and helpful when working with your partner, and helping them get a great image is only going to be good for you both. So don't hesitate to be the V.A.L. (Voice Activated Lightstand), just know that the common goal is to produce great imagery for your clients.
Assign Post Processing Roles
Another aspect of our business that requires detail is the artisan edits we provide for the prints our client's order. While I can whip through Lightroom and knock out 100s of images in minutes, we leave the more important editing to Jo where she will utilize Photoshop to contour makeup, remove fly-aways, retouch skin, and generally take the images to the next level. If this were left to me, people in our images would have extra arms growing out of their ribcage or a missing eyeball.
Don't Be Afraid To Learn
Jo has much more experience in the business than I do, and naturally, I had a lot to learn about photography. She had to teach me a lot about posing, light, composition, and all of the other important fundamentals. However, I'm super technical, so I was the one sitting up at 3 AM reading about off-camera flash, and other interesting new trends in photography, which I would then promptly wake her up to with child-like excitement, and share with her while she was half asleep.
The sharing we did between us led us to refine our style to the point where it's now easily recognizable as our work, and we have a signature look that our clients can expect from our imagery.
Learn From Our Mistakes
I hope I've illustrated how we both have our strong points and weaknesses, and the importance of the time we've spent refining our workflow so we can provide a high level of service, and killer wedding photography for our clients. Yes, it took a lot of trial and error, but if you follow these tips, you can save yourself a lifetime of winging it, and really have a functional workflow for your business, and quickly.
Jason Marino
Jason Marino, along with his wife JoAnne, travels the world eating street food in sketchy alleys, making loud noise on guitars, and occasionally photographs a wedding. Check out more of his work at the links below:
Website
Education