The images you're about to see here, are, at the risk of sounding hackneyed, are remarkable. So much so in fact, that  you may very well have seen them before, or ogled them before, or saved them as your wallpaper. Dave Sandford's series of waves struck a chord with us in 2015 when these very images, which strike us first with familiarity then doubt and awe, first hit a few outlets.
There is tremendous power in being able to change someone's perceptions and Dave's 'waves as mountains' challenged us to see the unusual in what we consider banal, and make something out of it – mountains out of molehills, if you will. Well we caught up with the man who continues to innovate and inspire to get a little backstory on the series, what gear he uses, his inspiration, and perhaps where he's off to next.
It sort of warrants to learn that Dave first picked up a camera at age 9, finding subjects in cottage country as many Ontario kids do. His appreciation and love of nature stayed with him as his matriculated through school and his own experiences, but he hit stride with sports, interning at the Hockey Hall Of Fame with the Toronto Maple Leafs photographer and was then hired by the NHL to photograph the league's photo department.
That then turned into shooting for Sports Illustrated, shooting 18 Stanley Cup Finals, numerous Super Bowls, the Olympics, NBA and MLB playoffs, and well, the list would go on to be as long as the Orient Express. All the while, however, he was also shooting nature, inspired by his time shooting in Australia where he learned a lot about shooting in water, committing to shooting the Great Lakes he grew up around was something he always intended to do. What we have here is the result of that accumulated experience, and it's brilliant.
He attributes much of his ability, indirectly and directly to the teachings of his friends Warren Keelan,
"He taught me much more than I ever could have imagined not only about shooting in the water but about water safety, awareness and how to handle myself.. greatly building my confidence in what can be hectic situations. He also taught me a different way to see; how to see things differently than I had ever seen before, expanding my horizons on how to visualize things, things that may be everyday things you see on a regular basis but with a different way to look at them. So it was a combination of the new proper gear, and the new found lessons ( you can never stop learning in photography) and new was to visualize what I already love. It also helps that i hadn't shot at the ocean in almost 3 months and was so anxious to find some waves and get back at it.  All I needed was for mother nature to cooperate and do her part. I was ready for the task at hand!"
So how exactly does one shoot waves like this, and what's it like? Well, it's cold, violent, turbulent, explosive and all unpredictable. Speaking as someone who lived in Toronto for many years I can tell you, you'd be hard pressed to get me into any of the Great Lakes to shoot anything, much less in these conditions, and for the 7 hours Dave will spend in these 50-55F waters, freezing his hands, just waiting. The waves he is shooting can be enormous, but of course he waits for the rights ones – again, in 'breezes' that can get up to 70mph. He credits his natural patience for his ability to do this.
In order to shoot this he uses a myriad of equipment, but it's all Canon:
"I have various ports for different lenses. My P-215 flat port for my 70-200mm, the P-120 flat port for my 16-35mm, the PD-65 6" dome port for my fisheye or 16-35mm (with extension tube P-70 EX) and the PD-85 8" dome port again for my fisheye and option with P-70 EX to use with my 16-35mm lens. I also have the Strike 580 II Flash Housing. Lastly a full line of the Aquatech Weather Shields to protect all my bodies and lenses from the elements like sea spray, rain, snow sand and any of the elements that can harm your gear. I've used Canon since my early days as a professional and I was turned on to Aquatech by a friend and fellow photographer for all my water housing needs. Aquatech have been very supportive since I've been connected with them."
Gear List
28-70mm f/2.8
15mm fisheye f/2.8
"For these i prefer my 70-200mm when i am in the water. Ideally i'd love a 300mm out there but that just isn't possible. If there were a way i could shoot and live to tell about it i would love to be right up in there with my 16-35. Until people see the action of these waves first hand it's hard for someone to understand what i mean. Perhaps one day i'll be able to figure it out and tackle them this way with the aid of technology. But for now it's the 70-200, my 400 or 600. There's just no way to get yourself closer to use smaller glass. The longer lenses and compression for sure help aid in the 'mountainous' feel to the waves, that and the perspective of shooting from water level. As i say even when shooting from the shore i'm not really on the shore i'm at the waters edge or on shore as close as i can get myself to water level. These waves really are huge for the most part ranging in height from 15-30' depending on the power of the wind and the direction. The white water exploding off these waves can reach heights and widths of 40-60' if not more at times. It's like watching an atomic bomb go off. Truly spectacular!"
And what's next for Dave? Well, it's more where than what. He'll be heading to Orange County, and then Australia to do what he loves and does best, and then likely back to the Great Lakes for another run at it. And who could begrudge him that, or would even want to dissuade?
You can find more of his work on his site and Instagram.
CREDITS: All photographs shared by Dave Sandford are copyrighted and have been used with permission for SLR Lounge. Do not copy, modify or re-post this article or images without express permission from SLR Lounge and the artist.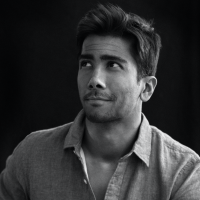 Kishore Sawh
A photographer and writer based in Miami, he can often be found at dog parks, and airports in London and Toronto. He is also a tremendous fan of flossing and the happiest guy around when the company's good.