For those of you keeping track, WWDC is next week, and as always with WWDC, we can expect to see some new products and if you look carefully we should be able to see little developments that hint at further products and product changes. Last year it was DNG and raw that was a major underlying focus, which Apple more quietly discussed in some of their peripheral sessions, and it really opened up the floodgates for raw support on iOS devices. This year? Well, one can only speculate, and in doing so Wacom's recent move is of particular interest.
Just days ago Wacom, everyone's favorite purveyor of fine pen-tablets released 2 new pens, and neither for their own tablets. Both pens fall under the Bamboo umbrella where one is for Windows and one for iOS, but both are fundamentally different. The Windows version is aptly named 'Ink', given Windows 10s Ink feature, and while a click of it can launch the Ink workspace it's meant more for writing, and technically not as advanced as the version for Apple.
The Apple iOS version is called the 'Sketch', and already denotes what it's meant for. It comes with softer and harder nib choices, 2048 pressure sensitivity levels, programmable buttons as we're used to on the regular Wacom tablet pens, and internal rechargeable battery that lasts 15 hours (allegedly). Now, what's interesting here is that 2048 pressure levels is quite high, as that's like their Intuos Pro pens, and of course there's the timing – the Ink for Windows is available now but no set date for the Sketch, so one assumed it'll be after Apple releases whatever they will.
There's been, as always, much speculation as to what WWDC will be bringing, and among internal revamp rumors for the MacBook Pros, new iPad Pros are near the top of that heap. the original iPad Pro, the 12 inch, arrived in 2015 so it's due an upgrade. The new Sketch also already works with many iPad apps including things like Astropad, and while at this point the Apple Pencil is meant for the iPad Pro, the Sketch should bring that proper tablet drawing functionality of the Apple Pencil to iPads generally.
This could signal a much higher level of retouching and image manipulation ability coming to the mobile devices soon, and for $80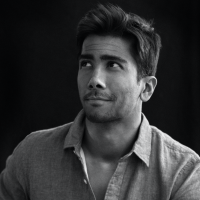 Kishore Sawh
A photographer and writer based in Miami, he can often be found at dog parks, and airports in London and Toronto. He is also a tremendous fan of flossing and the happiest guy around when the company's good.