Allow me to put a period on all the sentences now by saying that in order to do great post processing work and end up with the imagery you are capable of producing; the kind you want to produce, you must have a pen tablet. In the world of photography, that means a Wacom. And now you can have incredibly good ones for incredibly cheap.
We have two reviews of higher-end Wacom tablets coming very soon, the Intuos Pro Medium and the Cintiq Pro 13 inch, but the prices for those range from $350 ($299 right now) to $1,000, which isn't in everyone's budget. Luckily, however, the basic Wacom tablets are now better than ever with this refresh, and start at just $79.
"Today, Wacom announced a new, significantly upgraded version of its Intuos pen tablet for creative beginners and enthusiasts. Bundled with software for drawing, painting and image editing, the new Intuos tablet offers an immediate start into digital art. Anyone interested in getting creative on a digital level will be able to enjoy a natural pen experience, improved accuracy and enhanced online navigation capability. Ambitious comic and Manga fans, hobby painters and photographers just need to download a software of choice to "get creative."
This the fist major upgrade to the basic Wacom line in over two years, and it's a significant upgrade. The new Intuos line comes with built-in wireless Bluetooth on some models ($20 premium on the ones without), have the same active area as previous generations but are overall smaller and lighter; have a built-in pen tray, 4 express keys, an LED indicator, and the Bluetooth models have a 60 percent battery life improvement.
Additionally, the new pens have 4,096 levels of pressure sensitivity and use battery-free EMR tech with a better overall design. That's double the pressure levels found on the last generation of pro lines. Suffice to say it's more than enough for photo retouching.
The new Wacoms come in two sizes, medium and small, and the Medium comes standard with Bluetooth for $199, whereas the small can be had with bluetooth for $99 or without for $79.
Having not used these particular models it may be a bit premature to say which to get, but experience with Wacom units over the years suggests you should get the small unit with bluetooth. When retouching you usually map a very small area of the tablet so having a large active size is unnecessary. The only downside is sometimes the small units aren't providing enough place to rest your hand.
The larger units, aside from being more expensive used to be a lot bigger, but like the current (new) Pro Line they have made the Medium about the size of the previous small without penalty in active area. Take a look at this review of a small Intuos of 2 generations ago to get an idea.
If you're used to the wired experience it'll take a little getting used to the minor lag of the Bluetooth, but it's just so so nice to be wire free so definitely go for that one. If you take your photos seriously and retouching, and you want the next best piece of kit to get other than your nifty 50, get one of these.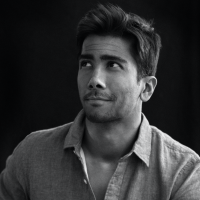 Kishore Sawh
A photographer and writer based in Miami, he can often be found at dog parks, and airports in London and Toronto. He is also a tremendous fan of flossing and the happiest guy around when the company's good.