Social media has created a curious dichotomy between accessibility and connection. On the one branch, it appears that famous people are easier now than ever to keep up and connect with, yet on the other, everyone has the same idea. It's easy to get lost in the masses, and may be even more difficult to actually connect with someone. Not to mention you're more open to be criticized. It's a reason why some hold the opinion that Instagram and Twitter are the most depressing of the social media players, because the people we want to connect with are posting intimate moments in photographs or messages, much like they would a friend, but really, they may be no more likely to respond to any contact you may put forth.
Still, just because something's difficult, doesn't mean you shouldn't still do it – the road less traveled, and all that. There are those who do interact with their fan base and Ben Von Wong is one. In one of his latest posts, Ben, always for whom the glass seems half full, stresses how the possible failure or critique is worth the price, because you just never know when someone positive will come. The product of one such positive interaction? His celestial 'Fallen Angel' shoot.
The story goes, as Von explains fully on his blog, is that a loyal fan of his decided to reach out to Von and to her surprise, he reached back. Kelly Zak, a cheerful and talented film student in Orlando had made working with Von Wong an item on her bucket list. Not too long after being tagged in one of his posts, she commented and he replied. Then after this almost serendipitous connection, she offered to build something for Von he mentioned he had always wanted to work with – a set of fallen angel wings. Almost calling a bluff, Von said he would fly to Orlando if she built them and both made good on their word. What transpired was this almost dark fable-esque shoot.
[REWIND: Illustrative Guide To Popular Light Modifiers]
Admittedly, Von says he didn't think the project would turn out to be that scale, but the whole group involved was enthusiastic enough to pull it off. The whole project seems to have been pulled from nature, using feathers and moss and bark to match the moody set of what looks like an Orlando forest of willow and oak. And one fallen angel was just the start, as Von let his imagination develop multiple characters for the shoot. Along with the usual gear Von had with him, a Hasselblad H5D-40 and some Elinchrom Ranger Quadras, SmugMug was on hand to record the event. Check out more images and BTS shots from the set on Von's blog, and below is the video of the whole ordeal, and the SmugMug's short profile on Von.
Thoughts
Those that seem to truly understand social media, guys like Chase Jarvis, Gary Vaynerchuck and Seth Godin, all seem to be of the opinion that to make it work, to gain real followers you've got to continually give and give and give. I think that struck me the most in this story, was that there was give on both sides. It's amazing how things can move when you're not solely coming from a place of take, but from one of give. There really is a distinction to make here. Sure, it won't happen all the time…but 'sometimes' is worth it.
CREDITS: All photographs shared by Benjamin Von Wong are copyrighted and have been used with permission for SLR Lounge. Do not copy, modify or re-post this article or images without express permission from SLR Lounge and the artist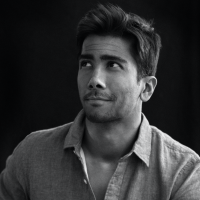 Kishore Sawh
A photographer and writer based in Miami, he can often be found at dog parks, and airports in London and Toronto. He is also a tremendous fan of flossing and the happiest guy around when the company's good.