No stranger to epic photoshoots like his Underwater Realm shoot or Medieval shoot, Benjamin Von Wong new conceptual project, What Lurks Beneath, is simply out of this world. Benjamin shot all of his creatures in an indoor swimming pool and lit them with only black light. This combination posed some serious technical and logistical challenges for the intrepid photographer.
For the camera choice, Ben ended up choosing the Nikon D4 because of its super-clean high ISO performance in low light for both stills and video. Shooting black light is tricky because it emits very little luminance. In fact, the indoor swimming pool that Ben used had to have all of its doors and windows completely sealed off from any ambient light.
Ben also wanted to suspend the D4 over the swimming pool to capture his images from overhead, so he used a Kessler Crane Pocket Jib to rig the D4 over the water and an Ikan D5 HDMI monitor to frame his shots.
So far, though, we have only skimmed the surface to the amount of pre-production and production logistics that Benjamin had to go through to achieve these images, so if you want to see how he pulled this off, check out his behind-the-scenes the video below and read his behind-the-scenes blog article.
Behind-the-scene photo by Monique Guilbault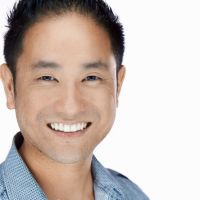 fotosiamo
Joe is a fashion and commercial photographer based in Los Angeles, CA. He blends creativity and edge with a strong style of lighting and emotion in his photographs.