Vimeo has done an admirable job of differentiating itself from Youtube by becoming the home for serious creative professionals to showcase their polished video work. They seem perfectly happy to let the vloggers and pranksters of the world steer clear to make way for their artistic Vimeo staff picks and indie music videos.
Now, Vimeo has introduced a new feature to help their professional users work together to finalize these often complex projects. It's called Review Pages, and allows their pro and business level subscribers to share works in progress that may still need some post-production tweaks, and have clients, collaborators, or friends add their notes to specific moments in the timeline. The notes appear as a list of cards along the side of the video player, and clicking any note advances the video to that particular frame, and displays a dot on the video itself, which could be useful for pointing out specific elements within the frame.
Introducing all-new video review pages from Vimeo on Vimeo.
This could become a huge time-saver for production houses where input from various producers has previously required live screenings and note sessions. It allows creators to see precisely the frame and position on the screen that a note references, minimizing potential miscommunications.
It could also potentially become an incredibly annoying feature for freelance editors or visual effect artists. Imagine working for a client who now feels that they can fine tune every cut, sending round after round of reviews, and adding extra days of post production work.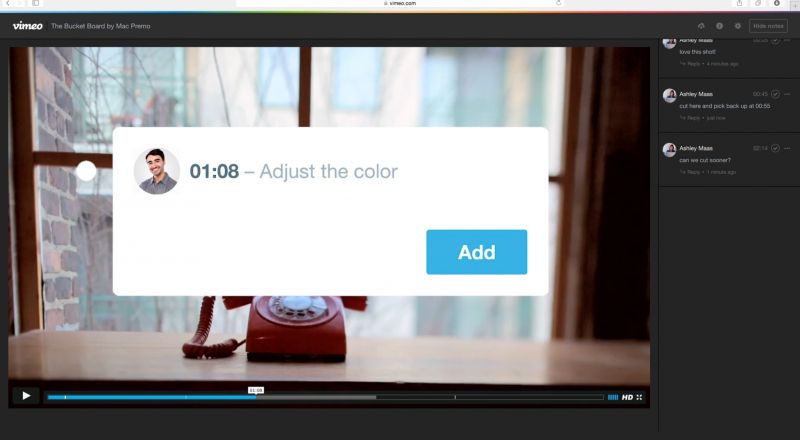 In the end, it's a new tool, and, like any tool, we craftsmen and women will need to spend the time necessary to learn how best to wield it.
As mentioned above, the new feature is only available to Vimeo Pro and Business users. More information about the new feature and Vimeo's various subscription levels can be found here.
Bing Putney
Bing is a professional portrait and on-set still photographer who lives in Los Angeles, and frequently travels the world to explore new and interesting cultures and pastries. Website:
bingputneyphotography.com
Instagram:
@bingputney