When was the last time you paid another photographer to photograph you? Whether you hired someone for the necessity of having a great photo of your family or a self-portrait, or maybe you just stood in front of the camera as a guest at a wedding, there are plenty of lessons to learn from observing and going through the experience of being a client.
We asked a group of award-winning photographers to tell us about their personal experiences of being in front of the lens, and here's what they had to say:
"My family and I had Kirsten Lewis Bethmann come to our house and shoot us for the whole day. She let herself in when we were still sleeping, earned the trust of my kids (who were warned an auntie was coming in the morning, I promise) while I was still passed out. We ate breakfast, went grocery shopping, we LIVED."
"And when I saw the photos, all I could think is how much she got *us*. She got our goofiness, our happiness, our struggles. She GOT us. And I work so hard to make sure that my bride feels beautiful on her wedding day – but it also reminded me just how important the moments that aren't traditional glamorous are just still incredibly beautiful. But outside of what it taught me about shooting weddings – it reminded me just how valuable it is for us ALL to get in front of the camera. These photos – and we hope to do them every two years the same way – are going to be the way that my kids grandkids KNOW us. It's going to be the living legacy of their childhoods. I'm SO SO happy to know I'll have them, and that I am IN them, imperfections and all."
"Recently becoming a single dad, I wanted to create an updated visual record of our new family dynamic with my kids and I. I've shot another photographer's family for years so it was my turn to "take" the opportunity for family photos. As soon as we began, I noticed unmistakable anxiety rising inside of me. Suddenly, instead of being in control, I was instead dependent on the photographer to fully direct me and my kiddos. Experiencing that loss of "control" was unnerving and not something I could have ever planned for. I took painstaking notice of her camera angles, lens choice, lighting direction, distance to the lens and every other technical facet of the shoot instead of enjoying the photos. This was ALL out of my control and, as such, left me with my own internal impression of my mood. While the actual photos turned out great, I unwittingly stamped my own feelings on the shoot and it carried over to the photos themselves. Having a great experience during the shoot is a very large part of enjoying the final product."
"When I was 7 months pregnant with my daughter, I was approached at my local grocery store by world-renowned fashion photographer Nigel Barker to participate in his non-profit photography project called "Blossoming Beauties." The project was comprised of implied nude pregnant women celebrating their bodies or talking about their journeys and/or struggles throughout pregnancy. I had literally agreed to be naked in front of a fashion photographer at a time in my life when I felt big, bloated and not in the least bit beautiful. The closed set was conducive to making us women all feel super comfortable, but Nigel put me into a pose that I couldn't in any way believe would be the least bit flattering. He encouraged me that I was doing great and I decided to just go with it and trust him 100%. I've never been happier with a photo of myself than the image he created of me that day… learning and choosing to trust your photographer is incredibly important, and selecting someone who makes you feel comfortable is also the key to looking like yourself in your photos."
"This is an interesting topic for me. There are a lot of different directions I could go, a lot that are very similar to what others have written about in this article. I'm actually in front of the camera a lot being that my wife Sandi is a talented photographer who has shot weddings with me since day one. I grew up with a Mom who was a wedding photographer, so just like my son, I grew up being photographed more than most children. There's also the few times that our small family of three have had other photographers take our family photos. With all of that being said, there's a direction that I can go with this topic that most other photographers can't. Being in front of a camera ultimately taught me the most valuable lesson as a photographer. It taught me that I had an interest in learning how to use a camera.

All throughout my 20's, up until I was around 31 years old, I spent a lot of time in front of the camera. A lot of time in front of professional photographers. I made money in front of the camera long before I ever did behind it. Something a lot of people don't know since it's something I don't talk about that often. I was heavily involved in the fitness industry with the goals of opening my own gym. I had gone back to college to study science/nutrition and had worked with a number of different magazines getting photo shoots done. I had tossed around the idea of stepping on stage to compete, but basically, that wasn't my goal. My goal was to help people achieve their goals. I had to stay in shape year round just about and would do a photo shoot about every 4 months. Long story short, not only did I work with a lot of different photographers, I got to see how some of them could enhance the way I looked while others made me look flat and not as good. Since my late Mom was a wedding photographer throughout my entire childhood, we would often talk about photography. It was a combination of getting burnt out and injuries and working with different photographers on photo shoots, it ultimately sparked an interest in photography for me. Luckily, just in time to give my Mom and me something to do together during the final couple of years of her life. It was after she passed that I shot my first wedding, something she never got to see. Something she would have never imagined."
"Since I have two young children, my family has had a number of chances to step in front of the camera over the past few years. A few months ago we had a newborn session for my son. I realized during the session that even though I am a successful wedding photographer, I know absolutely nothing about newborn photography. I was in awe of all the little details for newborn photography that I never even knew existed – the poses, props, studio setup. There was even a little heater to keep the baby warm! Our family's newborn session with Kacey Semler of Sunflower Photos really opened my eyes to think about how much time and effort other photographers put into learning their specific craft. It made me appreciate how hard each one of us works in order to produce amazing photography."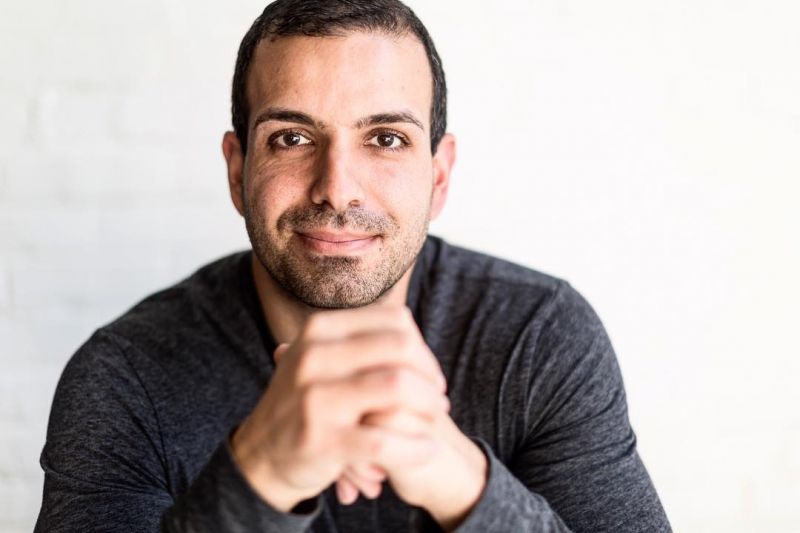 "I've stood in front of a camera to help train our associate photographers on multiple occasions. Each time, I am always reminded of just how "blind" I feel during the process. Despite everything I know about directing, posing and body language, I've got no idea whether what I am doing is translating correctly into the camera. I have no clue whether what I am doing looks right. It's in these moments that I realize just how much power and responsibility the photographer has in directing, posing and communicating to the client. It's everything, which is why we've devoted so much education to simply the posing, directing and communication portion of photography."
"I began a self-portrait project about 5 years ago. I wanted to be in the frame more with my children to show that I was there too. My goal each year is to get in the frame at least once a month. My greatest inspiration for capturing moments and our daily life is, of course, my children. However, when I feel like I'm in a rut I look to other sources like work from Mary Cassatt, who painted motherhood in such a beautiful and timeless way. Over the years, I can't tell you how many fails I've had along the way where my children were unhappy (and that's putting it delicately) or my focus was off. But every now and then I am able to capture that one image that really embodies my current life and it's everything to me. It's been a learning process and challenge I've loved to take on each year."
"The first was early on in our career when we were photographed by Erika and Lanny Mann. What struck me the most about that experience was how they saw the world, which was so entirely different than how we saw it. We had decided to play with our cameras, us photographing them, and vice versa. While Abby and I focused on them and the grandeur of the mountains, Erika and Lanny saw things differently. They would see a small bush, lay down in front of it, close their aperture way down and silhouette us to make it look like we were standing beneath a giant oak. It opened my eyes from seeing things literally and helped me notice the potential for beauty and magic in everything around us.
The second time we were photographed that stands out was for our actual engagement, the day after I proposed to Abby in Edinburgh, Scotland. Were photographed by Christina and Jay Golian of Elemental Photography. It was an important learning experience for us to understand how our clients feel before their session. We'd never officially been photographed before, and especially had never been photographed in a space we weren't very familiar with (i.e the city of Edinburgh). We showed up 45 minutes early, were crazy nervous, and ate too much cake to calm our nerves. But when Christina and Jay arrived they instantly made us feel comfortable and relaxed. By the end of the session, we were all laughing together and even went out for dinner and a drink as we didn't want the night to end. The experience gave us more compassion for what our clients are often going through, and it reminded us of how important it is to help our clients feel at ease before we even reach for our cameras.
The last big learning experience was when we were photographed by Gabe McClintock. During our session, we felt more connected and in love than any normal day. The experience taught us how to slow down and allow ourselves to be quiet when the couple is connected; to incorporate not only big, laughing emotions but also the soft and intimate ones. In a way, it gave us permission to be more present and calm and give our clients the space to be more deeply connected."
"I have major trust issues when it comes to other people taking my photo. It is super rare that I find myself enamored by a portrait taken of me because I am my toughest critic when it comes to my appearance. I started taking self-portraits as a way of practicing lighting techniques for wedding photography. Since I know my face and body best, I would try out different things and see what works and what fails, which inevitably made me notice the smallest things to fix when I go into client shoots (posture, feet and finger placement, chin rotation, etc.). I am overwhelmed with so much pride after finally getting to the shot I envisioned because it is essentially transforming a dream/vision into a reality.
My favorite part about being in front of the lens is finding a spot in the frame to place myself as to be a part of the story I am trying to tell. I now make it a point to take at least 1-2 self-portraits on any trip I go on as a new way to experience the view and capture the beauty that surrounds me. Having a 5DM4 has opened up some amazing opportunities for remote shooting which helps me out big time when composing my image."
"For our 10-year anniversary, we hired Sam Hurd and Nessa K to photograph our vow renewal, and our family … and we even convinced them to crash a night, though we'll have to save that story for another article! Anyway, yep, we learned some valuable lessons (and keep in mind we photograph each other and our children often and have traded photography with colleagues)."
1. You value it more when you pay for it (other than our own photographs, we only have Sam and Nessa's photographs of our family displayed in our home).
2. You don't see yourselves as others see you, and no matter what you tell yourself, you cannot effectively photograph yourselves. Wow! They captured some moments we definitely would have missed over the course of those several days.
3. There is incalculable value in printing your photographs. We had our crew choose their favorite photographs, and we had them printed and displayed as wall art collections in their rooms. Totally changed the atmosphere!"
"I had an idea in mind and needed to communicate it to Moshe. Even though I'm a photographer and can communicate in photo lingo what I wanted, it was still difficult. It made me realize how hard it can be for us to communicate with our clients and vice versa when they don't speak the same photo language. Since then I've made sure to try and be as clear and understanding as possible going back and forth with my clients about ideas and executing them."
"For me, getting in front of the camera is tough. I'm an extremely self-conscious person and prefer to say behind the camera. Add on top that Matt, my husband, is not a huge fan of having his photo taken, and it's a recipe for awkward, ha!
When Matt had a work trip to New York City early on in my photography journey, I touched base with Susan Stripling to create some photos for us. While I'm extremely open to displays of affection, Matt is a little more reserved, so getting close in front of the camera wasn't necessarily the most natural thing, and what I realized was just how close we actually had to be to make it look close on camera! That's one of the biggest takeaways I had from the experience because now I understand when my couples look at me like I'm crazy when I tell them to keep getting closer. I now just joke and tell them they'll be tired of seeing each other by the end of their session, but the photos will look great! Plus, I know now how to encourage couples to get closer, and I can explain to them from experience that it will look so much better if they snuggle in past that "personal bubble" space. It's a tough thing sometimes for couples and having experienced it first hand, I understand now how to better encourage my couples to get those photos I know they'll love. Since this session, we've changed a lot, and I'd love to have another session done. I'd love to connect and try to talk the Manns, Robert J Hill, or Gabe McClintock into running around with us for an afternoon."
What are some of the lessons you've learned about being in front of the camera? Sound off in the comments down below.