One of the caveats of being a working photographer is that you're getting paid to capture someone else's vision. The perks include putting much better food on the table than your average ramen and the comfort of the paycheck can make it all too easy to let personal goals get lost in the shuffle.
Personal projects are often a necessary challenge in our ongoing quest for improving our craft and self fulfillment. Planning an editorial or project near the same undertaking is a process; one that commands attention and doesn't settle for mediocrity. Seeing a concept all the way through to execution can be a huge time suck, especially when personal time is a limited resource.
The power of Social Media….
Having an affinity for classic fashion and its ability to transform into timeless images, the concept here was pairing the vintage aesthetic with a fresh face and modern elements. Michala had been cast several months prior and the styling was as easy as placing the order online from one major retailer. It was finding the perfect location that proved to be one letdown after another and it is exceedingly difficult to book a creative team without a definitive location and date.
I took to Facebook as a final last ditch effort prior to cancelling the shoot. It was a humble request asking for any and all leads on a location with a Mad Men-esque vibe. Within an hour a friend had responded with images of a gorgeous California ranch-styled home that had been featured in a major magazine just weeks before and she was fairly certain that her friend would be thrilled to have another shoot there. Kim, the hair and makeup artist was also recommended via Facebook.
The editorial was scheduled for the following weekend in a town located five hours away after a brief introduction. The car was packed for the five hour long road trip with the clothing, accessories, bare essential camera gear and backup studio equipment as an added precaution; it is better to be safe than sorry.
Any anxiety about the photoshoot had vanquished upon meeting everyone in person. Kim immediately began working with Michala while Kristie gave a tour of her incredible home that included an AirStream in the driveway. The available light was complemented with the ambient light throughout the home and it was obvious that any additional lighting would be a disservice to the shoot.
The Gear
Canon 5D Mark III
Canon 35mm f/2 manual lens
Canon 50mm 1.2L II
Canon 85mm 1.2L
Michala was styled with the corresponding room as we followed the traces of light throughout the immaculate time capsule on Cherry Lane. The 35mm lens is a great story telling lens and captured the perfect viewpoint for showcasing the fashions in harmony with the environment while the 50mm and 85mm only made an appearance for the required tighter crops.
Working with a brand new team in an unknown location was very nerve-wracking. Social media brought together a group of artists and allowed us to vet each other through our mutual acquaintances and become acquainted with their work. Facebook group-chat opened the lines of communication, established trust and got the entire team on the same page. The initial mood board, clothing order and call sheet were all discussed beforehand to plan out proper styling and it came together as a very cohesive collaboration.
Social media makes the world go around and streamlines production. Its expansive network and reach also a huge help for connecting like minded creatives in a short amount of time to embark upon personal projects. Cherry Lane would have never manifested the way it did had it not been for Facebook.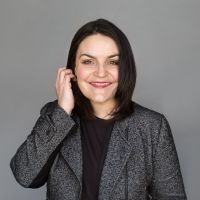 Brittany Smith
Brittany is a fashion and beauty photographer who works between NYC, Montana and LA. She photographs the way she has always wanted to feel and believes in the power of raw simplicity. When not behind a camera she can usually be found at a local coffeeshop, teaching fitness classes at the YMCA, or baking something fabulous in the kitchen. Instagram: @brittanysmithphoto