As fun as it is to play around with lighting equipment in the studio, sometimes it is refreshing to simplify and get back to refining natural light for a very minimalistic shoot. Small apartments or even a spare bedroom provide more than enough light to work with at some point during the day.
The challenge is making the small space and available light work for the photoshoot. Anita Sadowska explains how she made the best use of her Cape Town apartment and how she overcame the challenges to fulfill the creative vision.
Gear Used:
The first step is observing and being aware of the quality of light available and determining when the best time to shoot is. From there it can be decided what type of shoot would fit best in the space and light, such as a lingerie shoot as in this instance, where full body images aren't a necessity.
Keep it simple by having the model do her own hair and makeup and take advantage of making the space work for you. These types of photoshoots are a time to experiment with the available light, both contrasty as well as soft light, and begin figuring out what does and doesn't suffice for personal aesthetic when developing a style in the beginning.
It is also a time to focus solely on the model and create beautiful images. Anita took full advantage of the beautiful and contrasty early morning light and adapted to the softer light when it became overcast. She even placed the model against the window and did find that it would have been much easier to balance the light ratios with a reflector or bounce board.
Be open minded and be prepared to adapt quickly to natural light as it is constantly changing.  Choose a lens that will allow for a variety of crops and is complementary to the model and do whatever it takes to get the shot. The key is to get creative and take advantage of what is available and find a way to make it work.
Check out the following video and get an inside look to Anita's Cape Town apartment shoot and be sure to subscribe to her YouTube Channel if you haven't already.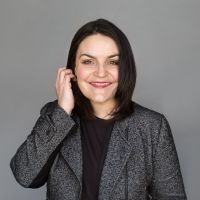 Brittany Smith
Brittany is a fashion and beauty photographer who works between NYC, Montana and LA. She photographs the way she has always wanted to feel and believes in the power of raw simplicity. When not behind a camera she can usually be found at a local coffeeshop, teaching fitness classes at the YMCA, or baking something fabulous in the kitchen. Instagram: @brittanysmithphoto