About two weeks ago, Instagram unveiled 'Stories', a feature directly competing with its social media nemesis, Snapchat. With the new software update, Instagram hopes to integrate the day-to-day storytelling feature with it's photo sharing capabilities, absolving the need for Snapchat altogether. Some may dispute that Snapchat's facial recognition software and Geofilter advertising still give the app ample value, but I think we all know how the powerhouse of Facebook + Instagram work when it comes to software development, soon enough, Instagram will leave Snapchat in the dust, when it comes to innovative tech & features. After all, who here even remembers what Vine even did after Instagram obliterated its purpose with 60-second video uploads?
The Rise of Live-Action Marketing
Many doubted Snapchat's longevity in the social media game, claiming that 10-second videos peering into the lives of users would run its course, but with constant software updates to engage and attract wider audiences and even celebrities, the app confirmed its place in the higher-ranks of social media apps. Brands began seeing value in launching new product releases, teasing future inventory, and giving people live access to behind-the-scenes footage in order to engage with their audiences on a level never quite achieved before.
Facebook threw their first jab at Snapchat when they deployed 'Facebook Live', serving as a "powerful way to connect with your followers and gain new ones along the way". The right hook came months later, when Instagram launched 'Stories', a direct competitive software update to rival its social media adversary, now housing both social media functions in one app.
How do Instagram Stories work?
Since it is a bit difficult to explain a visual process, we recorded a FB live that details the ins & outs of the new IG feature, showing you how to use it plus tip and tricks to create engaging content.
And with their latest update, users can now use one finger to zoom while recording and Apple users can double tap to switch between using the front and rear camera options.
In what ways can photographer's use IG Stores to Market their work?
Whether you are a freelance photographer or a studio professional, Instagram holds a market of over 500 million active users, an audience that you could be reaching with the efforts of curating engaging, original content. In our Photography & SEO Web Marketing Book, we refer to the acronym C.H.A.I.R.E.D (Concise, Humorous, Amazing, Intimate, Relevant, Engaging, & Diverse) to describe what category of content works best for social media.
Photographers have the ability to use this platform to take viewers behind-the-scenes on shoots, give them a taste of the labors of heavy post-production and retouching, or even tease future projects. 'Stories' allows you to upload images located in your camera roll, meaning high-quality exports, and add captions and filters to attract followers to engage in your work. Julia Kuzmenko, Chris Burkard, and Dylan Schwartz provide varied examples of how stories can be used to…well, tell a story behind their visionary process, or simply to convey a part of their day that viewers might find intriguing.
So, how will you tell your story?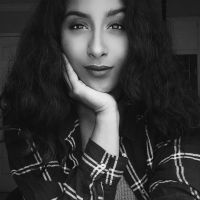 Shivani Reddy
Shivani wants to live in a world where laughter is the cure to pretty much everything. Since she can't claim "Serial Bingewatcher" as an occupation, she'll settle for wedding/portrait photographer at Lin and Jirsa & marketing coordinator here at SLR Lounge. For those rare moments when you won't find a camera in her hand, she will be dancing, eating a donut, or most likely watching Seinfeld. Follow her on Instagram:
@shivalry_inc