There may be good news for you if you like to drive a Range Rover or some big V12 to the grocery store, but not such good news, if, while you're there, you like to stock up on half a hind quarter of beef. There's been some research done in the past few years suggesting that global warming is less caused by the pollutants coming out of our automobiles, than from the methane that bellows out of a cow's rear at an industrial rate. Methane apparently can be up to 20 times more powerful as a greenhouse gas than the carbon dioxide coming from the tailpipe of your car. This is suggesting that Bessy the cow, and the meat industry, is doing more planetary damage than the entire transport industry. You may not believe it. After all, it is difficult to measure, largely, because you can't see it.
Such is one of the challenges facing environmental activists trying to convince the common man that global warming is, indeed, happening. Unless you are of a very religious persuasion, and take words from 'honest sources' at face value, sometimes, seeing really is believing. Photographers and cinematographers may just be the ones to bring it all before the eyes as their craft poises them well to do so. The earned right to doubt, and question (in all manners of things), requires proof and not belief, and visual proof, is proving to be a huge motivator in the movement towards a healthier planet. Photographer James Balog (who shot these on a Nikon D3 and D3X) has made it a mission to reveal climate change via visual documentation with his long term photography project Extreme Ice Survey (EIS).

Balog, is somewhat of a modern day renaissance man having secured expertise in both the sciences and in art. An avid outdoorsman, he has earned degrees in geography and geomorphology, and honorary degrees from more than one notable institution. One wouldn't expect anything less from a man who has had his work shortlisted for the Academy Awards, and screened at the White House. James understands the impact that visuals have on the human brain. EIS began in 2007 as a project that
"…merges art and science to give a "visual voice" to the planet's changing ecosystems. EIS imagery preserves a visual legacy, providing a unique baseline—useful in years, decades and even centuries to come—for revealing how climate change and other human activity impacts the planet."
[REWIND: When Mother Nature and Photoshop Collide ]

It is to date, the most wide-ranging, ground-based, photographic study of glaciers ever conducted. What it is, is a vehicle providing evidence. How it is doing it is largely through images. These images aren't easy to obtain, and for the them to have scientific significance, they must be conducted with measured precision, and data recorded. Keep in mind the unforgiving climate he is working with, and you quickly see he is putting himself in harms way. The project and results have spawned a film called "Chasing Ice". His visuals will leave you breathless, and probably with a new sense of consciousness. There is the trailer below, and have a look at the next set of photos to get an idea of measured results taken of the same spot just three years apart. It's moving. It is brilliant.
Thoughts
I'm certainly an advocate of the sciences. I'm by no means an expert on the matter of climate change or global warming. What I can say is that I love the fact people like James exist, because I love to see people take something others often write off as a triviality, or simply a tool for pleasure, and show it as having broad applications. I'm speaking of photography. I'm also in envy. Envy is never a pretty thing, but I can't help but think of how it must feel to know you've contributed to the arts AND sciences, and possibly to the betterment of this little blue green planet we live on. That's making a difference, and that, comes with inherent nobility. We should all be so fortunate.
Please do visit James' site and for Chasing Ice.
CREDITS: All photographs shared by James Balog are copyrighted and have been used with permission for SLR Lounge. Do not copy, modify or re-post this article or images without express permission from SLR Lounge and the artist.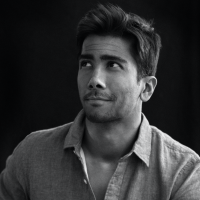 Kishore Sawh
A photographer and writer based in Miami, he can often be found at dog parks, and airports in London and Toronto. He is also a tremendous fan of flossing and the happiest guy around when the company's good.