I don't think anyone would begrudge me for saying that one of the most disheartening and frustrating things about photography is seeing images you love, that inspire you, that get you excited to emulate and evolve, and for the life of you, you are unable to. Often it's a matter of know how, for sure, but in photography there's no getting around the fact that gear plays a role.
This rings even more true for the beginners who, after taking advice from a misinformed friend or salesman, purchase a crop sensor DSLR and don't realize that there's more to sensor size than a 'crop' of field of view. Depth of field is handled quite differently among the primary sensor sizes, and the difference between a cropped sensor and that of medium format is like the difference between a degree from Yale and one from a community college; what they produce is perceived quite differently. But medium format is costly, to put it mildly, so how would one achieve that type of look, without having that gear?
Most of us are familiar with the term, 'Brenizer Method.' Wedding photographer Ryan Brenizer created a method that results in a very shallow depth of field whilst maintaining a wide angle of view. This is something generally reserved for the larger formats, but requires basic equipment like a D5100 and a 50mm 1.8 along with Photoshop, to do if this method is used. So it's nothing new, but typically it's used 'on location' or at least out of the studio, which is perhaps a shame, especially after what you'll see here.
Some of the most compelling and striking portraits are taken with larger format cameras and have this duality of shallow depth of field along with a wide angle of view, and in a studio setting especially. Photography Glyn Dewis has created a video showing how he implements this technique in studio. While there is nothing new about the method, how he goes through his workflow and explains the process is actually very good, and for those looking to try this, it's a great place to start. It will give you tips on shooting the images to composite, and how to use Photoshop to 'finish' the final image.
You can find more about Ryan Brenizer and his method here, and more from Glyn Dewis here.
Source: ISO1200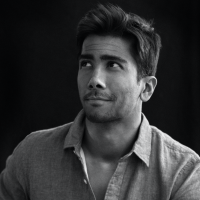 Kishore Sawh
A photographer and writer based in Miami, he can often be found at dog parks, and airports in London and Toronto. He is also a tremendous fan of flossing and the happiest guy around when the company's good.