I felt a bit ill writing that title because the words 'Uber of' and 'disruptive' have become top of the grab-bag of platitudes for anyone speaking about anything within the sharing economy. Everything is the 'Uber' of something, or the 'AirBNB' of something else, but really what these people are almost always trying to say is there's a new system that disrupts an established mechanism. Uber flipped hired transport on its head and AirBNB did the same for lodging. UBooker, however, is taking on something with living, breathing commodities – people.
If you're a burgeoning photographer or client(or even an established one), finding talent has its challenges, and there are basic parameters of behavior we typically are bound to. If you want proven talent you go to where they are to be found, which is in reputable agencies, then you speak to the agency about hiring for the gig and the details get worked out if the model accepts and so on.
This isn't cheap.
Agencies have overhead, and the bigger and (typically better) they are the more overhead they have to keep the wheels turning, and those costs get transferred from the client and the talent in the form of a certain percentage of the job (usually). Furthermore, models are often locked into an agency with some sort of exclusivity whether that be city or whatever, and if that model should want to work it's all gotta be done through that agency – you can see the limitations/bureaucracy here. UBooker is looking to do away with much of that.
Models who sign with UBooker will not sign an exclusivity contract and be able to work as they like, with UBooker acting still as the broker between client and talent only when found/booked using the platform. How it works is this: Models go through a vetting process of which 140 have made it through to this point, with another 900 or more waiting in the wind. The vetting process requires models to submit applications online with all the basic pertinent pieces and apparently the owners of UBooker (UAgents I suppose) meet with them in person.
Once the vetting is complete models can build out their profile on UBooker which clients can search through. Once they are found, client makes the offer and the model has 24 hours to accept or it will be an automatic decline. If it's accepted then the client has 3 days to sort out, and then once the job is done the talent gets paid within 96 hours. That last part is a kicker because if you speak to models you'll know they often wait months before getting paid, so that's hugely attractive. Add that UBooker undercuts the industry standard fee percentage by charging 10% and it looks more and more attractive to talent.
Models are then incentivized to help sign up other models and if they are accepted it's a bit of a pyramid thing where they get 1% of that model's job offer.
From the client side it would appear mostly like other agencies in that you go look through their talent and see if there's anyone that fits the bill, but in this case you submit the info directly to site so there's more transparency. You fill in offer details like number of models, the specifics you're looking for, budget, location and so on, and you'll be provided with a list of people who fit that bill. Once you select some options UBooker will send them a bid and from there you'll be connected via UBooker's messenger. How UBooker plans to actually keep being the middle-man has yet to be seen, especially when finding people is so easy today.
All in all it's certainly a compelling idea in many ways, and you can sort of see how it could work. Keep in mind, however, that as we've seen with Uber and AirBNB, lack of regulation is problematic and safety could be a concern. Agencies theoretically offered some buffer for the models even though we've seen countless cases where that's not been the case, and it somewhat leaves a little question there as to how this will deal.
Then of course there's the question of how long the good can stay good. If it does well and grows can they still keep the same format or will they, once again, grow into a typical 'big' company? It'll also be interesting to see how the notoriously 'old boys' world of fashion treats this because it's possibly threatening some livelihoods, and well, we know how the fashion world responds to things like that…
You can check it out here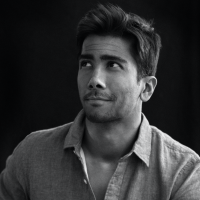 Kishore Sawh
A photographer and writer based in Miami, he can often be found at dog parks, and airports in London and Toronto. He is also a tremendous fan of flossing and the happiest guy around when the company's good.