Travelling internationally by plane can be a major logistical challenge for photographers. From increased airport security to luggage restriction, there are many things that we have to think about. I'm no stranger to frequent travelling for my photography business, and in this article, I'll cover a few tips to help you ease your travel woes.
What I'm Packing With Me
Carry-On vs Checking In
When it comes to your camera and lenses, NEVER check it in. It may seem like paranoia, but you can never be too careful. The same can be said about your laptop and especially your memory cards. Above all, the images you taken are your most valuable possession.
If you have a lot of gear, I highly recommend looking into a good rolling camera bag. All the major bag manufacturers have one, and for myself, I use the Tamrac CyberPro Express. Although this rolling bag looks deceptively small, it can hold a lot of gear.
Take it or Leave it – Baggage Weight
Baggage weight can be a photographer's enemy. After adding 1-2 camera bodies, a set of lenses, batteries, laptops, and any other accessories, you can easily come close to the dreaded 50lbs weight limit. Videographers have it worse because they tend to carry even more gear and they're not as compact, so they get hit with both weight and number of check-in luggage.
So is the solution to bring less gear? Well every time I thought about lightening my load I have regretted it. As a result, I still end up bringing my camera bodies, lenses, and speedlights. At the very least, I travel with a carry-on rolling camera bag and a checked-in luggage.
When it comes to shooting a destination wedding, remember that it is still a wedding with all the risks and liabilities that a local wedding would have. I bring backup gear to my local wedding shoots and I definitely bring backup gear to my destination wedding shoots. Finding alternative solutions in a non-local venue can be tough if you are not familiar with the area, so I highly suggest to have backup. For myself, I bring 2 camera bodies, all my lenses, 3 flashes, and extra triggers in my rolling bag.
If you are traveling on a job, it is better to be safe than sorry, even if it costs you overweight baggage fees.
What About Batteries?
Batteries can get heavy and I usually have a lot of them on me. Between the AA's for the flashes, the AAA's for the triggers, and the camera batteries, I can easily end up with 10lbs of batteries. If my check-in luggage can handle the extra weight AND I have a non-stop flight, I will add the batteries into the luggage. Otherwise, the batteries will go into my carry-on. The non-stop flight factor is important because I have had luggage get lost in the transition of late flights, and oddly, batteries are not always the easiest to find in foreign countries.
For battery storage, I like using the SLR Lounge battery cases because they are really compact and allows me to keep track which rechargeable batteries are fresh and which batteries need to be recharged.
What I Take in my Check-In Luggage
Along with my clothes, which I try very hard to keep as minimal as my fashion instincts will allow, I bring along some shooting essentials like two very compact lightstands, 2 umbrellas, a compact tripod, the bag to carry all of them, my camera double strap, and my Think Tank modular lens belt.
For the tripod, I settled on the Fotopro C5i tripod [Check out our review]. What makes this compact tripod special are its legs which can fold up over the central column in a reversible design, making the folded tripod shorter when closed up.
For the lightstand, I started with the Cheetah Mini, but they have since been discontinued. I did find an even cheaper alternative on Amazon, however. I just received the $36 Cowboystudio portable light stand, and in a few weeks, I will be taking it internationally for the first time to London.
Non-Shooting Essentials
In my carry-on, I also have a bunch of non-shooting essentials like a laptop, card reader, portable hard drive (which moves to my purse after the shoot once it's loaded with images), power charger, and a power strip. Finally, I also bring a wooden hangar and my pocket knife in my check-in luggage.
What's Left Behind?
Even though I do use my Alien Bees strobe for local weddings, for out-of-town shoots, I use speedlights instead. Studio strobes can provide amazing lighting, but their large size mean that they are not as travel-friendly as speedlights. If I really do need studio strobes on a job out of town, renting in that location is an option.
Conclusion
When it comes to destination wedding shoots, I realize that I'm getting paid to do this gig, and that I would do everything I can to service this client just as well as I would a client that is close to home. If that involves paying for overweight check-in luggage, then so be it.
To learn more, be sure check out our Airline Travel Tips for Photographers.
Hope that helps you guys, until the next time.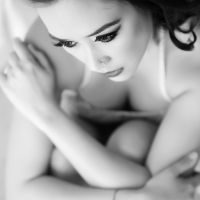 Michelle Ford
Michelle is a Southern California Portrait and Wedding Photographer. When she's not geeking out with a camera she's nerding out in her IT world. All other moments in the day are spent with her two wonderful children. See her work on
The COCO Gallery
check out her blog at
frexNgrin